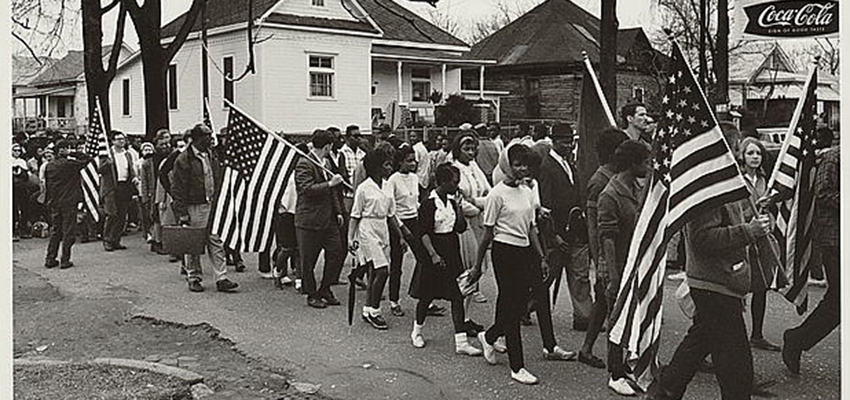 Cloughen '64 Remembers the March from Selma to Montgomery
18 January 2021 • Alums Cloughen '64 Remembers the March from Selma to Montgomery
In an interview with HWS, The Rev. Charles Cloughen Jr. '64 reflects on Bloody Sunday and an essay, The Lesson of 2020 and 1965: The right to vote is precious and powerful, that was published by the Baltimore Sun on Dec. 30, 2020.
In 1965, after watching Bloody Sunday on television from his dorm room at the Berkley Divinity School at Yale, Charles Cloughen '64 traveled to Selma, Alabama to take part in the historic marches from Selma to Montgomery. In an article published by the Baltimore Sun on New Years Eve, Cloughen remembers the fearful days he spent in Alabama and shares an urgent plea for voting reform in 2021.
"That road trip changed me just like Selmas protests changed America. But as we all know the journey to justice isn't over," Cloughen writes. The Episcopal priest, who has served in Maryland for more than three decades, describes watching the violence against marchers on the Edmund Pettus Bridge in Selma as a moment of "searing clarity" that screamed, "Do something!" In 2020, he says the killing of George Floyd has evoked the same clarity and urgency.
Cloughen and three of his classmates from the Berkley Divinity School mobilized after Dr. Martin Luther King Jr. called on white clergy to join the marches in Alabama. On their road trip, the group stayed at Tuskegee University, where they met Black marchers who had been clubbed and gassed by police officers. They continued on to Brown Chapel A.M.E. Church, where they were instructed to wear coats and ties in order to project to televised audiences that they were "decent Americans" who wanted equal voting rights and to remove the dome light inside their car to hide from snipers who may try to shoot them at night.
Cloughen and his classmates had arrived in Selma at a tense moment. Following both Bloody Sunday and Turnaround Tuesday, in which Dr. Martin Luther King Jr. led a symbolic second march to the Edmund Pettus Bridge before turning around before a barricade of state troopers, King and other organizers were asked by President Lyndon Johnson to wait for federal protection before beginning a march from Selma to Montgomery. Concerned Americans, however, were arriving from across the country to demonstrate their support of the movement for equal voting rights.
On March 11, Cloughen and nearly 300 others began to walk from the Brown Chapel A.M.E. to the home of the Selma mayor. The marchers walked two-by-two on the sidewalk singing "We Shall Overcome" and other protest songs. Cloughen, who walked in the middle of the group, says he was 23 and afraid to stand further forward. As they approached the mayor's neighborhood, however, police began to arrest the marchers and Cloughen became the frontline.
"They had arrested everyone in front of me, and there I was singing 'We Shall Overcome,'" recalls Cloughen. "The then public safety commissioner, Wilson Baker, walked over to me, with the TV cameras recording the moment, and said in his best Southern drawl, 'Young man you shouldn't be down here on no picket line, you should be up north taking singing lessons.' Then he had me arrested and I spent a night in jail and was released the next morning. I and others who had spent the night in jail marched back to Brown Chapel."
"I was scared. It was the first time in my life I was afraid. And it changed my life, standing up for what I believed in. And what counts. Voting is important. Civil Rights are important," Cloughen says.
Before Cloughens article was picked up by the Baltimore Sun, the Reverend wrote an account of his time in Selma for his seminary, Berkley Divinity School at Yale. Cloughen says he wanted to create a record of the historic moment and to impress on youth at the seminary the significance of the marches that led to the Voting Rights Act of 1965. Cloughen also sent his account to several of his Hobart classmates and connections at the Colleges, including his class agent Alan Kalter '64.
Cloughen majored in Economics at the Colleges and was a member of the Hobart football team. After spending two years at the Berkley Divinity School, Cloughen entered the Peace Corps, where he served in Truk, Micronesia alongside Eric Lax '66, L.H.D. '93. Cloughen graduated from Berkeley in 1969. He is the author of three books, including One Minute Stewardship: Creative Ways to Talk about Money in Church. At the heart of Cloughen's work is a commitment to building relationships and remembering to say six key words "thank you, thank you, thank you."
Cloughen is a committed donor to the Colleges. In 2019, he returned to Geneva, N.Y. for his 55th Reunion where he participated in a book signing with other HWS authors and joined Chaplain Nita Byrd to deliver a Pentecost sermon at St. Johns Chapel.
Contact Natalia St.Lawrence '16 to share your story about the Civil Rights Movement at st.lawrence@hws.edu.