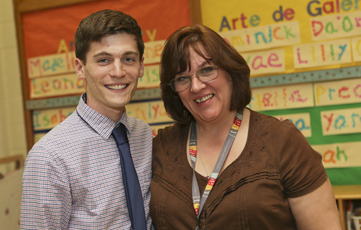 HWS News
25 April 2014 • Service Budmen '15 Newman Civic Fellow
Peter Budmen '15 was named a 2014 Newman Civic Fellow by Campus Compact, which honors student leaders who have worked to find solutions for challenges facing their communities. On campus and in the Geneva community, Budmen has dedicated his time to volunteering with the Geneva Head Start program and working with local children.
A public policy major and biology minor, he is one of just 197 students in 36 states and Washington D.C. to be named a fellow. He is working toward his teaching certification in childhood and special education and has been accepted into the Colleges' Master of Art in Teaching program.
"Peter's collaboration with Geneva Head Start is an excellent example of a way individual students can support the Colleges' Geneva 2020 initiative," said President Mark D. Gearan. "As a student leader who has made a substantial commitment toward early childhood education, Peter represents the ideals of Dr. Newman's legacy of civic engagement in higher education."
Budmen has been spearheading an initiative at Geneva Head Start to connect students to a variety of reading supplies important for building literacy skills before kindergarten. These supplies come in a "literacy kit." Each kit will include a recordable audio device called a Playaway, literary resources and supplies, backpacks, and other supporting materials, including puppets and costumes to create an interactive storytelling experience for the children.
Thanks to the Cohen Fellowship, which is made possible through the support of HWS Trustee Dr. Stephen Cohen '67, Budmen was awarded $2,000 to get the project off the ground.
Along the way, Budmen has also raised funds through a crowdsourcing campaign on DonorsChoose.org to help offset the cost of the literacy supplies.
"I'm honored to receive this recognition on behalf of Hobart and William Smith. The path of civic engagement started in a service-learning class during my freshmen year, where I became deeply attached to the ideals and values of the Head Start program in Geneva," said Budmen. "The Newman Civic Fellow program will allow me to continue to advance personal interests and community goals that support the importance of early literacy and childhood education."
The Newman Civic Fellows award is named in honor of Campus Compact Founder, Dr. Frank Newman, who had a tremendous impact on American education and its role in the development of citizens who are eager and prepared to make a difference.
"Dr. Frank Newman was a tireless advocate for the role of higher education in preparing students for active and engaged citizenship. The 2013 Newman Civic Fellows are an inspiring group of leaders who are already making an impact in communities where they live, learn and serve," said Campus Compact President Maureen Curley.
Campus Compact is a national coalition of nearly 1,200 college and university presidents, representing more than six million students who are committed to fulfilling the civic purposes of higher education. They work to improve community life and to educate students for civic and social responsibility.
The Newman Civic Fellows Award is generously sponsored by the KPMG Foundation.
In the photo above, Peter Budmen '15 poses with West Street Elementary School teacher Lisa Krossber.