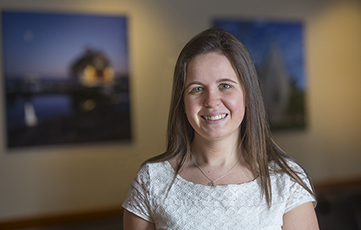 HWS News
25 March 2015 • Service Aquadro '15 Named Newman Civic Fellow
Courtney Aquadro '15 has been named as one of Campus Compact's 2015 Newman Civic Fellows, a prestigious national honor awarded to student leaders who have worked to find solutions for challenges facing their communities.
At HWS, Aquadro has dedicated her time to working with the Center for Community Engagement and Service Learning (CCESL) as a Civic Leader, connecting student volunteers with local youth at the Boys & Girls Club of Geneva's teen center and Goodman Street club. Between the two locations there are 50 student volunteers.
A double major in media and society, and Spanish and Hispanic studies, Aquadro has been volunteering with the Boys & Girls Club since her first year on campus. Through her service efforts, she visits the clubs several times each week to help with art projects, offer guidance on homework, and play sports and games.
"I am honored to receive this recognition," Aquadro says. "Through my consistent efforts at the Boys & Girls Club supplemented by knowledge learned in service learning courses at Hobart and William Smith, I feel as though I have been able to develop a profound sense of civic engagement. The Boys & Girls Club is an organization that I have much respect for and will continue to be a part of wherever I go."
The Colleges' variety of service learning courses has helped Aquadro develop the skills and understanding necessary for being a leader in service. She says she's also learned the value of time and what it means to actively volunteer and engage with the children at the club. She inspires other student volunteers to do the same.
The Newman Civic Fellows Award program is open for students at member schools of Campus Compact. Awards are bestowed to students who have the motivation and ability to make contributions to their society by demonstrating the social and civic leadership values of Dr. Frank Newman, a founder of Campus Compact.
By engaging HWS students and Geneva community partners to work together on long-term goals, Aquadro's leadership with CCESL and her continual engagement with the Boys & Girls Club is indicative of those values.
Campus Compact is a national coalition for the advancement of the public purpose of colleges and universities. The association is solely dedicated to campus-based civic engagement in order to improve community life and develop students' awareness of their civic and social responsibility. The coalition comprises more than 1,200 public, private, two- and four-year institutions across the United States.
Support for the Newman Civic Fellows Award is made possible by the KPMG Foundation.