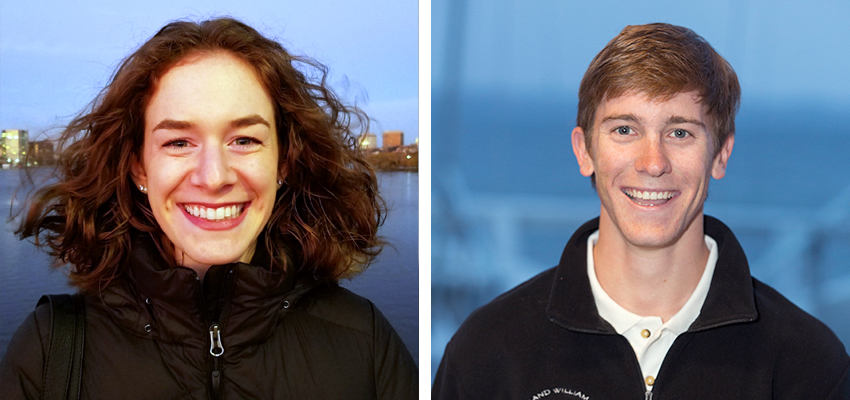 HWS News
13 December 2017 • Alums Alums Forecast Weather for Insurance Industry
Geoscience graduates Elliott Morrill '15 and Pamela Eck '15 are putting their passion and knowledge for meteorology to work in the insurance sector helping to forecast the likelihood of weather disasters.
Morrill is employed as a catastrophe modeler for a reinsurance broker in Manhattan, Guy Carpenter & Company. Reinsurance is the practice of purchasing insurance policies from other insurers to spread out the inherent risks of loss.
"We work with insurance companies, running their data through stochastic models," says Morrill. "The output can be used to achieve a best estimate in terms of the expected loss for that insurance company in that given year. Our work then gets used to help our clients purchase reinsurance so that they can transfer some of the risk to another entity."
Morrill, who earned a master's degree in natural hazards and catastrophe analytics from the University of Miami's Rosenstiel School of Marine and Atmospheric Science, says he is "passionate about geoscience and weather in particular." He credits Professor of Geoscience Neil Laird, Associate Professor of Geoscience Nicholas Metz, and the Colleges' head sailing coach, Scott Iklé '84, for encouraging his interests. "They all were able to help me narrow my focus and allow me to succeed in the classroom and on the water," says Morrill, who was captain of the sailing team as a senior.
Eck serves as a catastrophe management analyst at Liberty Mutual Insurance. "My job focuses on utilizing stochastic catastrophe models to help managers decide how much reinsurance to buy based on our exposure to risk," she says.
A geoscience and environmental studies major at HWS, Eck earned her M.S. in atmospheric science in August at the State University of New York at Albany. Her love of weather dates back to an eighth grade class in earth science, where the "interconnectedness of it all" fascinated her.
"Everything fits together to tell one big story," she says. "A tropical cyclone off the coast of Asia creates a high pressure over the Pacific Ocean which creates a strong cold front here in the United States; you can follow its progression through time and space and watch as it impacts each part of the world differently."
Eck believes that meteorology is often misunderstood by the public, who may have little experience of it outside of the daily weather forecast. Her career goal is to "help people understand the many ways in which weather impacts everything we do," she says. "Although my job title at Liberty Mutual is not 'meteorologist,' all of my projects allow me to use my knowledge of meteorology, so I am very happy with, and grateful for, where I ended up."