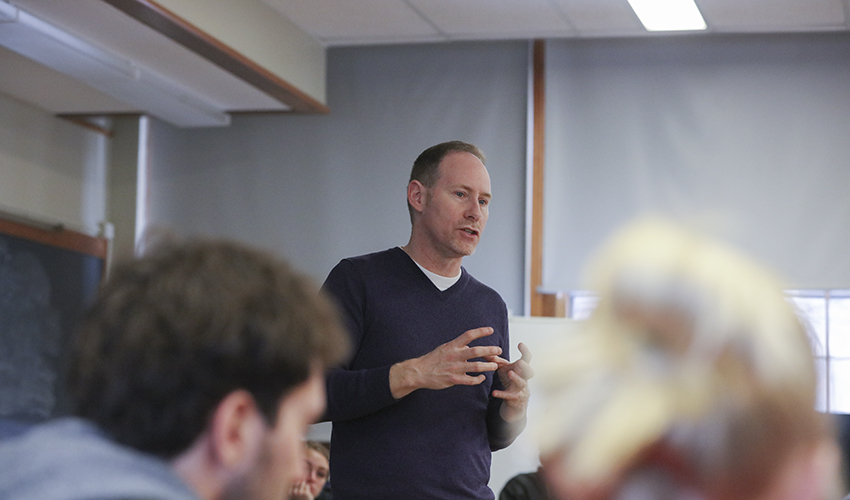 HWS News
7 April 2017 • Alums Ackley '90 Returns to Discuss Community Empowerment
Doug Ackley '90 visited the HWS campus this month to discuss youth leadership and community building in a presentation to Assistant Professor of Psychology Jack Peltz's "Developmental Psychopathology" course.
Ackley is the director of Teen Empowerment (TE), a non-profit to support positive youth development for inner-city marginalized teens in Rochester, N.Y. Since 2003, TE has empowered hundreds of Rochester youth to engage thousands of their peers, adults and community leaders in youth-led initiatives.
Peltz's course focuses on the intersection of normal and abnormal behavior, including antisocial behavior. Ackley's visit coincided with the course's exploration of preventative interventions.
"TE's work in empowering youth that have been disenfranchised or disconnected from society is a way of preventing such youth from engaging in antisocial behavior," says Peltz. "But it is also a strength-based approach that seeks to engage youth and give them a chance to lift themselves up as well as their own communities."
Hosting social gatherings where youth use the arts to share ideas and positive messages, TE organizes and facilitates group sessions and forums "to foster dialogue among teens and between youth and adults, community leaders, educators and police," according to the organization's website. TE organizers also "work on policy initiatives that engage public officials, bring youth voice to decision-making, and work to create institutional and systemic change."
Peltz says the visit offered an opportunity for his students to examine their white privilege and "learn more about the challenges of living in inner-city Rochester and how youth there combat racism, poverty and other challenges."
A Boston native, Ackley joined TE in Boston in 1993 and worked at sites throughout Boston and at the DYS Judge Connelly Treatment Facility, helping to supervise staff and provide consulting, training and technical assistance to organizations interested in implementing the Teen Empowerment model across the country. He moved to the Rochester, N.Y., area and opened the TE site there in 2002.
Ackley earned a B.A. in English and French from Hobart College. As a student he was a member of the swimming and tennis teams and earned letter and emblem awards for each. Prior to joining TE, Ackley spent a year working with teens in central California through the Jesuit Volunteer Program and at a residential facility in Boston.