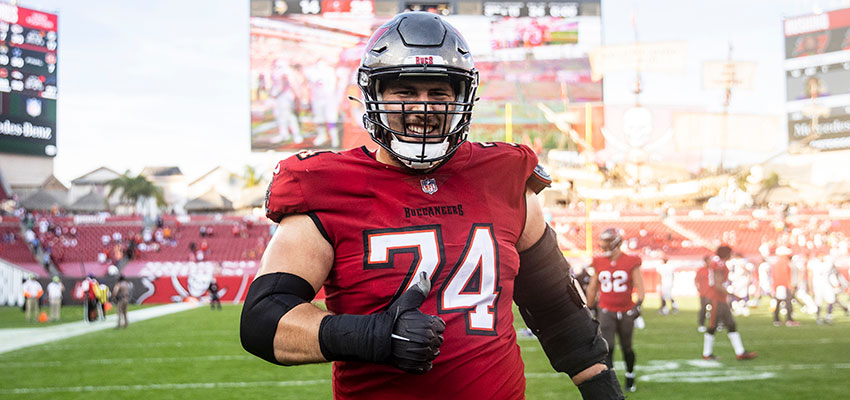 HWS News
8 January 2021 • Athletics Marpet '15 Named to NFL All-Pro Team
Pro Football Focus named former Hobart Statesman and current Tampa Bay Buccaneer Ali Marpet '15 to its 2020 NFL All-Pro Team. The Bucs' left guard started all 13 games he played this season, helping the franchise clinch its first playoff berth since 2007.
According to PFF's data, Marpet did not allow a sack this season and surrendered just 11 pressures. The website pointed to Tampa's on-field results during the three games he missed due to injury (1-2) as proof of his value to the team. "There was no better indication of just how good Ali Marpet has been this season than when he was injured and missed time, suddenly causing a huge hole in the Tampa Bay offensive line that threatened to derail their entire season," PFF's Sam Monson wrote.
Heading into the final week of the regular season, Sports Info Solutions published Tampa Bay's passing splits when Marpet is on the field and when hes not this season. His impact is undeniable. With Marpet on the field, the Buccaneers completing percentage is 67.6% and drops to 60.4% when he's off the field. Tampa's blown block pressure rate drops from 18.4% without Marpet to 8.8% with him providing protection.
Tampa Bay finished off the regular season with a 44-27 win over Atlanta to post an 11-5 overall record and finish second in the NFC South. The Buccaneers are the No. 5 seed in the NFC playoffs and will travel to NFC East leader Washington Football Team (7-9) on Wild Card Weekend. The game will be televised by NBC at 8:15 p.m. on Saturday, Jan. 9.
Marpet has started all 85 games he's played in his six-year NFL career. He was named to the 2015 Pro Football Writers of America All-Rookie Team.
A second round draft pick of the Buccaneers in 2015, Marpet was chosen 61st overall, the highest a Division III player has been taken in the NFL draft.
At Hobart, Marpet was a three-year starter at tackle, earning three straight All-Liberty League awards. He was twice named D3football.com All-East and was named to four separate All-America teams following his senior season. Marpet and his teammates won four consecutive Liberty League Championships, compiling a 41-5 overall record. He played in four straight NCAA playoffs, leading the Statesmen to the national quarterfinals in 2012 and 2014.