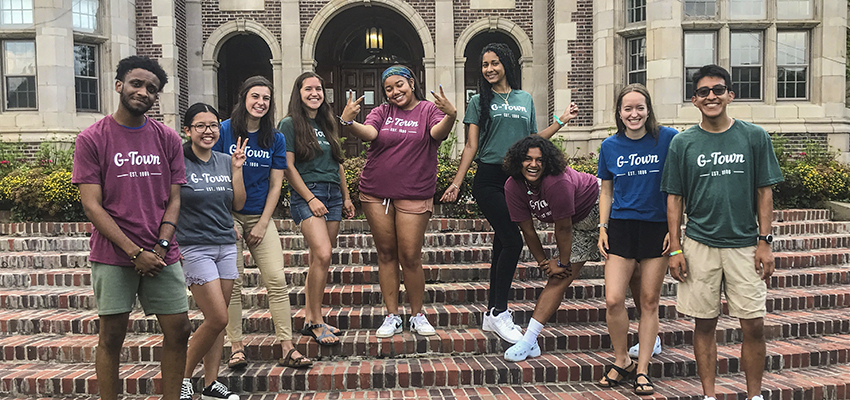 10 Years of Building Community
3 September 2021 • Service 10 Years of Building Community
Thanks to the support of Thomas J. Patchett '88, Trustee Dr. Marguerite S. Murphy and Dr. Brian Cooper, Summer of Service celebrates its 10th anniversary.
The 10th annual Summer of Service gave 11 HWS students the opportunity to become civic leaders as they took on internships targeting environmental and food justice, mental health advocacy, and youth development and literacy initiatives. Since the program's inception, 64 interns have contributed more than 18,000 hours of work with community organizations.
"Students learn so much from their internships and are able to develop even deeper appreciation of our amazing community and the interconnected nature of the way that successful college and community collaborations occur," says Director of Center for Community Engagement and Service Learning (CCESL) Katie Flowers.
To conclude their summer experience, students shared their successes with community partners, HWS students, staff and faculty over Zoom.
As interns with the nonprofit BluePrint Geneva, Juniper Asaro-Niederlitz '22, Katerina Yacoub '23 and Emma Falkenstein '21 focused on food justice and food access for the city of Geneva. The interns played a significant role in managing several of the organization's projects, including Youth Green Corps, Just Harvest, Growing Cycle, and a free tax clinic for residents, as they also maintained the town's public gardens. Services included a leadership program for youth, a community-supported agriculture (CSA) for local meat distribution, and a compost-hauling service. BluePrint Geneva offered the internships through an AmeriCorps grant.
Sociology major Taylor Wilke '22 served as a CCESL Literacy Intern, where she prepared educational materials for America Reads, recruited for HWS Tutor Corps for the fall semester, and worked with the Geneva Public Library and Geneva City School District. During her Zoom presentation, Wilke said the experience gave her insight on how a sociological approach and meaningful policy solutions, can help make an impact in her community.
Emma MacShara '22, a sociology and psychology double major, served as the social media outreach and programming intern for CCESL. In addition to managing the CCESL departments social media accounts, MacShara also participated in scholar outreach.
At Family Counseling Services of the Finger Lakes (FCSFL), Maydoneri Perez '22, an education major and child advocacy and psychology minor, advocated for youth with Adverse Childhood Experiences. At North Street Elementary, she worked on a project to improve communication between students and teachers, using her Spanish-language skills to bridge connections with ESL students. Supported by the FCSFL, Perez provided trauma-informed care for at risk students.
Zerina Makhdoomi '22, Jonathan Garcia '23, Salim Fabio '23 and Kenderly Soto '23 served as mentors at the Boys and Girls Club of Geneva. Empowering Geneva youth at the organization's summer program, the mentors connected with students in the gym, at the Learning Center, and the Black Box theatre.
In partnership with the Finger Lakes Counseling and Recovery Agency (FLACRA), Sarah Spears '23 served as a social media intern, providing coverage for the agency @flacrany on TikTok. Over the course of the summer, Spears met with local representatives and veterans to hear how FLACRA gives second chances at a better life. Spears also became trained to administer Narcan (Naloxone).
Summer of Service is supported by Thomas J. Patchett '88, Trustee Dr. Marguerite S. Murphy and Dr. Brian Cooper, in order to build a better community through civic engagement and public service.