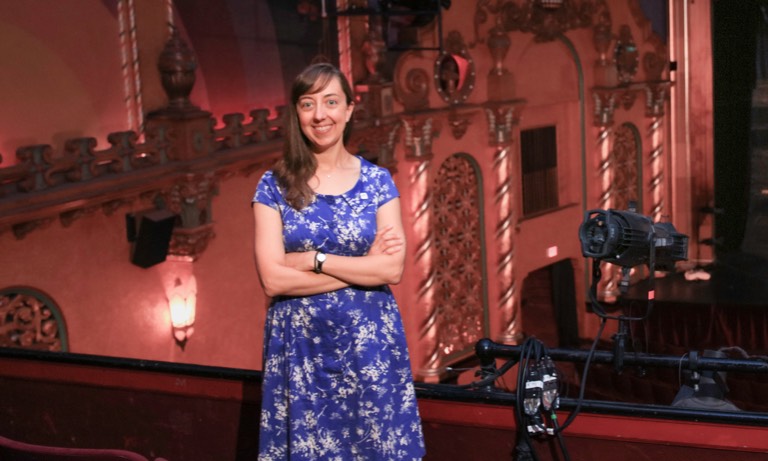 HWS News
15 March 2023 • Faculty Woodworth's Play Featured in Buffalo Festival
New work focuses on climate change.
"The Last Bee," a play by Associate Professor of Theatre Chris Woodworth, is one of the featured works at the Alleyway Theatre in Buffalo, N.Y. as part of the annual "Buffalo Quickies" Festival.
The festival is a hallmark tradition of the Alleyway Theatre. Playwrights are given just one week to write their own original short play. All of the plays are centered around one theme. This year's theme is climate change.
"We had to pull a slip of paper from a basket and whatever was on that slip of paper we had to incorporate into our play," shares Woodworth, "I pulled a flower." Her play, which she wrote in one day, is titled The Last Bee.
Following a week spent writing pieces, directors, designers, and actors had a week to rehearse the new work. The plays will run for two weeks, with six total pieces being performed.
The "Buffalo Quickies" Festival runs from March 9-March 19. For tickets and more information, click here.
Chair of the Theatre Department, Woodworth joined HWS in 2013 and has directed numerous productions on campus including "Love/Sick," "5 Lesbians Eating a Quiche" and "She Kills Monsters." At HWS, she teaches such classes as "Acting I," "Theatre History" and "Playwriting Workshop." Her scholarly interest focuses on feminist theatre historiography. Woodworth holds a Ph.D. in Theatre and graduate certificate in Women's Studies from Bowling Green State University, a master's in Theatre and Drama from Indiana University and a B.A. in Speech and Theatre, English Literature from St. Lawrence University.