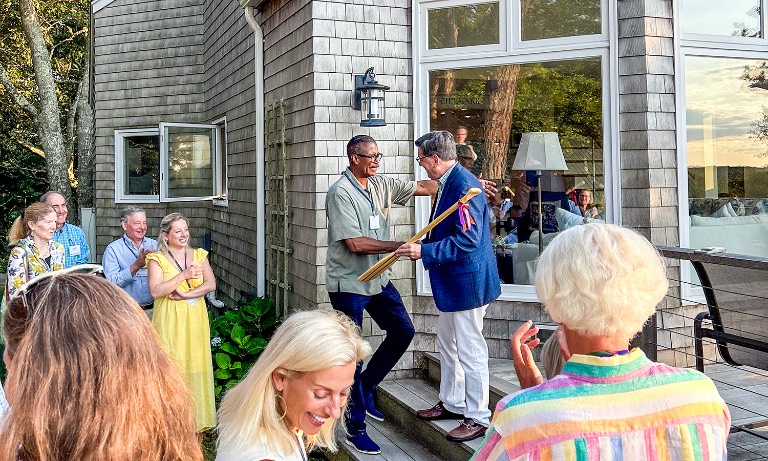 HWS News
1 September 2023 • Alums Whitaker Recognized for Lifetime Service
The Alumni Association of Hobart College honored Trustee Bill Whitaker '73, L.H.D. '97 with the Distinguished Service Award for Lifetime Service.
This summer, Emmy Award-winning 60 Minutes correspondent Bill Whitaker '73, L.H.D. '97 was recognized with the Distinguished Service Award for Lifetime Service for his dedication to Hobart and William Smith.
"I have had the pleasure of working with Bill for many years through his leadership on the Board of Trustees and his gracious and generous service to the Colleges. I know the tremendous affection he has for his alma mater and the dedication he brings to his service to our community. It is wonderful to see his longstanding commitment to Hobart and William Smith recognized by his fellow alums," says President Mark D. Gearan, who presented Whitaker with the award at the reception on Martha's Vineyard, Mass., hosted by David and Jane Blum Ebby '84, P'18 and Bailey Ebby '18.
"The closeness between the Colleges and our alums is a hallmark of the Hobart and William Smith community, and I can think of no one who better exemplifies that bond than Bill," says Director of Alumni and Alumnae Relations Chevy DeVaney '95, P'21, P'23. "I am thrilled that the Alumni Association has honored him with this well-deserved award."
For Whitaker, the award "was a total and wonderful surprise."
"On a brilliant summer's evening on Martha's Vineyard at a gathering of alums at the beautiful home of Jane, David and Bailey Ebby, I was enjoying catching up with Mark and Mary Gearan and making new acquaintances when out of the blue Chevy DeVaney stepped forward with a finely polished paddle festooned with the Colleges' colors and President Gearan started thanking me. It took a moment to register what was happening. I am so grateful," Whitaker says. "We are moving to a new offices at work. The paddle will have a prominent place in my new space. With all of our successes in academics and sports, with our growing reputation and recognition, it is thrilling to continue an association with the Colleges. HWS has given so much to me I am happy to give back."
Whitaker graduated from Hobart College with a B.A. degree in American history. He went on to Boston University, where he earned a master's degree in African American studies, and the graduate journalism program at the University of California, Berkeley. Before joining 60 Minutes in 2014, he served as a CBS News correspondent for 30 years, covering virtually every major breaking news event during that time. He won his first Emmy in 1989; his 2017 and 2018 reporting with the Washington Post on the opioid crisis also earned an Emmy, as well as a duPont-Columbia University Award, a Peabody Award and an RTDNA Murrow Award. Other recent honors include the 2021 Founders Award for Excellence in Journalism from the International Center for Journalists and the Joseph M. Quinn Award for Lifetime Achievement, the Los Angeles Press Club's highest recognition.
Whitaker, who has served on the HWS Board of Trustees since 2001, has spoken on campus on a number of occasions, including the 1997 and 2008 Commencement ceremonies. He was awarded an honorary Doctorate of Humane Letters for his service to HWS in 1997. In 2020, he was named chair of the Board's Belonging, Diversity and Equity Committee.
Bestowed by the Alumni Association, the Distinguished Service Award is given based on the recommendations of the association's honors committee, which includes Steve Westort '94 (chair), Chip Armstrong '08 and Rafe Mattingly '08.
Top: President Mark D. Gearan awards Bill Whitaker '73, L.H.D. '97 the Distinguished Service Award for Lifetime Service during a gathering on Martha's Vineyard, Mass.