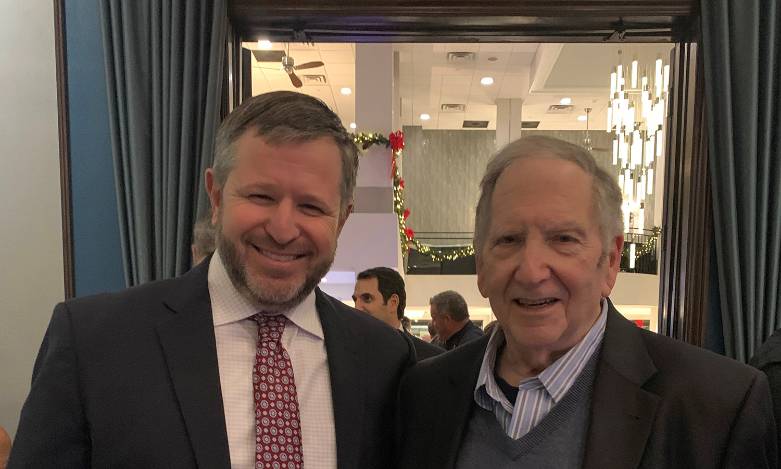 HWS News
How the Hon. Vincent Failla '97 found an ideal mentor and role model in the Hon. Judge Paul J. Vichness '65.
After seven years working as a prosecutor in Northern New Jersey, Vincent Failla '97 was recently sworn in as a municipal judge in the town of Fairfield, just a 15-minute drive from Roseland, where now retired Superior Court Judge Paul J. Vichness '65 worked as a prosecutor early in his career. This is only the latest parallel between the Hobart grads, whose serendipitous professional connections have developed into a decades-long mentorship and friendship.
Like Vichness, Failla graduated from Hobart College with a B.A. in history and went on to Seton Hall University School of Law, where Vichness also studied law. After earning his J.D., Failla's clerkship brought him to Vichness's court, which was an instrumental learning experience.
"I saw how he was as a judge — very even-keeled, well-prepared, never lost his cool with lawyers or defendants. So I learned a lot from him," says Failla, who also holds an M.B.A from Suffolk University and is the principal at the Failla Law Group, LLC.
He says Vichness' mentorship "led me through the early stages of my career when you really don't know which direction you should go in or you want to go in. After clerking for him, his advice was invaluable when I pursued my first job."
As an alum, Vichness takes mentorship seriously. "With mentoring, it gives the mentee an opportunity to talk to somebody who has experience in the field and to ask questions," he says. "I'm not talking about the business side of it or the legal side of it, but the practical side of it that they ordinarily wouldn't have anyone to talk to about it. And I think it's invaluable."
Beyond the similar career trajectories — both worked as municipal prosecutors before becoming municipal judges — Vichness and Failla both married William Smith graduates they met as students, Sharlene Vichness '66 and Summer Kent '98, respectively. The connections that brought them together also keep them close to HWS.
"If you go to Penn State and you run into another person who went to Penn State, it's not really a big deal," says Failla. "But if you're out in New York City and you see someone else who went to Hobart and William Smith, it's a big deal because there's not as many of them around and you probably know them or know somebody they know."
"It's something in common with people for the rest of your life. I guess at a big school you can have that, but your attachment is to the school and not the people. At a small school like Hobart and William Smith, I think it's both, the school and the people," says Vichness.
Failla looks forward to his new position, especially the opportunity to help, as his court is "typically the first contact most people have with a court or a judge. When people get off track, it's the first chance someone has to help them get back on track."
In a full-circle moment, Vichness attended Failla's swearing in — a proud moment for both Hobart grads. Of his mentee following in his footsteps, Vichness says: "I think he's going to be a great judge. He's a very practical person. He's not hung up on things. He will listen to people, he'll treat people fairly. You know, sometimes the problem with people who become municipal court judges is that it goes to their heads first. Not with him."