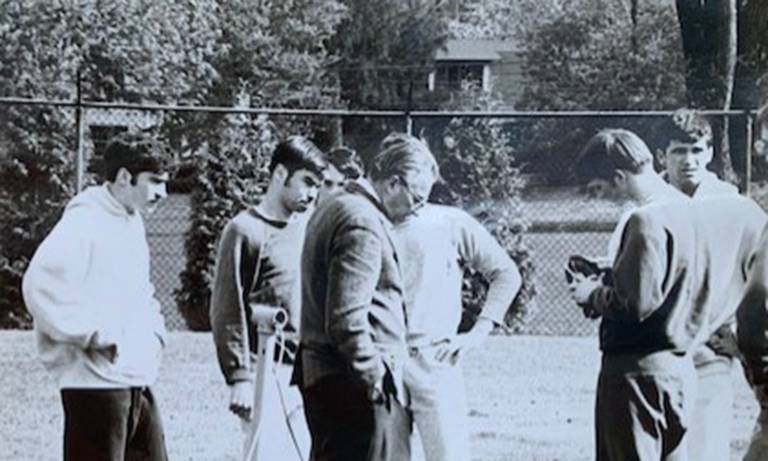 HWS News
17 January 2023

The Running Man
Michael Saeli '71 remembers Helmut Wagner P'73 (1904-1989), the late Professor of Anthropology and Sociology and Hobart track coach.
Helmut Wagner was something of an anomaly in the HWS athletics department, which meant he fit well with the young men he coached. He wore his thick gray hair combed straight back, and wore plastic rimmed glasses with thick lenses, probably the strongest prescription available. He was 5'11" and portly; his lower jaw was firmly set and slightly protruding, except when he smiled. He drove the most spartan vehicle you'd ever lay eyes on — a brown, two-door 1964 Plymouth Belvedere. The Colleges didn't have a large endowment in those days, and it was difficult for small, independent liberal arts schools to support 16 varsity teams, so Helmut would drive the Plymouth to the away meets to save wear and tear on the Colleges' vehicles; more than once he would deliberately fail to turn in a mileage reimbursement form. In everything he did, he led by example, teaching us the value of being contributors to our community, not just consumers.
Born in Dresden, Helmut grew up in post-World War I Germany and was a sprinter in the German youth program. When Hitler came to power, Helmut became an outspoken critic of Nazi tyranny and was declared an enemy of the state. During those turbulent times, when the world he grew up in seemed bent on destroying itself, one of the things that sustained him and gave his life a sense of stability was running. He ran every chance he got.
Deprived of his citizenship, Helmut was forced to leave Germany in 1934, eventually settling in the U.S. in 1941. In 1964, he came to the Colleges from Bucknell University to teach in the Anthropology and Sociology Department, which he chaired until his retirement in 1985. He resided in a modest home on High Street in Geneva with his wife Lore and daughter Claire '73.
At the time there was no track team, and cross-country was a relatively new sport on American campuses. But under Helmut's direction, Hobart fielded its first varsity cross-country team in 1967, and by the spring of 1969, he had grown the track club of 11 members into a varsity team of 34 athletes. During their first four years as varsity sports, his teams compiled a record of 25-8 and became a formidable force in upstate New York. Helmut's athletes included ICAC champions in javelin, discus, pole vault and the mile relay; there was a football jock who joined cross-country to get in shape for the upcoming season and by 1970 became the premier quarter-miler among the state's small colleges; there was also the overachieving farm boy who decided he needed to bolster his shaky self-confidence if he wanted to succeed in the classroom — and ended up being named to both the Upstate New York first team and the All-ICAC cross-country team.
How did a sociology professor obtain such results from such a diverse group of boys, some of whom had little previous competitive experience? Helmut was a tremendous encourager. On the day of a meet, he would shed that stoic German demeanor and transform into the biggest cheerleader on the team. There also was something pure and simple about the man that made us want to emulate his life of sacrifice and service. He used his own car to transport us to practices and meets; he continued coaching even while on sabbatical; he had as much time to give advice to his last-place runners as he did for the rest of the team.
Helmut died in 1989, but left behind a rich legacy, not only for the harriers and track-and-field men he coached, but for the entire HWS community. As he helped mold us into men through hard work and perseverance, he modeled the sacrifices one needs to make to succeed. Through his own personal work ethic, on and off the athletic field, we learned that those who make a difference in this world are those who are willing to make a substantial sacrifice to reach a noble goal.