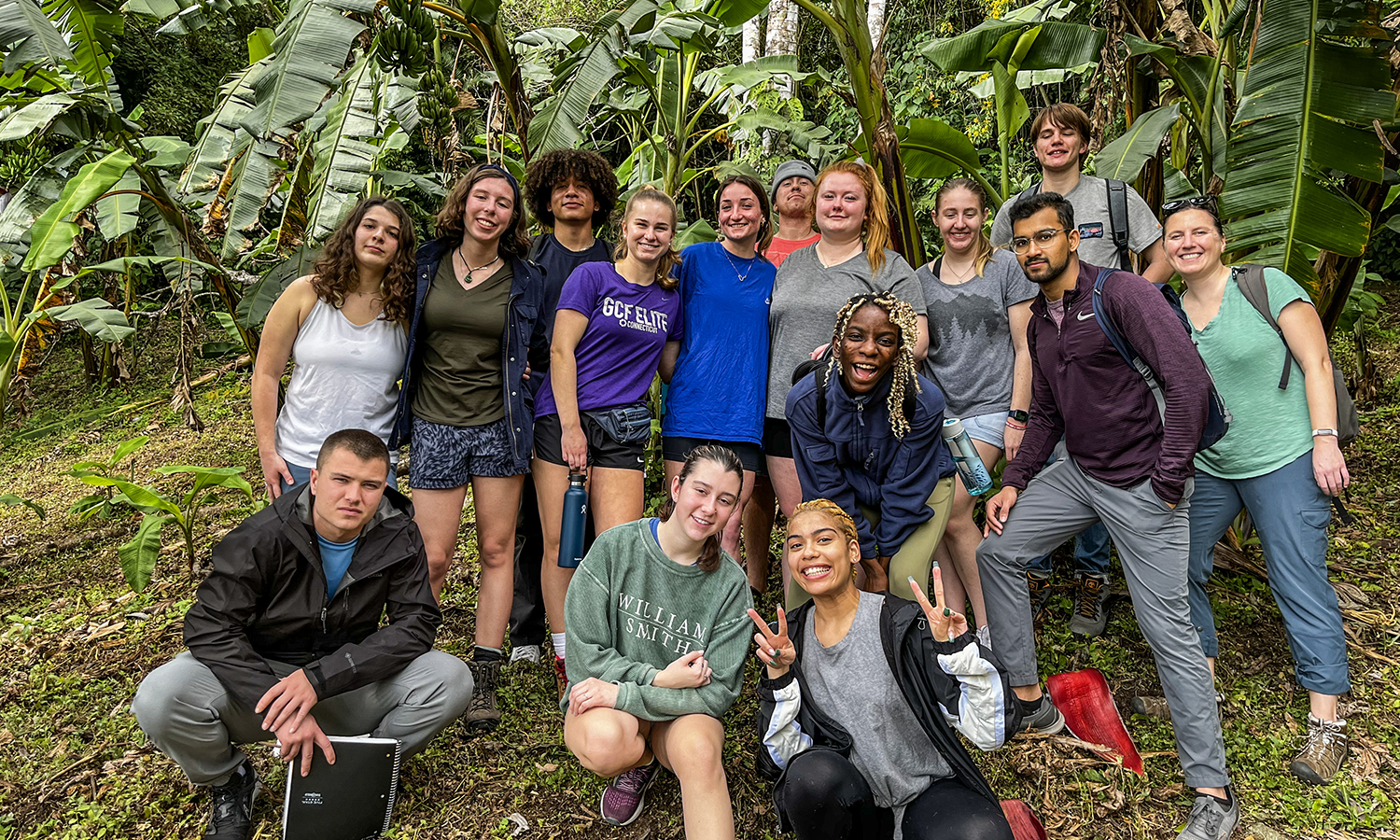 HWS News
18 January 2023

The Psychology of Sustainability: J-Term in Costa Rica

Through a study abroad experience in Costa Rica, students are studying the intersection of psychology, economics, culture and climate.

The effects of climate change are rapidly changing life in coastal areas. This January, HWS students are studying abroad in Costa Rica to learn how people who live in a vulnerable ecosystem are developing resiliency through conservation, sustainability and ecotourism.

Led by Associate Professor of Psychological Science Emily Fisher, the three-week program is titled "The Psychology of Consumerism and Sustainability on Latin America" and based at the Council on International Educational Exchange (CIEE) campus in Monteverde.

Through field experiences and dialogue with people working in agriculture, tourism, retail, government and education, students are investigating how local communities are confronting the challenges of a globalized economy while maintaining and sustaining the quality of their natural environment.

And what does psychology have to do with it? Sudents will also study consumer behaviors to understand what leads people to make sustainable choices.

One week into the program, students visited a small family soap and cosmetics business and a women's artisan coop in Monteverde to learn from business owners.

"Costa Rica is known as a country that values sustainability – and the campus where we're staying very much values that – so students are finding a lot of opportunities to compare the business, tourism and daily life routines with those in the United States," Fisher says. The CIEE campus has a biodigester and vegetable garden on site.

Additional highlights of the program so far have included an excursion to the town of La Fortuna, where students visited Arenal Volcano National Park and Baldí Hot Springs. They also rung in the New Year in the city's central plaza.

Next week, students will visit the Monteverde Commission for Resilience to Climate Change (CORCLIMA), a network of Monteverde leaders from public, private and grassroots sectors cooperating to reduce carbon emissions, increase carbon sequestration and adapt to climate change.

Other program highlights include a Latin dancing workshop, additional national park excursions and ziplining.