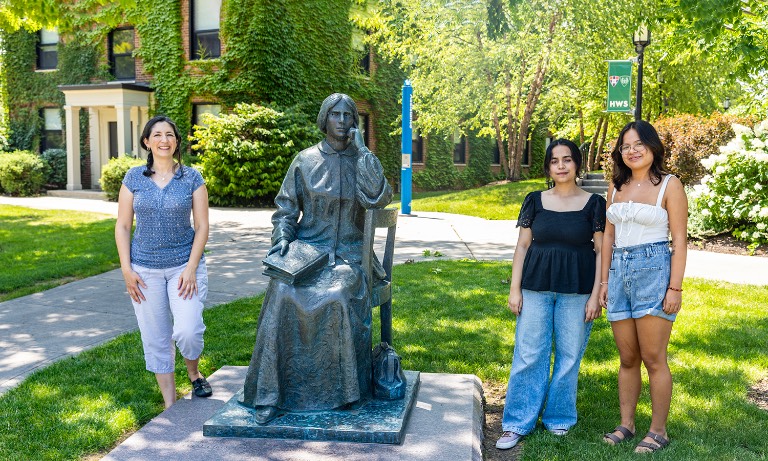 HWS News
16 August 2023 • Research Students Catalogue Public Art at HWS
Two students explored the history of the Colleges' public art this summer.
During the summer, Elisa Ribordy '24 and Umama Ahmed '24 collaborated on a research project, focusing on uncovering the rich history of art throughout Hobart and William Smith's campus. Their findings have been incorporated into an exciting new Spark! course.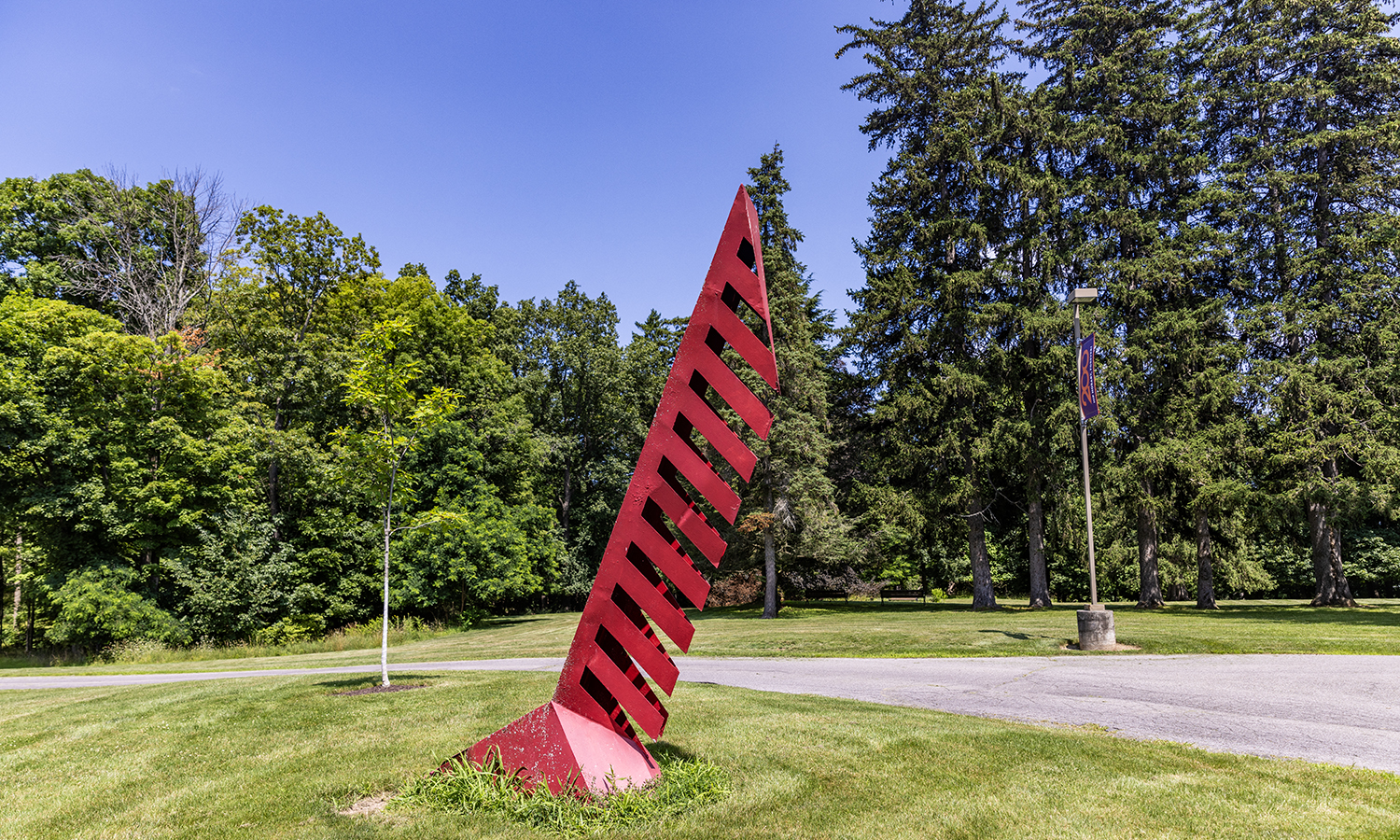 With the mentorship of Associate Professor of Gender, Sexuality, and Intersectional Justice Michelle Martin-Baron, Ribordy and Ahmed cataloged the sculptures around campus on a map that also documents each piece's history. Their work is serving as the basis for the "HWS Public Art for Community Transformation" Spark! course that Martin-Baron is leading with Victor Pultinas '08 for first-year students during Orientation. The course will help students build a sense of belonging to Geneva and the Finger Lakes through painting a mural on campus and exploring murals and places downtown. Ribordy and Ahmed are serving as student mentors for the class.
The two have been discovering the histories of each work with the help of the HWS Archives.
Notable works in the map include the Dr. Elizabeth Blackwell statue on the Quad created by Professor of Art and Architecture Ted Aub in 1994, "Yōōnǝdē," a statue of hands woven together that stands near Williams Hall created by students in the Advanced Sculpture class in 2020, "The Scissors" on the Stern Lawn, created by students in Three Dimensional Design in 1989; and a metal sculpture built by Peter Luchetti '77.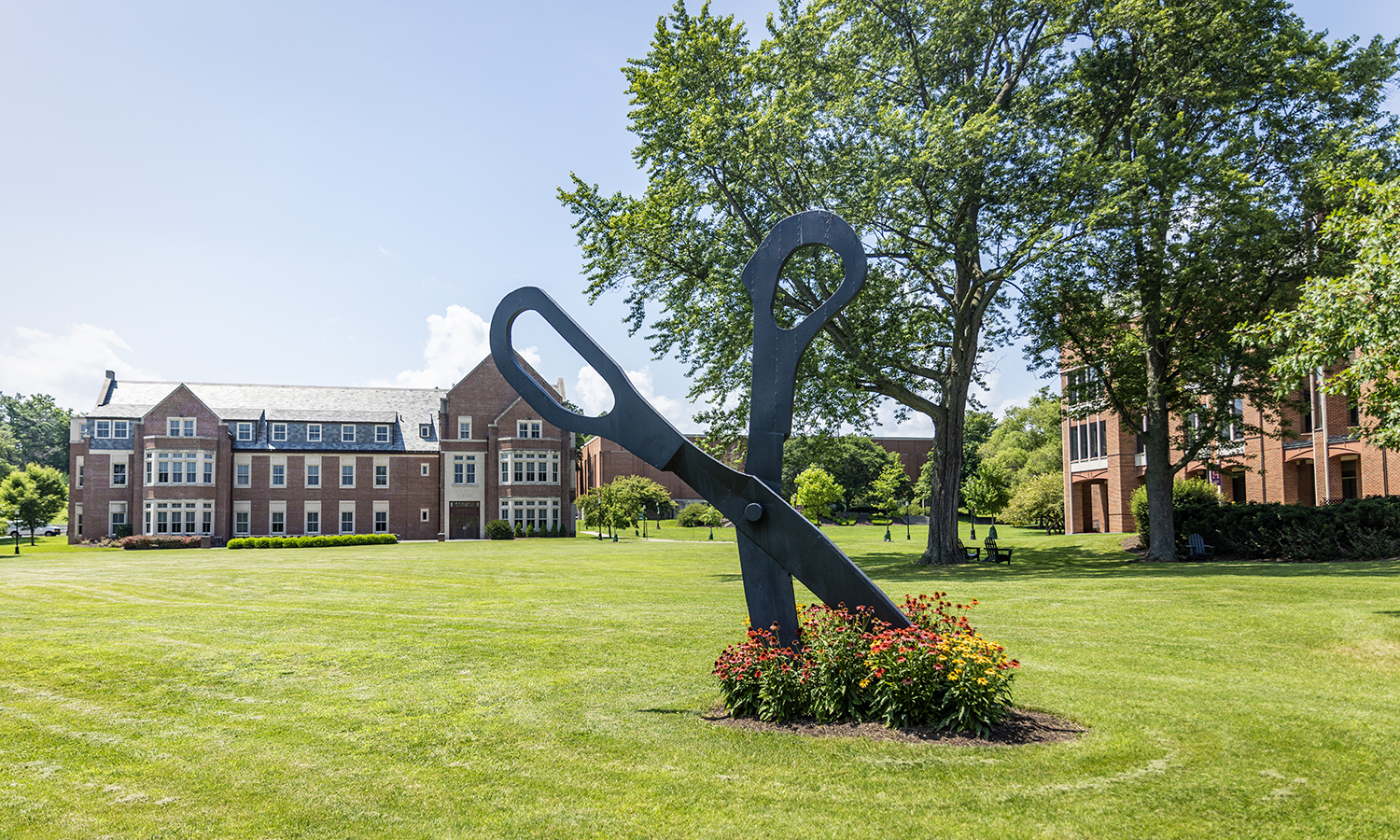 "I feel like I've learned a lot about HWS' history that I never knew," says Ribordy. This includes how "The Scissors" were originally planned to critique the coordinate system and how the two colleges were cut off from each other but has also taken on the meaning of two separate colleges working together.
"We've seen a lot of controversial things that have happened on campus regarding public art, so it's definitely been an interesting experience completing this project," says Ahmed.
Another part of the project includes creating a mural near the JPR parking lot. The plan for the mural is to include a diverse group of people to start a discussion on what belonging means.
Ribordy hopes that the map can be used to highlight the Colleges' art, especially for new and perspective students.
Additionally, both students are keen on helping to create a future mural. "I think it's exciting to leave a legacy of making public art on campus," says Ribordy.
Top: Associate Professor of Gender, Sexuality, and Intersectional Justice Michelle Martin-Baron, left, Umama Ahmed '24 and Eliza Ribordy '24 stand next to the statue of Elizabeth Blackwell on the quadrangle.