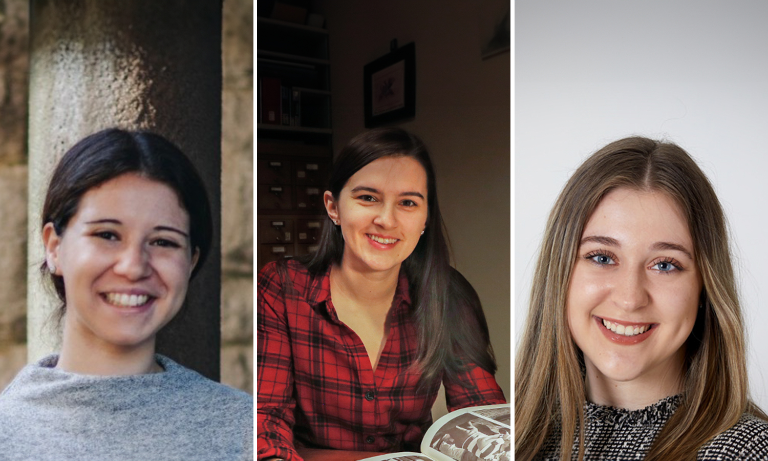 HWS News
6 November 2023 • Alums Sociology Grads Earn Top Honors for Graduate Work
Three recent graduates were recognized by their respective master's programs for outstanding thesis projects.
Sammy Ruthazer '18, Meredith Steinfeldt '20 and Kayla Liszewski '21, who all studied sociology at Hobart and William Smith, each recently completed master's programs — and each was lauded with the top prize from their respective programs for their thesis work.
For the HWS alums, who all worked with Professor of Sociology Jim Sutton, the academic foundations of their undergraduate research helped them "go beyond their boundaries," as Liszewski puts it.
Ruthazer, who earned her master's in public administration from the University of Colorado, Denver this spring, first sat in a course with Sutton during an Admitted Student Day. After enrolling, she delved further into her interests in public service and criminal justice and fell in love with the "breadth of options" in the Sociology Department.
"People were [in sociology] for very different reasons, whether you were looking at how society or people work through race, gender, religion, class…. The conversations in sociology were great because it's an interdisciplinary art in and of itself. The perspectives people brought created fruitful conversations," she says.
Ruthazer says Sutton's support — and her Honors project as an undergraduate under his direction, "Untold stories: Students in College with Incarcerated Family Members" — helped prepare her for graduate work.
Following her two years of AmeriCorps service with City Year Boston, Ruthazer enrolled at the University of Colorado and built strong relationships at Mile High United Way's community impact division during her M.P.A. capstone. The project, which earned recognition from the university when she graduated, focused on analyzing a strategic planning process, and developing recommendations for effective collaboration and future change management for the Denver United Way chapter. Now, she's continuing to work full-time with Mile High United Way to help put the plan into action.
Steinfeldt, who earned a master's in public health from Tufts University last year, entered HWS set on pursuing medical school, but between sociology courses and her passion for social justice and sexual-assault-prevention, she eventually pursued an Honors thesis centered on gender-based violence prevention and masculinities.
Graduating and pursuing graduate school during the height of COVID-19 pandemic was challenging, but "Professor Sutton really helped me transition and feel like I had a support system," Steinfeldt says.
Enrolling in Tufts' online M.P.H. program with a concentration in epidemiology and biostatistics, Steinfeldt took advantage of every opportunity she could. In the Department of Medicine at Tufts Medical Center, she helped develop a quality improvement initiative that increased access to COVID-19 vaccinations among admitted patients. Her work at the medical center also led to an administrative fellowship at Nicklaus Children's Health System, where she has explored a range of departments, from risk management and community engagement to the operating room.
Steinfeldt currently has a paper under review in collaboration with the World Health Organization, assessing the impact of contraceptives on maternal mortality and morbidity in women of reproductive age.
Liszewski, who earned her Master's in Public Health, with an Epidemiology concentration, from the University at Buffalo in the spring of 2023, says her experience in the HWS Sociology Department was "really transformative — from the books to the papers to the guest speakers."
An independent study with Sutton focusing on Public Health and Criminology "was one of the most impactful" parts of her undergraduate education, she says, noting "the department's ability to make my academic experience unique and individualized. They really promoted my love for Public Health."
This set the stage for her thesis project at the University at Buffalo. Liszewski knew she wanted to focus on the intersection of sexual and reproductive health as well as infectious diseases. Analyzing Public Health data, she looked at New York State's 2021 Behavioral Risk Factor Surveillance System (BRFSS), and concentrated on the survey questions related to HIV testing and condom use. Beyond simply reviewing grant proposals and existing literature, Liszewski was the only student in her cohort who completed a secondary data analysis. "I wanted to see if I could do it, and I did," she says.
Liszewski is a co-author for the research article "Cigarette Smoking Abstinence Among Pregnant Individuals Using E-Cigarettes or Nicotine Replacement Therapy," which was recently published through the JAMA Network. This opportunity was through the University at Buffalo where Liszewski worked as a research assistant.
She works as a Data Manager for Frontier Science Foundation, contributing to a cancer prevention clinical trial network.
Top: Sammy Ruthazer '18, Meredith Steinfeldt '20 and Kayla Liszewski '21 have been awarded with the top prizes in their respective master's programs for their theses.