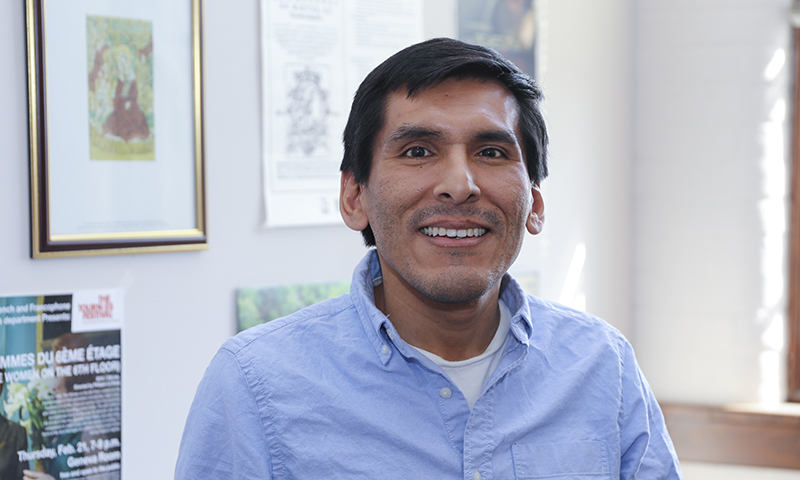 HWS News
22 June 2023 • Faculty Rodríguez Mansilla Elected to Cervantistas Board of Directors
Associate Professor of Spanish and Hispanic Studies Fernando Rodríguez Mansilla was elected to the Board of Directors of the Asociación de Cervantistas during the Cervantes Global/Global Cervantes conference on June 7-9 at Princeton University.
The conference was hosted by the Asociación de Cervantistas and the Cervantes Society of America. Both organizations study and promote the life and works of Spanish author Miguel de Cervantes, which Rodríguez Mansilla teaches in his course SPN 490 – "Cervantes' Don Quijote." This course, and others he teaches, focus on early modern Spanish literature where students read and discuss Cervantes' texts.
"I am excited to join the Asociación de Cervantistas Board of Directors," says Rodríguez Mansilla. "In this capacity, I will be able to collaborate in the planning of future conferences and events, as well as to promote the study of Cervantes' figure and literary works globally. Every three years, the Asociación de Cervantistas organizes the biggest conference on Cervantes' life and works around the world."
Rodríguez Mansilla joins other new members from five countries including: Salomon and Victoria Cohen Professor in Iberian Studies Ruth Fine of the Hebrew University of Jerusalem, Israel, Professor of Arts, Humanities and Communication Alicia Villar Lecumberri of the Universidad Internacional de Valencia, Spain and Researcher and Secretary of the Golden Age Research Group of the Universidad de Navarra Carlos Mata Induráin, as well as four other new members: Teacher and Researcher of Spanish Literature of the Golden Age Julia D'Onofrio of the University of Buenos Aires, Santiago A. López Navia of the Universidad Internacional de La Rioja, Spain, Francisco Ramírez-Santacruz of the Université de Fribourg, Switzerland and Vijaya Venkataraman of the University of Delhi, India. Members of the former Board of Directors that remain include Professor of Comparative Literature Marsha Collins of the University of North Carolina at Chapel Hill, Assistant Professor of Literature Francisco Cuevas of the Universidad de Chile, Chile, Professor of Hispanic Literature and Culture Randi Davenport of Tromso University, Norway, and Professor Paula Renata de Araujo of the University of Sao Paulo, Brazil.
Rodríguez Mansilla joined HWS in 2010. He has published articles and book reviews about Cervantes' literary works in journals like Cervantes, Bulletin of the Cervantes Society of America, eHumanista and Journal of Iberian Studies. He received the Luis Andrés Murillo Award for Best Article of 2014 from the Cervantes Society of America.