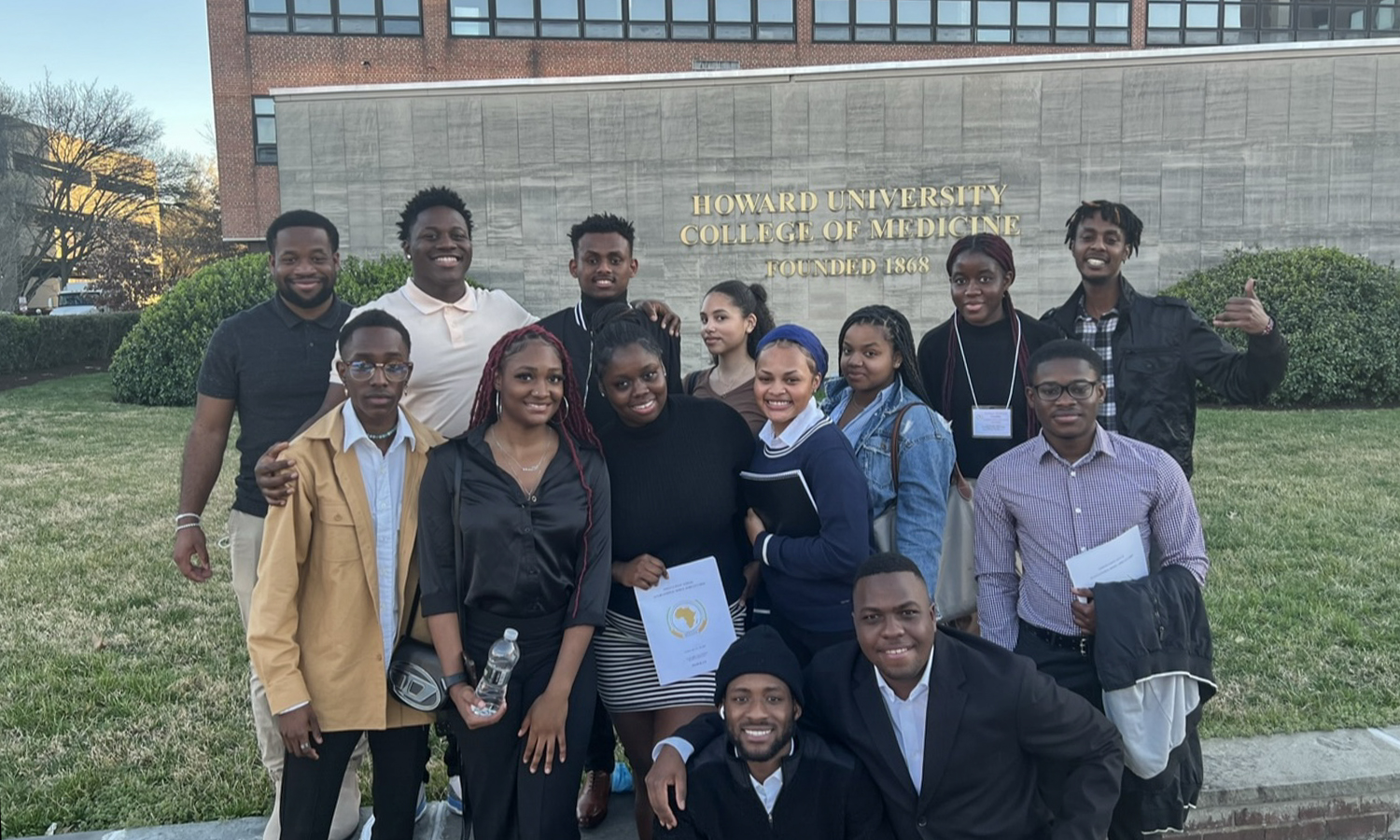 HWS News
6 March 2023

Representing Guinea, Gambia and Uganda at Model African Union By Finley Hetherington Aherne

HWS students traveled to D.C. for the 21st annual Model African Union, with delegates representing nations, arguing at committees and gaining invaluable experience in the world of foreign policy.

This semester, members of the HWS Model African Union club traveled to Howard University in Washington, D.C., for the 21st annual International Model African Union where they represented Guinea, Gambia and Uganda, debating policies at committee meetings and grappling with contemporary crises. The group was led by their faculty adviser Associate Professor of Anthropology Chris Annear.

The annual experience is designed to enhance diplomacy and public speaking skills, highlight major economic, social and political-security issues facing the African continent, and demonstrate the patterns of cooperation that characterize intra-African diplomacy, among other objectives.

HWS students undertook preparation for the trip in the form of a Reader's College, in which they drafted resolutions to present at the union. RCOL 146 is offered every fall.

Each student also represented a committee and developed a draft resolution that they sought to get adopted by a majority of other country delegates in their committee. The committees focused on social matters, peace and security, human rights and democracy, Pan-Africanism and economic matters.

"It was such a wonderful experience putting this trip together and attending," says Delores Amponsah '25, co-president of the Colleges' Model African Union. "In the morning, we were acting as delegates and at night we were friends doing outdoor activities. This is something that I will look back on and remember forever."

"The conference was an experiential opportunity to hone diplomacy skills and foster new connections with aspiring leaders," says Jovan Joseph '25. "As an economic delegate of Guinea, I was able to negotiate policy proposals to help remove trade barriers and increase living standards for Guinea, Gambia and Ghana."

The union was "a great opportunity to explore how diplomacy and global policy is made," says co-president Jaheim Pierre '25, adding that "through this experience I had the opportunity to meet delegates from Guinea. The passion, hopes and dreams were clear through their interactions."

Other HWS students who attended included: Leah Foster '25, Chidalu Nwokolo '26, Habisona Diallo '25 , Emily Cartagena '25, Jadon Layne '25, Chimee Ezike '25, Biruk Nardos '25, Elvis Njomo '24, Peace Kiponda '25, Marie Diarrassoouba '26, Aaliyah Zombra '26, Emmanuel Appiah '26 and Jamachukwun Atumonyogo '26.