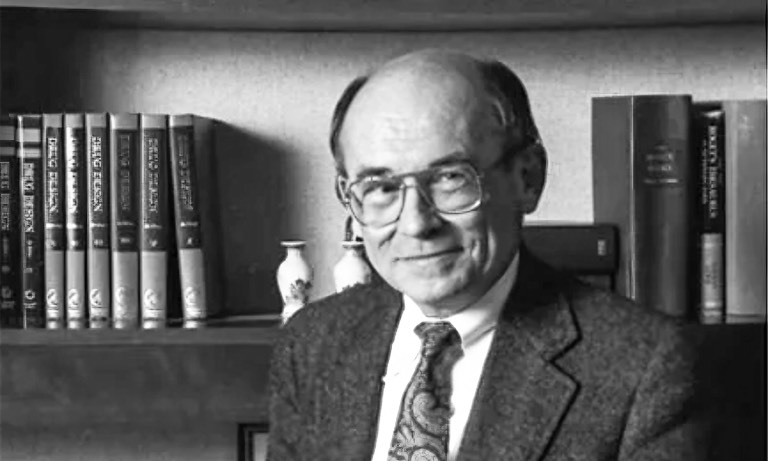 HWS News
12 May 2023 • Research Remembering Dr. Arthur Patchett P'88
Dr. Arthur Patchett P'88, who passed away in December 2022 at the age of 93, will be remembered as a trailblazing cardiovascular researcher.
A graduate of Princeton University, Cambridge University and Harvard University, Dr. Arthur Patchett P'88 worked at Merck & Company, Inc. for 44 years, retiring as Vice President of Medicinal Chemistry. For more than four decades, his work "led to some of the most significant medical innovations of the 20th century." At HWS, Dr. Patchett will also be remembered for his generosity to the Colleges which allowed countless students the opportunity to do summer research.
When it came time for his son Thomas J. Patchett '88 to explore colleges, Tom recalls his father suggesting a visit to Hobart and William Smith.
"I remember walking onto the Quad with him and we both got a beautiful first impression. In subsequent visits, it was clear that this is a place that develops a person and would develop me," says Tom, a retired assistant principal at Williamsburg Preparatory High School who after graduating from Hobart earned degrees from University of Rochester and University of Virginia. "[My father] would frequently come to the campus and see firsthand all the things that I was taking part in. Seeing all the chances for leadership really resonated with him."
Dr. Patchett's legacy of giving began while Tom was still a student. Soon after Dr. Patchett was invited to campus to give a talk on chemistry, he was awarded a cash prize for his work at Merck and decided to give the money to HWS. This was the first of many gifts from Dr. Patchett, as he came to support HWS annually for the remainder of his life giving to the Annual Fund, athletics, scholarships and the sciences.
"He viewed Hobart and William Smith as a special place, a place where students can really develop and grow," says Tom. "That level of growth was really something that he appreciated and HWS is a place where people can realize a potential that they never thought they could reach."
The donation blossomed into the Summer Science Program in Chemistry Endowed Fund that gives students the chance to gain hands-on experience in their field of interest. "When students have these opportunities to work with faculty, they learn very early on if research is something they want to take part in in their career," says Associate Provost for Faculty Affairs and Development and Associate Professor of Geoscience Nick Metz. "They're able to continue as independent study or honors projects, or in some cases go on to present their work at conferences. These opportunities really allow our students to stand out."
Tom shares his father's commitment to HWS, giving annually to support the Summer of Service program, athletics and the Annual Fund.
The Colleges will remember Dr. Patchett for his contributions to science and being such a valued member of our community. Read more about Patchett's legacy at Merck here.