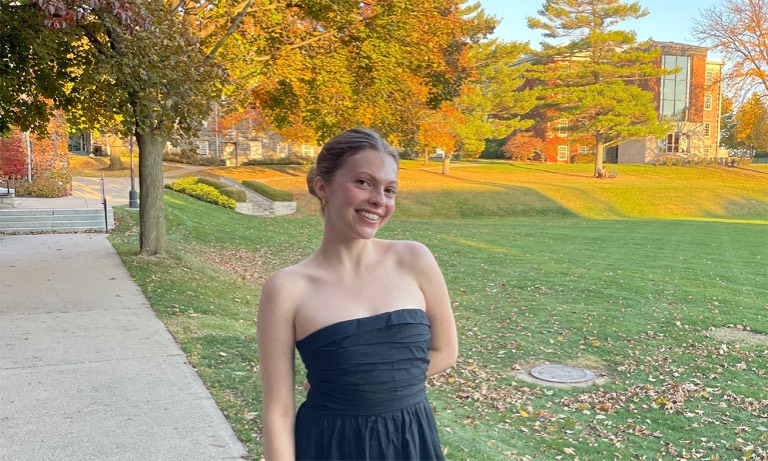 HWS News
1 March 2023

Ramsay '25 to Intern at RxSense By Colin Spencer '19

Role as analyst provides an opportunity to explore the pharmacy benefit management industry.

Annabel Ramsay '25 has accepted a summer internship as a business analyst at RxSense in Boston where she will learn how the company is working to make prescription drugs more affordable.

Ramsay's role at the healthcare and technology analytics firm will also have her learning about the pharmacy benefit management industry and the different sectors within the business. The internship will finish with Ramsay giving a presentation to company executives focusing on areas where the firm can grow.

"The healthcare tech industry is a sector I am completely unfamiliar with," says Ramsay, an economics and Asian studies double major, who will study abroad in Taiwan this fall. "So, I'm excited to try something new, and to be living in Boston again!"

Ramsay spent the summer of 2022 interning at BCE Consulting, a firm that specializes in helping companies drive revenue growth, where she worked as an analyst researching and interviewing industry experts and compiling results for managers and clients.

"I hope I'm able to gain some greater clarity on my career trajectory," says Ramsay of her upcoming internship. "I know I want to do something within the financial sector, but I think it'll take some real hands-on experience to crystalize that fully for me. Mainly, I want to come away from the internship being several steps closer to that goal of landing a job that will make me happy post-grad."

Ramsay credits HWS for helping her gain confidence to try new things. She's taken classes, joined clubs and taken on student leadership positions she says she wouldn't have imagined joining. But close relationships with professors and other students have allowed her to realize her potential.

On campus, Ramsay is a part of the Finance Society and Investment Club. She serves as the William Smith Congress treasurer and helps plan Day of Service. Additionally, she works as an O'Laughlin Ambassador in the Admissions Office. This spring, she was inducted into the William Smith Laurel Society for her academic excellence.