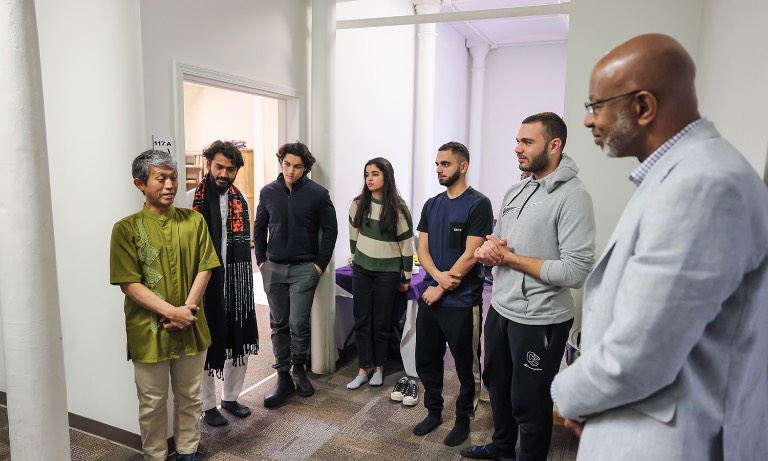 HWS News
8 June 2023

New Muslim Life Center Opens on Campus By Finley HETHERINGTON AHERNE

Expanded space provides an inclusive place to pray, gather and reflect.

A week after Eid al-Fitr, celebrating the end of Ramadan, the new Muslim Life Center opened on campus with a dedication ceremony hosted by the Muslim Student Association and the Office for Spiritual Engagement.

Located in Demarest Hall, the Center offers Muslim students, faculty, staff and the broader HWS community a centralized space for prayer and reflection. The space features a wudu station for ablutions, as well as a separate prayer room, which students can access 24 hours a day. The Center also serves as a meeting space for the Muslim Student Association, which worked with Chaplain and Dean of Spiritual Engagement Nita Byrd to develop the new space.

"It's important for our students to have a familiar and welcoming environment to worship and deepen their relationship with their faith and their communities," said President Mark D. Gearan, who spoke at the opening. "I hope the new Muslim Life Center provides that space for our Muslim students."

"I am grateful that the Colleges are honoring its commitment to inclusion and diversity, not just with words, but with action," said Professor of Religious Studies Shalahudin Kafrawi P'20 at the dedication.

Mohammad Yassin '25 noted that the Center enhances cultural diversity, engagement and understanding on campus. He thanked the Office for Spiritual Engagement and Chaplain Byrd, whose support was "above and beyond what we expected to help us set this up."

The Muslim Life Center was initially established in 2013 in Sherrill Hall. With the nearest mosques in Rochester and Syracuse, the center was created to provide not only a space that enriches the religious and cultural diversity on campus, but also a place to pray that is easy to access.

The Office for Spiritual Engagement works to promote engagement through services, programming and spiritual support that provide hospitality and advocacy for students of all religions and cultures.