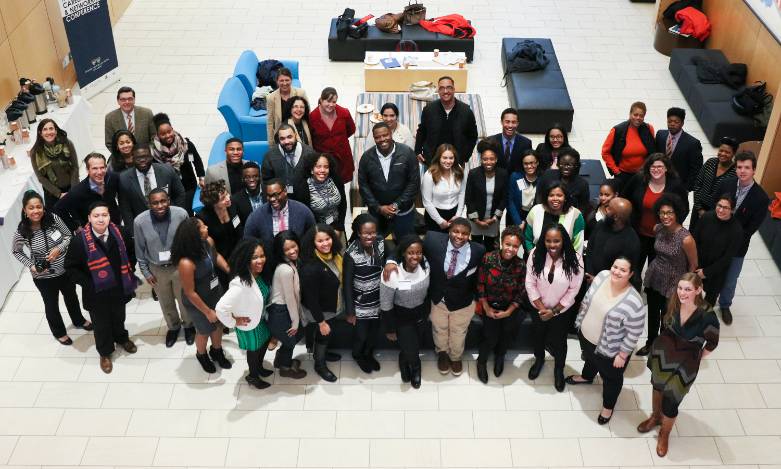 HWS News
18 April 2023 • Alums Multicultural Networking Conference 2023
An exciting lineup of alums are returning to campus to participate in the Multicultural Networking Conference on Saturday, April 22.
This weekend, HWS will host the seventh annual Multicultural Networking Conference, an opportunity for students to meet, learn and network with HWS alums of color from various stages in their career paths.
This year's conference has been planned to coincide with the Adams Intercultural Center Dedication on Saturday, April 22. A ribbon-cutting ceremony at 11 a.m. on Saturday morning will celebrate the opening of the newly renovated and expanded student space. RSVP for lunch following the dedication here.
The conference will also include opportunities to celebrate students of color and international students who excel at HWS at the "Alger Adams Scholar Recognition" event at 1 p.m. in the Vandervort Room, hosted by Vice President for Diversity, Equity and Inclusion Bill Woodson. Register for the conference here.

Highlights from the conference include a retrospective of "HWS Through the Years" moderated by President of Talladega College Gregory Vincent '83 at 12:15 p.m. in Vandervort Room. He will be joined by Xiomara Hall '91, Associate Head of School, The Chapin School; Rafael Rodriguez '07, Associate Vice President and Dean of Students, New York University; Dominique Ellis '15, Officer, U.S. Secret Service; and Edens Fleurizard '20, Senior Specialist, Riskified.
A career exploration panel will feature alums who have launched careers in entrepreneurship, nonprofit leadership and education, including Phylicia Dove '09, Independent Business Owner, IamPhyNomenal LLC/Black Monarchy; Joshua Leach '01, Director of Development, UrbanGlass; Dan De Nose '10, Executive Director, Leaders of the 21st Century; Shanelle France '11, Associate Director of Disability Services at Hobart and William Smith; and Nate Smith '00, Director, NYC Men Teach at Queens College. The panel will be held at 1:30 p.m. in Vandervort.
An afternoon session led by Vincent and Terry Smith '80 will lead students in a networking session to understand how to utilize the robust HWS Alum network and how to develop meaningful professional connections.
Conference attendees are invited to attend the Eid-al-Iftr Dinner hosted by the Muslim Student Association and the Office of Spiritual Engagement. The dinner will be held in the Adams Intercultural Center. Please email the Dean for Spiritual Engagement for more information.