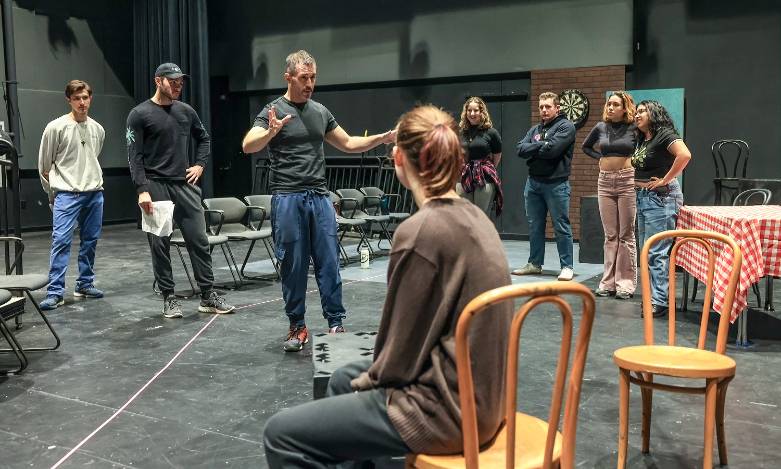 HWS News
10 February 2023 • Arts Much Ado About Nothing Premieres
Gossip, wit and romance abound in the Theatre Department's production of Shakespeare's comedy.
Will love conquer all, or will cynicism, short-tempers and sly brothers ruin Cupid's plans?
Join the HWS Theatre Department's spring 2023 performance of Much Ado About Nothing, Shakespeare's classic comedy of romance and mistaken identity featuring one of the Bard's most beloved pairs of unlikely lovers, Beatrice and Benedick.
Directed by Associate Professor of Theatre Chris Hatch and starring students, faculty and staff, the play opens on Thursday, Feb. 23 at 7:30 p.m., with additional performances running Friday, Feb. 24 at 7:30 p.m. and Saturday, Feb. 25 at 2 p.m. and 7:30 p.m. All performances will be held in the McDonald Theatre at the Gearan Center for the Performing Arts.
For ticket information, visit the HWS Theatre Box Office online.
The 2022-23 HWS Theatre season closes with Fault Lines, a world premiere performance directed by Professor of Theatre Heather "H" May and collectively created by the students in the fall Theatre course, "Advanced Acting Styles: Devising for Performance." Offering a heartfelt look at the lives of multiple individuals from a single perspective, Fault Lines asks: What does it take to build community on an unstable foundation? How can we join together when the world tries to divide us? Performances will run April 13 and 14 at 7:30 p.m. and April 15 at 2 p.m. and 7:30 p.m.
Learn more about the 2022-23 season, as well as other exciting HWS Theatre happenings, on the Theatre Department website or on Facebook and Instagram.
Associate Professor of Theatre Chris Hatch leads students during rehearsal for Much Ado About Nothing in the McDonald Theatre on Monday night.