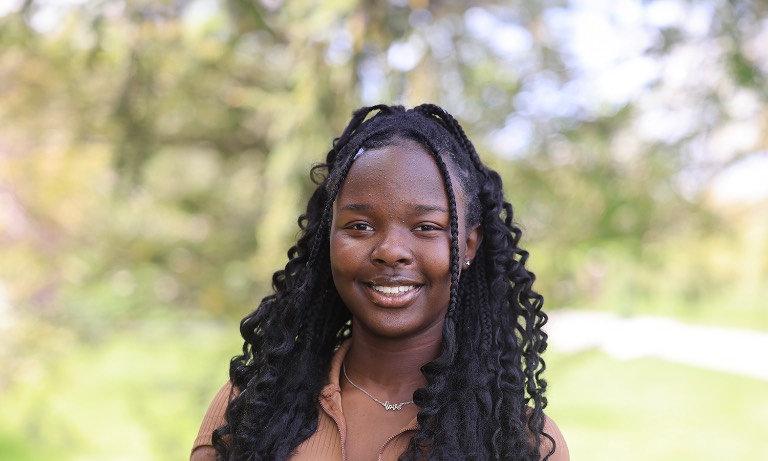 HWS News
4 August 2023

Mindfulness in Action

This summer, Jamachukwunma Atumonyogo '26 explored the mental health benefits of meditation and mindfulness.

Jamachukwunma Atumonyogo '26 has spent this summer following her interest in mental health awareness through an internship with Geneva Breathes, an organization that provides courses on mindfulness and meditation to help improve the mental health of local community members.

With other staff at Geneva Breathes, Atumonyogo created and facilitated a mindfulness program for teens, worked on the group's website and provided outreach to other organizations such as the Geneva Public Library and the Boys & Girls Club of Geneva.

"It has been a really good experience," says Atumonyogo, a biology major interested in a career in medicine, who has conducted much of her work from Hobart and William Smith's newly renovated Adams Intercultural Center. "I was able to work with a group of inspiring women who have made an impact in people's lives in one way or another and are passionate about bridging connections among individuals in Geneva."

As an international student from Nigeria, Atumonyogo says mindfulness has helped her adjust to college life in the United States.

"It was scary leaving my country and moving across the globe but performing mindfulness practices helped during those low times," says Atumonyogo. "So after hearing about Geneva Breathes' plans to expand their target audience to teens, I was interested in being a part of the process and of course, seeing how it would turn out."

The experience of interning has taught Atumonyogo important life lessons that she will take with her.

"Life and plans don't always turn out how we expect it to be and working with this program, I learned how to be more adaptable in order to make changes when necessary," says Atumonyogo. "It also taught me that you could build on your passions and make them a reality."

On campus, Atumonyogo is part of the Model African Union and Kinetic Dance Collective. She was also a member of UNICEF and the HWS tutor corps.