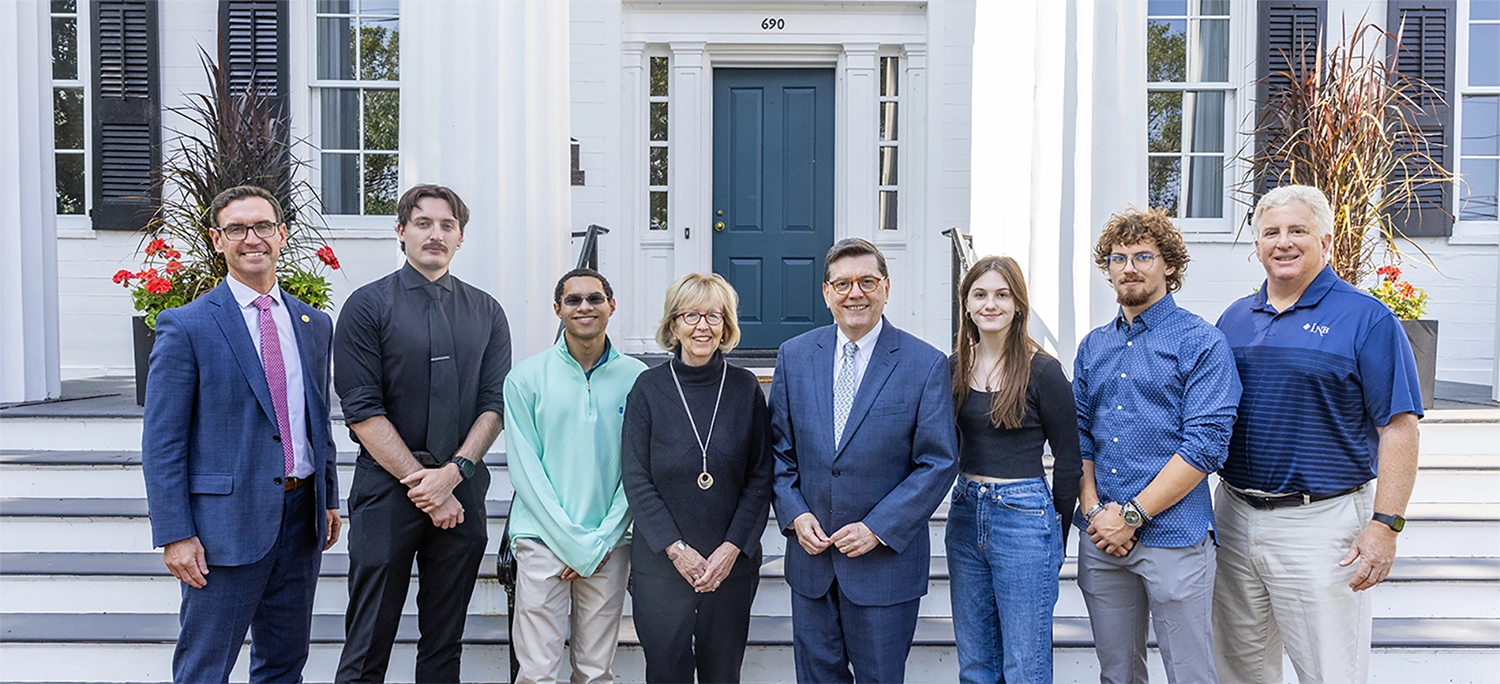 HWS News
24 October 2023

Meet the Newest Geneva Scholarship Associates

From Geneva High School to Hobart and William Smith, four Geneva Scholarship Associates students are ready to make an impact on campus.

With interests spanning environmental studies, mathematics, political science and psychology, four Geneva High School graduates – the latest recipients of scholarships from Geneva Scholarship Associates (GSA) – are engaging with campus during their first semester at the Colleges. Gavin Brignall '27, Michaela Riley '27, David Turrell '27 and Christopher Woody '27 join six GSA scholars currently enrolled at HWS.

"We are delighted to welcome Gavin, Michaela, David and Christopher to the Colleges. For more than two generations, GSA scholars have enriched our campus and have gone on to contribute to Geneva and many other communities where they live and work," says President Mark D. Gearan. "I am grateful for the generosity of the loyal donors who have made this such a successful program."

As a catcher for Hobart baseball, Gavin Brignall '27 is excited to make the transition from the Geneva Panthers to the Hobart Statesmen as the team gears up for its second season after being restored as a varsity sport in 2022. At Geneva High, in addition to baseball, Brignall played soccer, football and basketball. At HWS, he plans to study political science. He is proud to be attending college in his hometown and looks forward to the opportunity to give back to the community as a student volunteer.

Michaela Riley '27 is considering majoring in psychology or media and society. She also plans to take art history courses. Riley is interested in becoming involved in WHWS, the Colleges' student-centered FM radio station, volunteering for Days of Service, and hopes to study abroad through the Center for Global Education. At Geneva High, Riley was a member of the National Honor Society, Rotary Interact, the book and ski clubs, and volunteered with Geneva Heroes, a community service partnership between HWS and Geneva High.

A 2017 graduate of Geneva High, David Turrell '27 came to HWS this fall following six years of service in the U.S. Navy. He began his career at the Naval Air Crew Candidate School in Pensacola, Fla. before moving on to five years at Naval Station Norfolk as a crew chief for the MH-53E Sea Dragon, the Navy's heavy-lift helicopter capable of mine hunting, mine sweeping, and mine neutralization as well as rapidly transporting troops and equipment from ship to shore. Turrell completed two deployments to South Korea and numerous detachments across the United States. He was awarded the Naval Achievement Medal for his tour of service. As a student at HWS, Turrell is pursuing studies in science, technology, engineering and mathematics. At GHS, he graduated with honors and was a member of the swim and lacrosse teams.

Christopher Woody '27 has also made the athletic transition from Panther to Statesman as a member of Hobart swimming and diving. Also at the Colleges, he has joined the Outdoor Recreation Adventure Program, where he has connected with his peers while exploring outdoors. He plans to major in environmental studies. In his free time, Woody likes to play spikeball and continue his interest in photography. At GHS, he was a member of the swimming and diving and cross country teams.

Other 2023-24 GSA Scholarship recipients include Audrie Fazio '25, Nicholas Franceschi '25, Jaheim Jackson '25, Henry Loudon '24, Andrew Pilet '26 and Laila Taylor '24.

GSA President Robert W. Sollene P'15 commends this year's cohort. "We are proud to support these four outstanding students as they pursue their education at the Colleges. Geneva Scholarship Associates is a shining example of the great partnership between HWS and the Geneva community."

Since its founding in 1968, GSA and the Colleges have awarded more than $2.2 million in scholarships to nearly 230 graduates of Geneva schools to support their enrollment at HWS. This unique partnership began when then HWS President Albert E. Holland partnered with local business owners to create a community-driven organization to provide endowed scholarship support for academically and financially deserving Geneva students to attend Hobart and William Smith. The scholarship fund has grown dramatically through the annual financial support of thousands of individuals and businesses as well as the generosity of individuals who have endowed GSA scholarships.

Pictured above, The newest Geneva Scholarship Associates – David Turrell '27, Christopher Woody '27, Michaela Riley '27 and Gavin Brignall '27 – gather for a photo with Geneva High School Principal Gregory Baker '00 (left), Mary Herlihy Gearan, President Mark D. Gearan and Senior Vice President and COO of Lyons National Bank Rob Sollenne P'15 (right).