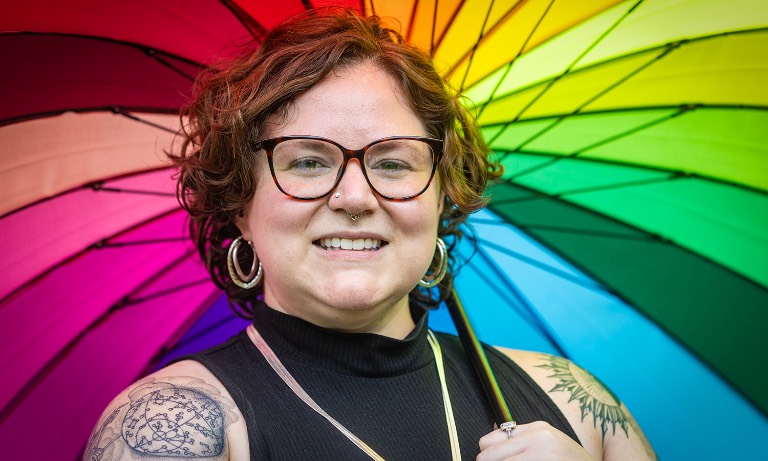 HWS News
19 September 2023

McDonald Named New LGBTQ+ Resource Center Director

New director is initiating a mentoring program and working with faculty to showcase the LGBTQ+ Center offerings.

Since starting in their new role as LGBTQ+ Resource Center Director, Mace McDonald has been telling students about the services offered at the LGBTQ+ Resource Center and the myriad of ways the office provides support. McDonald has also started a queer-student mentor support group.

"I'm having an amazing time connecting with the students, faculty, and staff on campus in my new position," says McDonald. "I've always loved the area, and now I'm literally in a position to support queer students and community members here; it's pretty much ideal."

"It's clear that Mace is the perfect person to serve as Hobart and William Smith's new LGBTQ+ Resource Center director," says Vice President for Diversity, Equity, and Inclusion Bill Woodson. "It's a student-centered role and certainly Mace has brought an appreciation for the signature traditions and celebrations HWS students have grown to expect. But Mace has already gone above and beyond, taking on improving the visibility of the Resource Center, as well as enhancing the space to better fulfill its mission."

In their role, McDonald is working with faculty, such as from the Gender, Sexuality, and Intersectional Justice program, to see how the Center and its resources can be incorporated into courses.

Through their outreach, McDonald helps students understand the space is safe for students to discuss their sexuality and will be offering workshops. McDonald will also offer programming and serve as a support for gender queer and nonbinary students as they progress through college.

Other fall programming the center is hosting includes a mentoring group for queer students, accountability writing hours in the LGBTQ+ Resource Center for faculty and staff, the annual Pride Week in October (during LGBTQ History Month), a screening of "This is Not Berlin" at the Smith Opera House to celebrate both Hispanic Heritage Month and LGBTQ History Month, weekly Tea and Tarot Tuesdays and a Friendsgiving event in collaboration with HEOP, International Student Success, and Posse.

Woodson notes that in McDonald's first month, they have already taken the initiative to create the mentoring program and created safe space training in coordination with Vice President of Campus Life Becca Barile to better support Hobart and William Smith's queer community.

"The energy and the commitment Mace brings to the role is tangible! And our community will be stronger for it," says Woodson.

As for goals they want to accomplish in the new position, McDonald hopes that people will feel more comfortable introducing themselves with their pronouns. "I know it can feel a little awkward at first when you begin doing it, but it's actually a really helpful move for allies to make in terms of normalizing behavior," McDonald says.

McDonald served as a Fisher Center Research Fellow during the 2022-23 academic year. They previously served as a grant writer for a domestic violence shelter and led a living wage campaign at the University of Buffalo. They hold a bachelor's degree in English from East Central University, a master's degree from Oklahoma State University in English and are completing their doctorate in English with a focus on algorithm studies at the University at Buffalo.