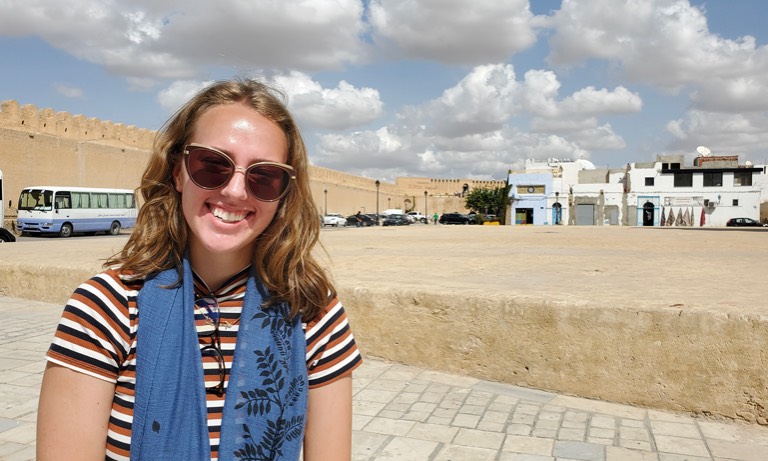 HWS News
William Smith Congress member Johanna Golden '23 studied dance with help from a SIIF grant.
International relations and French and Francophone studies double major Johanna Golden '23 spent the fall in Tunis, Tunisia studying traditional dance through a Student International Initiatives Fund grant.
"As a French major, I wanted to go somewhere francophone in the Maghreb [the western part of North Africa and the Arab world] to improve my language skills," says Golden. "I study the Maghreb in both my French and international relations classes, so Tunisia being one of the Maghrebi countries was a perfect fit for my study abroad experience." 
In addition to her double major, Golden is a dance minor. With the SIIF grant, Golden was able to study traditional Tunisian dance. "Taking dance classes immersed me into the culture here in a different and more profound way than my daily interactions out and about," says Golden, a member of the Kinetic Dance Collective, and junior/senior and faculty dance concerts.
Prior to her semester abroad, Golden prepared comprehensively by learning Arabic, taking classes about the Middle East and North Africa and regularly meeting with Visiting Professor of French, Francophone and Italian Studies Sana Abdi, who is from Tunisia.
"I came into the program with a much better background about the history of the region, the culture, and the languages that are spoken here," she says.
Another part of her semester abroad, Golden worked on a project supporting female entrepreneurs.
Through the Tunisian Association for Management and Social Stability, an organization that works with women and marginalized groups to help support and develop micro and small businesses, Golden played a key role in information sessions that took place across the country to garner interest and encourage entrepreneurs to apply.
"I took notes during meetings, created presentations, edited materials for the entrepreneurs and digitized documents," says Golden. "I also researched possible partners across three governorates."
The experience included challenges that Golden overcame. For example, she notes how, unexpectedly, "meetings would start out in French, but quickly turn into a hybrid of the two languages, and then end in Tunisie, which was everyone else's first language. I quickly had to come to terms with the fact that not everything would be in French." Classes taken in preparation for the project, including Modern Standard Arabic and Tunisian Arabic classes, "came in handy when the language of business became Tunisie."
Additionally, writing research papers beforehand, including one on unemployment in Tunisia, helped her understand the importance of the project. Golden notes how having this prior knowledge "not only helped me understand what I was doing, but it gave my work importance and relevance." Ultimately, she reflected that she was able to use the project to potentially improve the economy and quality of life of the Tunisian people. "I had the direct opportunity to use my knowledge and research and make a change, as small as the impact may be."
Administered by the Center for Global Education, the SIIF program awards small grants to students to pursue projects while they are studying abroad.