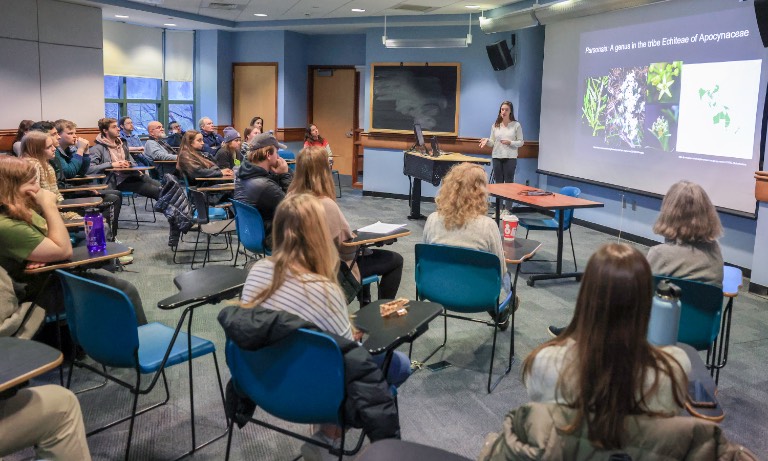 HWS News
20 September 2023 • Faculty • Research Learning About Science Over Lunch
Four biologists will present their work this fall in a series presented by the HWS Department of Biology.
The Department of Biology has invited four scientists to discuss their work on everything from skeletal muscle regeneration to coyote diet and coloration in birds during a speaker series this fall. The talks are open to students of all majors who are interested in scientific research. The lectures will take place from 1:15 - 2:15 p.m. in Napier 201. Lunch will be provided.
"These seminars expose students and the broader Hobart and William Smith community to biological research outside the classroom structure," says Professor of Biology and series organizer Meghan Brown. "They are an opportunity for scientists to share their interesting, timely scholarship and for students to think in-depth about these research questions. We welcome all HWS and community members to attend."
The list of guests include:
Friday, Sept. 29: Lauren Walter '16, Ph.D. candidate in Genetics, Genomics and Development at Cornell University: "Single-cell transcriptomic analysis of skeletal muscle regeneration across mouse lifespan identifies altered stem cell states associated with senescence." Walter graduated from HWS with a B.S. in biology.
Friday, Oct. 13: Kate Weiss, Ph.D. candidate from Arizona State University: "Coyote (Canis latrans) diet selection in a land of abundance: An urban ecological analysis."
Friday, Oct. 27: Sarah Khalil, post-doctoral fellow at the Department of Ecology and Evolutionary Biology at Cornell University: "What's in a name? How (and why) the Red-Backed Fairywren gets its red: from hormones to genomes."
Friday, Nov. 10: Leonardo Campagna Ph.D., senior research associate and assistant director at the Fuller Evolutionary Biology Program at the Cornell Lab of Ornithology at Cornell University: "Prezygotic reproductive isolation and the genomics of avian plumage coloration."
Biology students conducting research will also be presenting their work in December. Details will be announced shortly.
Top: In December 2022, Erika Sipos '23 discusses her research "Parsonsia: A genus in the tribe Echiteae of Apocynaceae" during the semester-end Biology Department presentations.