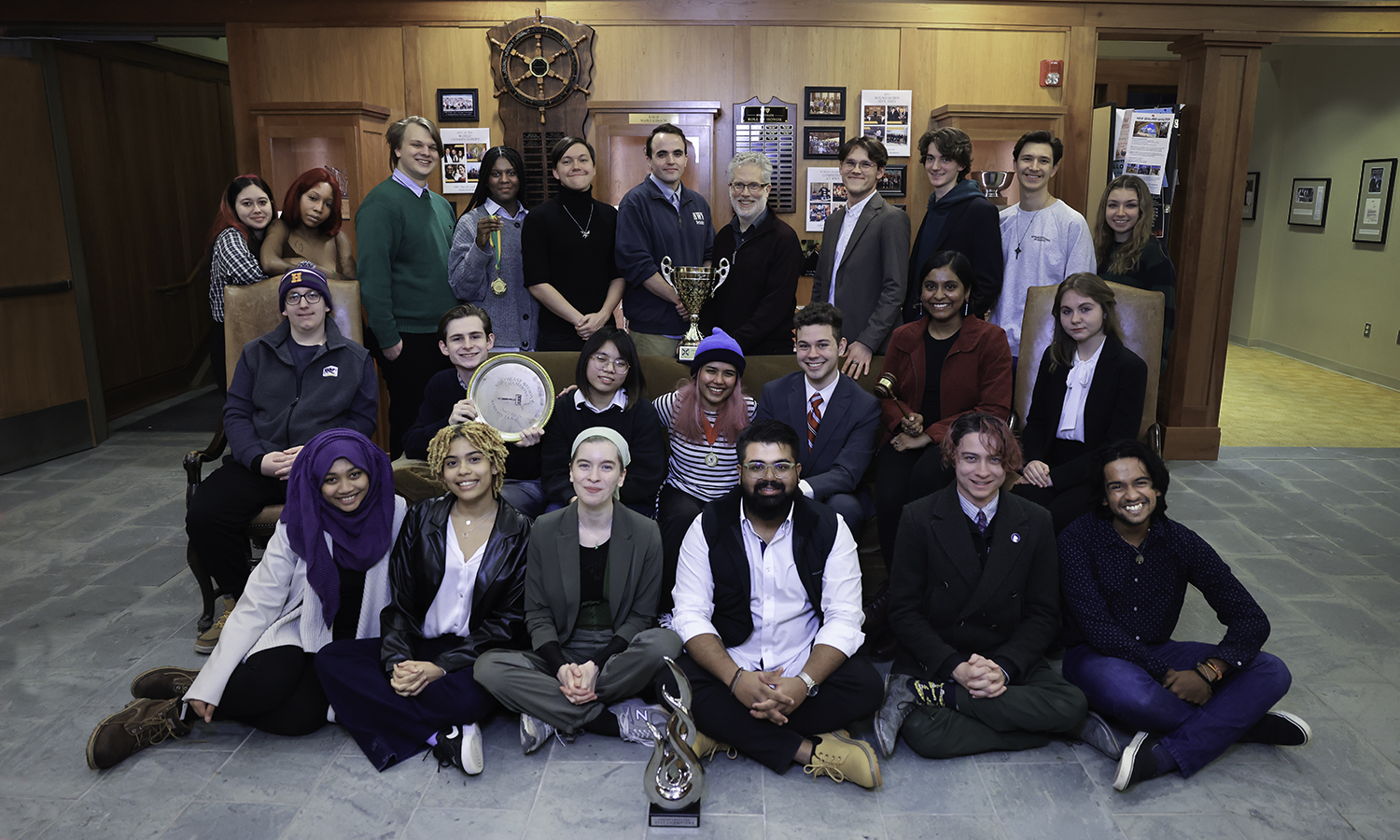 HWS News
20 September 2023

HWS Debate Sets Sights on Fall and Winter Championships

After ending the 2022-2023 academic year with record-breaking performances, HWS Debate gears up for another competitive semester.

With an invigorated passion and drive, both returning members of HWS Debate and nearly 30 new recruits are ready for a competitive debate season.

Last year, HWS Debate broke records in the national and international debate arena. Kayla Powers '24 and Sreyan Kanungo '23 made history as the first HWS team to win an elimination round in the open division of the World University Debate Championship held in Madrid, Spain. They had the best results of any U.S. liberal arts college and placed ahead of 56 other U.S. teams, including teams from Yale, Princeton, Harvard and Cornell universities.

This summer, Trias Postdoctoral Fellow Daniel Schonning '16 took helm of HWS Debate. He says they are prepared to break more records and win upcoming tournaments this fall. "I couldn't be more excited for the Debate Team's fall semester. Our practices have only just begun, yet already our new members are exhibiting the kind of poise, clarity and ​critical inquiry that mark great debaters—and our veteran members are ready to build upon the competitive successes they achieved last year," says Schonning.

HWS participates in the most competitive format in university debate, known as British Parliamentary (BP) style. Teams of two are given 15 minutes to prepare their case in support of or against a motion. "The success of the HWS debate club has always been the hours of research and practice that we have put in before each tournament," says Powers, who is serving as HWS Debate President.

In February, Lamia Rahman '26 and Sandeep Tissaaratchy '26 emerged as the Novice Nationals champions and led the team to multiple wins during the spring semester. Coming up, HWS Debate will take on:
Western IV, Oct. 7-8, hosted online.

Hart House IV, Oct. 13-15 at the University of Toronto.

United States University Debate Championship (USUDC), Oct. 21-23 at Hobart and William Smith Colleges.

Yale IV, Oct. 28-29 at Yale University.

World University Debate Championship (WUDC), Dec. 26-Jan. 5 in Vietnam.
New members are invited to join the team. Debate practices are held on Monday and Thursday from 5-7 p.m. at Stern 103.