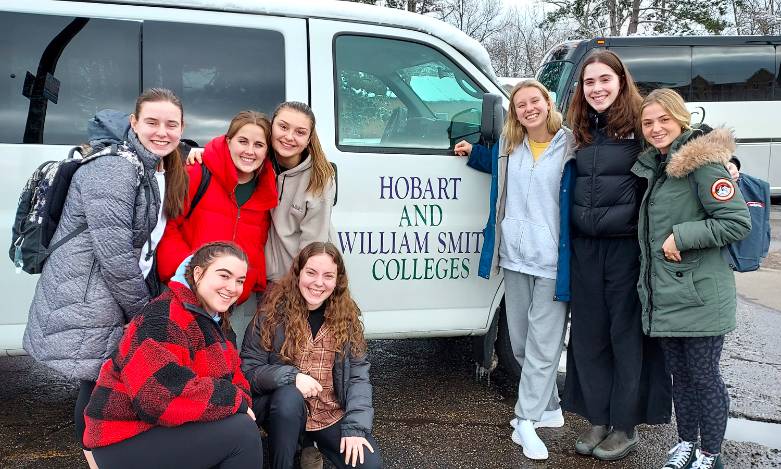 HWS News
28 March 2023 • Arts HWS Attends American College Dance Association Conference
Students enjoy participating in classes in modern dance, West African dance, improvisation, musical theatre and somatic techniques.
In March, eight HWS students and Professor of Dance Cynthia Williams attended the American College Dance Association (ACDA) Northeast Conference at Mercyhurst University in Erie, Pa.
During the conference, Bea Hoffman '23 and Irini Konstantinou '23 performed a duet choreographed by Ella Stier '23 titled Bea and Irini in the Adjudication Concert II. "Bea and Irini was well received by the panel of adjudicators who found it intriguing, beautifully danced, and engaging," says Williams.
The three-day conference included master classes in a variety of dance forms taught by guest artists and faculty members from the participating schools. Hannah Bixby '23, Hoffman, Konstantinou, Allie Lussier '23, Julie McCormack '23, Katie Pratt '23, Liann Rueegg '23 and Stier took classes in modern dance, West African dance, improvisation, musical theatre and somatic techniques. They also attended three adjudication concerts and two informal concerts. Williams taught Evans Dance Technique for conference attendees and offered a somatic writing workshop for faculty.
ACDA is a national organization that holds regional conferences for college and university dancers. This year marked ACDA's 50th anniversary as an organization; HWS Dance has attended this conference regularly since the mid-1980s and was excited to have it return as an in-person event after our last conference at SUNY Potsdam in 2020.
"In addition to the ability to expand their dance education through diverse classes, the opportunity to watch three concerts of choreography danced by peers at other institutions gave us much to debate, and our conversations over lunches, dinners, and in the van were lively and spirited!" says Williams. "For these eight seniors who are all immersed in preparation for their Junior/Senior Choreographers Concert April 7-8, 2023, ACDA was a wonderful opportunity to feel connected to the field of dance outside of their HWS home, and to reflect on the department that has nurtured their dance education for four years."
William Smith Congress provided supplemental funding to support student attendance at the conference.