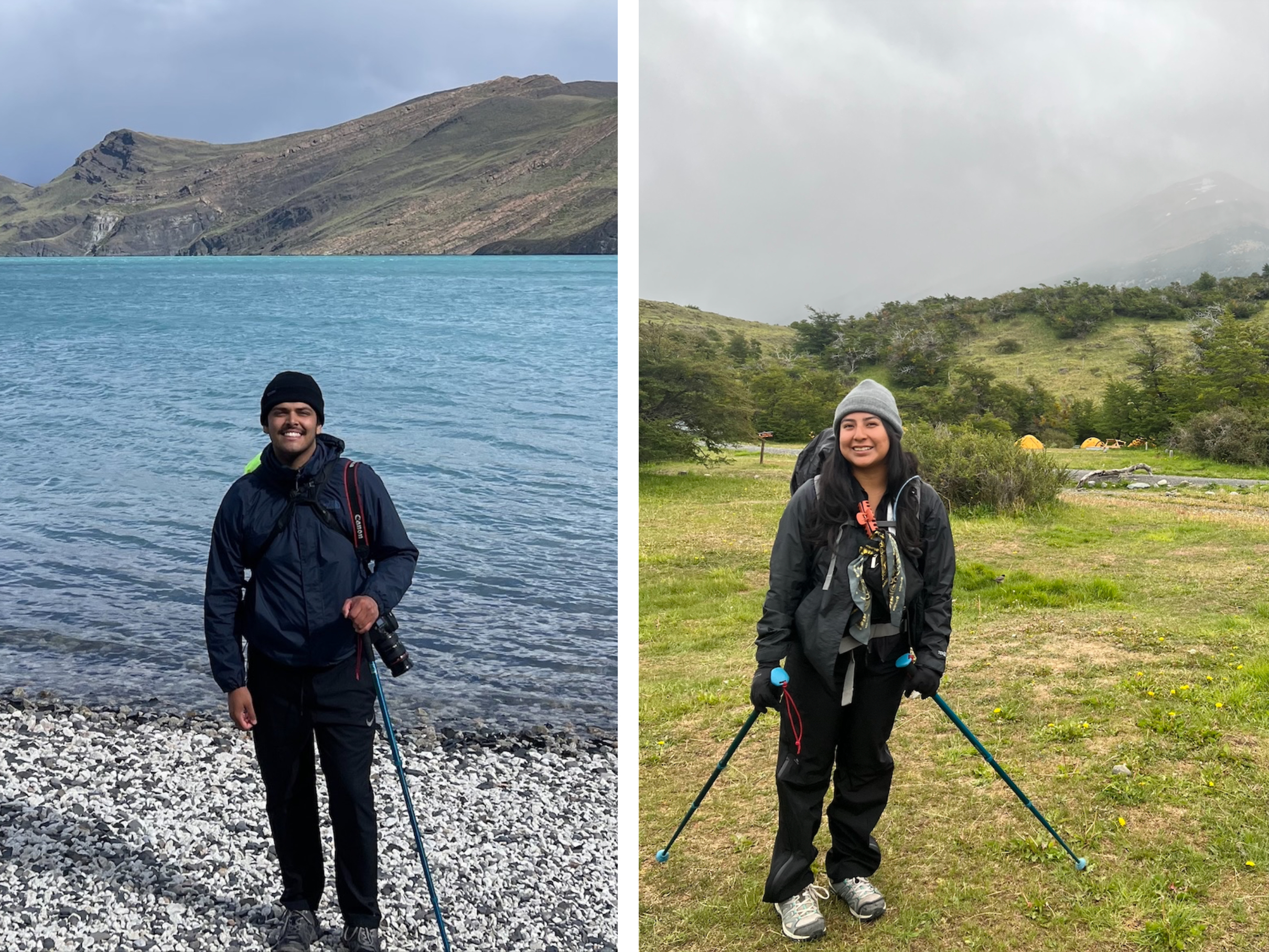 HWS News
23 March 2023

Hiking Torres del Paine

While studying abroad, Litzy Bautista '23 and Samuel Calderon '23 completed a 4-day hiking trek in Chilean Patagonia.

The W Trail in the Patagonia Region includes views of pristine blue lakes, glaciers and the famous granite peaks of Torres del Paine. It's also a challenging 47-mile trek that takes hikers four days to traverse.

While studying abroad in Chile, Litzy Bautista '23 and Samuel Calderon '23 took the mental and physical challenge of hiking Torres del Paine.

"It was so physically and mentally challenging. I have hiked Yosemite in California but backpacking for four days straight, having to carry all your stuff for 8-9 hours, was tiring," Bautista says.

The experience of a lifetime, Calderon says the trek was especially meaningful because he had been embedded in Chilean culture during his semester abroad and came to truly appreciate indigenous culture.

"I like going outside and interacting with nature in a lot of different ways, but I think what made the experience in Patagonia a little different was not just the environment and landscape, but me coming in with the understanding of who lived there before," Calderon explains.

"Going through those spaces and having a lot of the things I learned about the Mapuche culture in my mind changed the way that I interacted with those spaces," he says.

Based in Valparaíso, Chile, the CGE program is affiliated with Academic Programs International (API) and Pontifícia Universidad Católica de Valparaíso (PUCV).

Both Bautista and Calderon took a course on Chile's indigenous peoples titled "Resistance, Appropriation, and Sustainability: Cross Cultural Encounters with Mapuche People."

A Latin American studies and political science double major, Bautista also took "Political and Social Change in Latin America," a course she says helped expand her knowledge of the region, since much of her previous academic focus has centered on Columbia and Mexico.

An international relations major, Calderon studied colonization and decolonization from a Latin American perspective. He also participated in language immersion courses.

Bautista and Calderon are both Benjamin A. Gilman International Scholars. On campus, Bautista is a Hai Timiai member. She has served as an Orientation Coordinator and Community Assistant. She is a member of the Latin American Organization (LAO) and the Public Leadership Education Network (PLEN). She is also a Posse Scholar.

Calderon is a 2023 recipient of the Peace Corps Fellowship, where he will serve in Guatemala. He is a program assistant in CGE and a past member of the Hobart rowing team.