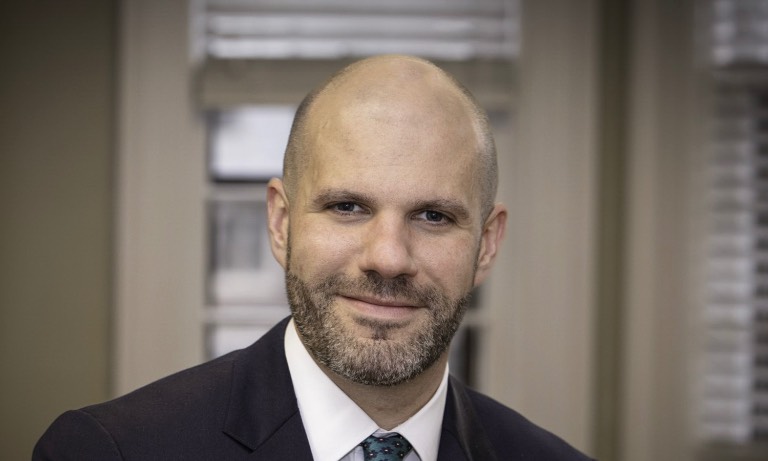 HWS News
18 October 2023 • Alums Higher Education Legal Trends Explored by HWS General Counsel By Colin Spencer '19
Litigation, costs and changing views of colleges and universities among topics in new article.
HWS General Counsel Lou Guard '07 has authored an article delving into legal trends affecting higher education. In the September/October issue of Trusteeship, his article titled "Macro Legal Trends in Higher Education: Three Takeaways for Fiduciaries" casts a spotlight on several crucial topics regarding litigation, regulation, legislation, lawsuit costs and changing legal views of colleges and universities.
Guard's article analyzes three key trends in higher education, shedding light on the increasing involvement of colleges and universities in legal matters, legislation and regulation over the past 15 years. This heightened legal scrutiny encompasses a surge in lawsuits directed at institutions and a growing number of proposed laws aimed at regulating classroom curriculum, eliminating legacy admissions and evolving perspectives surrounding Title IX. Guard's work in Trusteeship provides valuable insights into these legal transformations within the higher education landscape.
The article also explores the rising amounts colleges and universities have been awarding as part of lawsuits and the new views of colleges and universities from a legal standpoint. Guard notes how new data from the "Large Loss Report," issued by the United Educators, "chronicles 69 publicly reported damage awards or settlements amount to $1 million or more. Only 38 such amounts were reported in the prior year's report."
Guard's article also highlights a noteworthy shift in the judicial landscape. He points out that courts are exhibiting reduced deference toward these institutions and cites the recent surge in tort lawsuits where courts are increasingly inclined to acknowledge that colleges and universities owe a duty of care to plaintiffs. This shift has enabled more cases to progress beyond the initial motions to dismiss.
Underscoring the significance of this trend, Guard references two cases initiated by Students for Fair Admissions, Inc. against Harvard University and the University of North Carolina. These cases illustrate a decline in the Supreme Court's deference toward universities, marking a significant development in the legal framework surrounding higher education institutions.
"This year is bound to be one of the key substantive legal developments for higher education with the impending release of new Title IX regulations, fallout from the Supreme Court's recent ruling on affirmative action, and continued public scrutiny related to costs and funding of higher education," Guard writes.
The article stems in part from research for Guard's upcoming book with Professor of Economics Joyce Jacobsen All the Campus Lawyers: Litigation, Regulation, and the New Era of Higher Education from Harvard University Press. The book will be available in the spring.
Guard graduated cum laude from Hobart and later Cornell Law School. At HWS, he provides legal advice and counsel across institutional areas, assists the president with all major initiatives and projects, and is responsible for the strategic direction of legal affairs for the Colleges. He is admitted to practice law in New York and Pennsylvania and is an adjunct professor of law at Cornell Law School where he teaches the seminar on the law of higher education. Prior to joining HWS in 2014, he worked at law firms in Philadelphia, Pa. and Rochester, N.Y.
Guard will be teaching a seminar "Higher Education Law" for the Spring 2024 semester in the Master of Arts in Higher Education Leadership (MHEL) program.