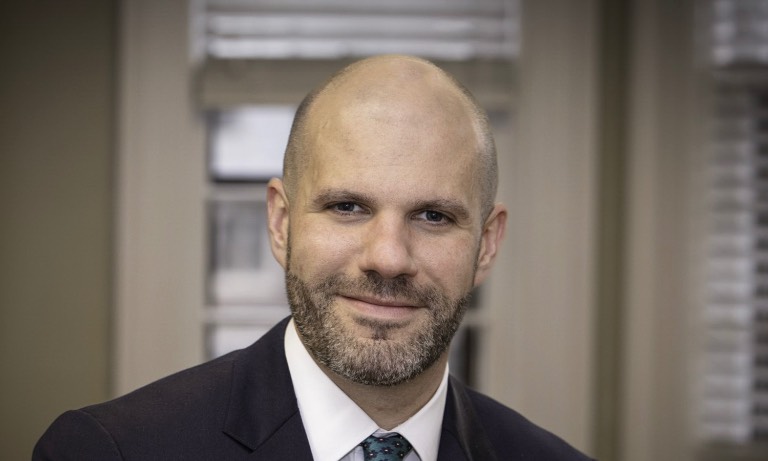 HWS News
11 April 2023 • Alums Guard '07 Advises College Attorneys on Department of Education Changes By Colin Spencer '19
Talk by HWS General Counsel Lou Guard '07 discusses U.S. Department of Education definition changes on admissions and financial aid practices.
HWS General Counsel Lou Guard '07 addressed the National Association of College and University Attorneys in reference to upcoming guidance changes from the U.S. Department of Education. Beginning on Sept. 1, higher education institutions will have to report their plans on how they will comply with the changes.
In February, the U.S. Department of Education Office of Federal Student Aid expanded the definition of third-party servicers to include companies that perform student recruiting and retention, provide software products and services involving financial aid administration and provide educational content and instruction. Additionally, the guidance prohibits colleges and universities contracting with third-party servicers from outside of the United States or entities owned or operated by an individual who is not a U.S. citizen or national or a lawful U.S. permanent resident.
Guard's webinar focused on these changes and what should be done, including making sure that college campus attorneys communicate the changes clearly with senior administration staff, what the changes mean and why they should care, along with identifying partners on campus to understand institutions' various third-party vendor relationships and how the guidance may impact the relationships.
"To borrow an observation from one colleague General Counsel, once again it would appear that colleges and universities and their counsel find themselves sorting through sub-regulatory guidance being released by the Department of Education that holds the potential for a sweeping impact on our campuses," says Guard. "As you undertake this effort, you also may consider commenting on the guidance or grouping with others in consortia or other networks to comment for the betterment of future agency interpretations. While our regulatory system is not without flaws, it works in the best interest of all stakeholders when it is meaningfully and effectively engaged."
Guard graduated cum laude from Hobart and later Cornell Law School. He provides legal advice and counsel across institutional areas, assists the president with all major initiatives and projects, and is responsible for the strategic direction of legal affairs for the Colleges. He is admitted to practice law in New York and Pennsylvania and is an adjunct professor of law at Cornell Law School where he teaches the seminar on the law of higher education. Prior to joining HWS in 2014, he worked at law firms in Philadelphia, Pa. and Rochester, N.Y.
Guard will be teaching a seminar, Higher Education Law, for the Spring 2024 semester in the Master of Arts in Higher Education Leadership (MHEL) program.