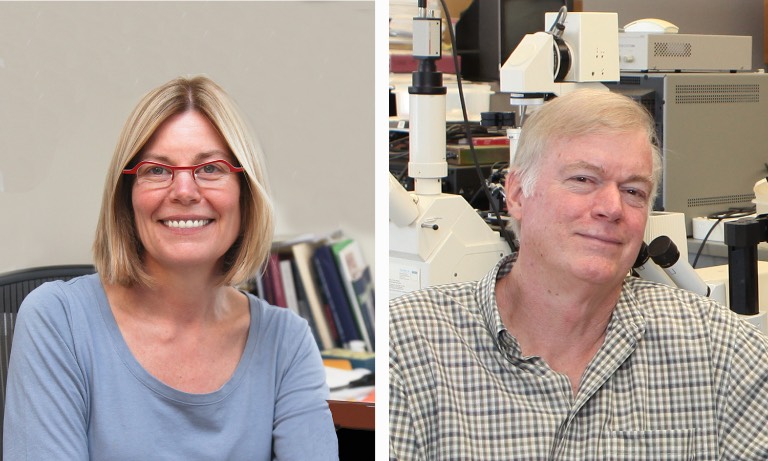 HWS News
12 May 2023 • Faculty Glover, Mertens Honored with Distinguished Faculty Award
Retired professors recognized for their academic impact.
The Hobart Alumni Association and William Smith Alumnae Association will honor Professor Emeritus of Biology Thomas J. Glover and Associate Professor Emeritus of Economics Jo Beth Mertens with Distinguished Faculty Awards during Reunion 2023.
Established in 1990, the Distinguished Faculty Award recognizes the importance that graduates of the Colleges place on the contributions of outstanding faculty members of the past for their impact as teachers, mentors and scholars.
The award ceremony will begin at 1:15 p.m. on Friday, June 2 in the lobby of the Warren Hunting Smith Library. The event will be livestreamed here.
Registration is required to attend. To register, click here.
A member of the biology faculty from 1972 to 2012, Glover is a geneticist whose research focuses on arthropods and pheromone-mediated behavior in insects. His wide-published scholarship has examined the genetic control of sex pheromone communication in European corn borers; the canalization of pheromone blends in redbanded leafroller moths; and the genetic basis of pesticide resistance in Drosophila and two-spotted spider mites. Among other courses, he taught genetics, biostatistics and biometry and co-directed abroad programs to Queensland, Australia with Professor Emeritus of Mathematics and Computer Science Kevin Mitchell. Glover, who earned his B.S., M.S. and Ph.D. from Ohio State University, is a member of the American Association for the Advancement of Science, the American Institute of Biological Sciences, the Entomological Society of America and Sigma Xi, the international science and engineering honor society. He also served as the president of the board of the Center of Concern in Geneva. In 1995, Hobart and William Smith awarded him the Faculty Teaching Prize.
"Professor Glover was a very practical and influential voice that has echoed in my head all through my years of pursuing a Ph.D. and eventually becoming a professor," says Kathryn Feller '06, an assistant professor of biological sciences at Union College, who nominated Glover. "He gave me a no-frills warning about the challenges that lay ahead on a path to earning a Ph.D., as well as a solid foundation in applied biostatistics. Both of these ultimately influenced my success on this path, both in research as well as in maintaining a healthy perspective on what to expect from a career in research."
James Nugent '90, now a high school science teacher at Columbia High School in Maplewood, N.J., was one of Glover's advisees and recalls how the biology professor's "teaching and mentoring led me to a strong interest in genetics. I went on to get a master's in genetics and molecular biology…then spent five years doing science research in this same field before changing careers to become a high school teacher who instilled a love of genetics and overall biology in thousands of my own students."
A specialist in tax and economic policy, Mertens taught at HWS from 1997 to 2015, with a wide range of courses exploring collective bargaining and labor relations, sports economics and public finance, among others. Her research and scholarship have explored economic policy in developing countries, regional economic development, and tax reform in transition economies. She served in a number of leadership roles within the HWS faculty, including as chair of the Economics Department, director of the Public Policy Program and chair for the Committee on the Faculty. She returned to HWS after her retirement, serving as the Special Assistant to the President for Student Success from 2017 to 2019. Mertens was named the New York State Professor of the Year in 2005 and the Chi Phi National Advisor of the Year in 2011. She was the 2011 recipient of the Colleges' Community Service Award and a 2003 Fulbright Teaching Scholarship to Vietnam. In addition to her duties at HWS, Mertens served in consulting roles across the world on tax policy and tax administration. She was the resident advisor on tax policy at the Ministry of Finance in Ukraine in 1993 and the Russian Ministry of Finance in 1994. Mertens has consulted for many agencies, including the U.S. Department of Treasury, the International Monetary Fund, and the World Bank. She was a member of the American Economics Association, Committee on the Status of Women in the Economics Profession, International Association of Feminist Economics and the National Tax Association. She holds a B.A. from the University of Arkansas, an M.A. from Duke University and a Ph.D. from Emory University.
"Jo Beth Mertens was a phenomenal teacher," says Cait Hughes '12, a program manager at Columbia University's Community Impact. Hughes, who nominated Mertens, recalls her "scary" reputation — "my peers avoided taking her microeconomics course" — "but she was the best teacher I've ever had. She was tough but helped me every day in office hours with my work until I got it.… Her insistence on learning foundational structure continues to inform me in my daily life. I'm grateful for her education."
"Professor Mertens brought an instant seriousness and passion for high level academic work from the minute you first sat in her class," says Robert Sutphen '02, a social studies and athletic director teacher at the Ticonderoga Central School District in Ticonderoga, N.Y. "She was always exquisitely prepared, took care to teach using examples and materials that were relevant to her students and called out poor effort when she saw it. Here's the best way I can sum up how I feel about Professor Mertens: she is the kind of professor that I want to send my children to. I can think of no higher endorsement."
Nominations for the Distinguished Faculty Award are sought by all alumni and alumnae and are for professors who are retired or have moved on from Hobart and William Smith for more than five years or are deceased. Learn more about the DFA.