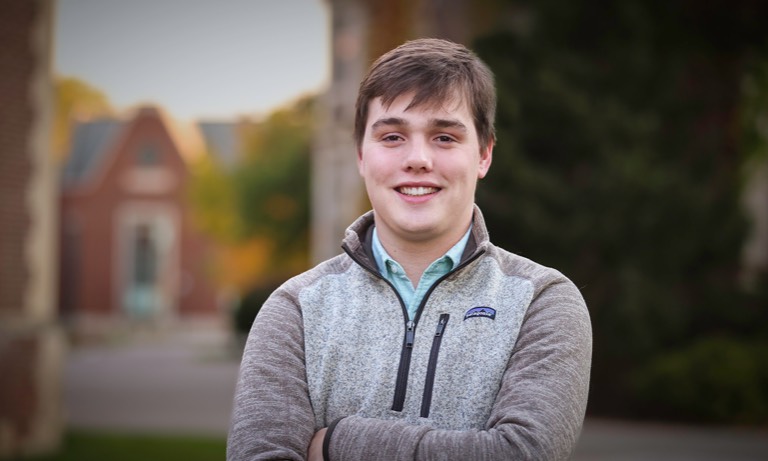 HWS News
7 February 2023

Galvin '23 Secures Position at IBM By Finley Hetherington Aherne

Mathematics and computer science double major Seamus Galvin '23 has accepted a post-graduation position at IBM, joining its team in Buffalo.

Starting in June, Seamus Galvin '23 will begin his role as an associate data engineer at IBM's innovation center in Buffalo, N.Y. He says several internship experiences, as well as a double major degree in mathematics and computer science, have prepared him for the role.

The job will consist of analyzing large data pools, looking for common themes in the data that can help the company's clientele assess risks and plan for the future. The work environment is project and team heavy, with each project differing from the next, a feature of the role that particularly appealed to Galvin. "I love this because it allows me to use a range of skills," he says.

Through other internships, Galvin has gained prior experience in the industry. In the summer of 2019, he worked as an intern at AML RightSource, a firm focusing on anti-money laundering and financial crimes, where he worked alongside analysts to identify suspicious activity. In the spring of 2022, he gained experience as a junior consultant at software development company Dassian. Afterward, he completed an internship at DocuSign, where he worked alongside the partner solutions architect team, ensuring the company's partners got the most out of their products.

The Salisbury Center for Career, Professional and Experiential Education was key in Galvin landing the position. "Career Services provided crucial advice for updating my resume and answering questions effectively in interviews," he says. Academically, Galvin credits his double major in mathematics and computer science with giving him the "technical skills and experience" necessary for the position.

At HWS, Galvin has been a co-producer and editor for the "Entrepreneurial Endeavors" podcast since September 2021, alongside Matt Nusom '23. The podcast is composed of interviews with alums, including business directors, film producers and others who have gone on to have illustrious careers, and is supported by the Entrepreneurial Studies Program. Notable recent guests include Dan Rosensweig '83, CEO of Chegg and former CEO of Guitar Hero, and Brad Falchuk '93, acclaimed director and producer, whose credits include "American Horror Story" and "Pose." After a year, the podcast's listenership reached 19 countries. Additionally, Galvin works in the Office of Marketing and Communications and participates in skiing and ultimate frisbee clubs.