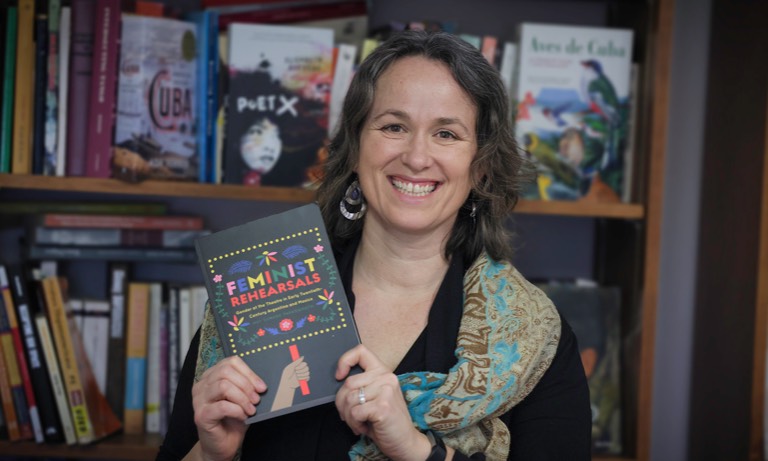 HWS News
Book provides insight into Latin American performance culture and activism.
Professor of Spanish and Hispanic Studies May Farnsworth's new book, "Feminist Rehearsals," explores gender at the theatre in early 20th century Argentina and Mexico.
The book, to be released in the spring, examines how various aspects of performance culture, including spectator formation and playwriting, paralleled political activism and championed the goals of the women's rights movement in Mexico and Argentina from 1900-1970. Farnsworth explores how, through performance and protest, feminists enacted new identities and pushed for social and legislative reforms at a time when women were denied suffrage and full citizenship status.
Author Analola Santana says Farnsworth's study "provides a deserved platform for female artists and activists who continue to exert influence over our understanding of the role of the arts in inspiring a questioning of dominant patriarchal values," while E.J. Westlake, Chair of Theatre, Film and Media Arts at Ohio State University labels the book "an authoritative, nuanced and thoughtful analysis of the role of feminist political and aesthetic movements in Argentina and Mexico… this book is for anyone engaged in feminist performance scholarship."
Farnsworth's scholarly areas of interest include feminism and social justice in Latin America and Spain, theatre and performance studies, and bilingual education and teaching. Her previous publications have also covered these areas with journal contributions including "Tempering Machismo" on Paraguayan playwrights in the 1940s, "La 'Eva mexicana'" on Feminism in Post-Revolutionary Mexican Theatre, and "Los cuerpos de los otros" on contemporary Argentine fiction.
At HWS, Farnsworth was named as the recipient of the 2022-23 John. R and Florence B. Kinghorn Global Fellowship, an award that honors outstanding members of HWS faculty and staff who have exemplified global citizenship on a sustained basis.
In the Geneva community, she is the Bilingual Education Action Team Leader for Geneva 2030. The team is dedicated to supporting bilingualism in the local community and increasing success rates for local students. She also served on the Geneva City School District Board of Education from 2016 to 2021 and has volunteered as a Summer Spanish Teacher at the Geneva Public Library since 2009.