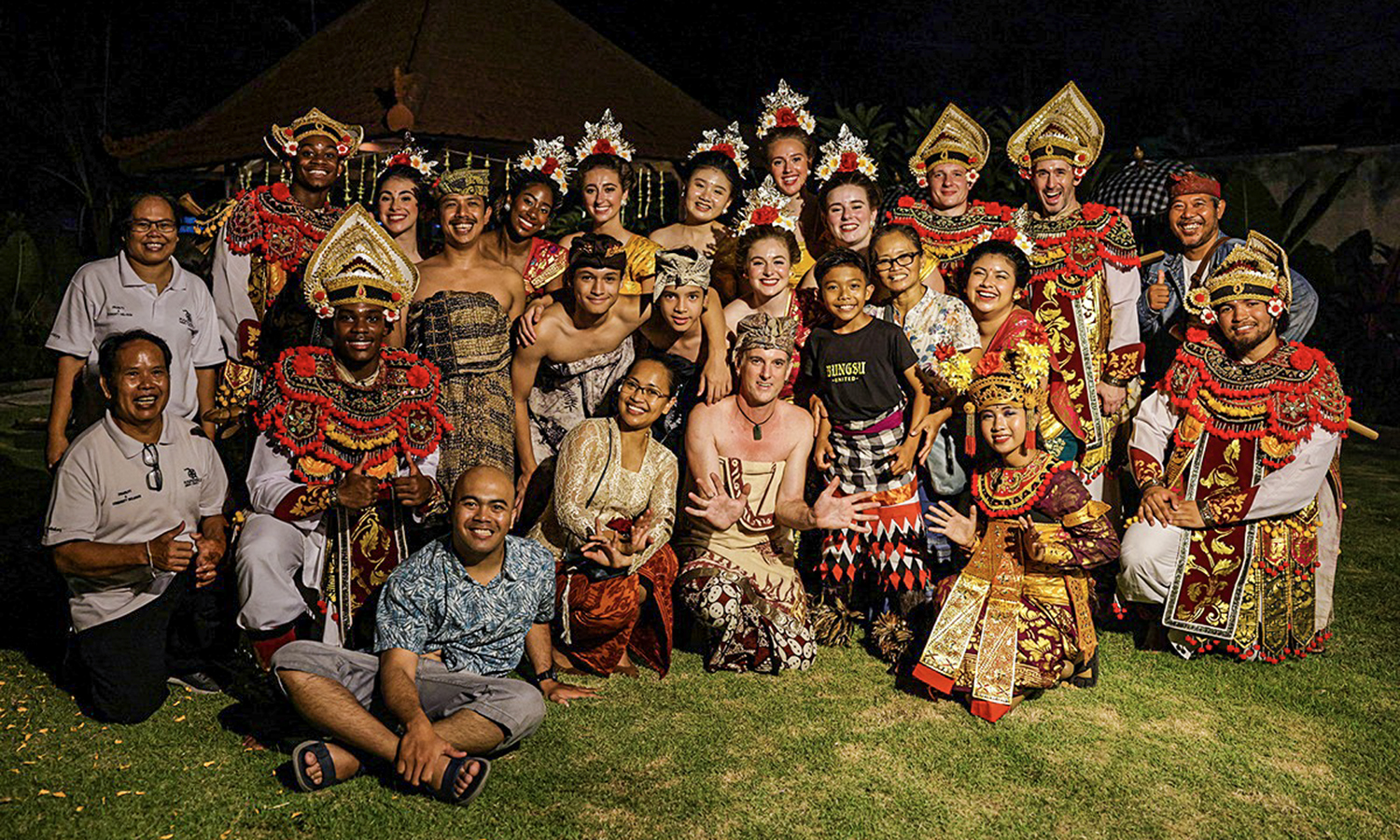 HWS News
17 January 2023

Exploring the Performing Arts of Bali

This January, students are exploring the rich performing arts traditions of Bali, Indonesia.

Students studying dance, traditional instruments, masked performance, shadow puppetry and mask carving in Bali, Indonesia, during the three-week January term, performed at a fundraising concert in Annika Linden Center in Denpasar, Bali.

Proceeds from their performance, which was in concert with their teachers and professional dancers at Mekar Bhuana Conservancy, were donated to Puspadi Bali, an NGO providing prosthetics, wheelchairs and other mobility aids to people with disabilities.

Since 2002, Mekar Bhuana has worked with local musicians, dancers and performers to preserve and teach traditional forms of Balinese performing arts.

In preparation for the benefit, students became steeped in the traditions of Balinese performance. They observed shadow puppetry by artist Wayan Mardika and a performance of the Barong dance.

Students also visited a factory producing traditional gamelan instruments, including metallophones, gongs, flutes and strummed instruments.

"It has been amazing to see how important these dances and music are in this culture. There is so much symbolism and history," Ahmed Wise '24, a double major in educational studies and movement studies, says. "Coming from a place that doesn't honor their ancestors and culture as much, it is a warm feeling to see how much the Balinese people value their heritage."

During their Balinese dance and music intensive with Mekar Bhuana, students picked up instruments themselves.

"One of the hard things about playing many of the instruments of the gamelan is that you don't only need to strike the right keys, you also have to use a finger to dampen the sound of the note you previously played. Otherwise, you'll just have all the keys you've hit continuing to ring and it sounds bad," says Professor of Theatre Chris Hatch explains, who is leading the Bali program.

Hatch says he was impressed with how fast students gained confidence playing their instruments.

"Gamelan takes a lot of coordination and a lot of being able to really listen to each other and work as an ensemble. This is a very athletic/dance/movement talented group and they work well as a team."

Students in this year's cohort in Bali include dance and theatre majors and many student athletes. Hatch says their movement intelligence has helped them learn nuances in Balinese dance.

"This group picked up the dances so quickly that our instructors added variations and nuances to the dances. For example, in Balinese dance, the male dancers lead the musicians. For that to work, the dancers need to know how to cue, and the musicians need to know how to read the cues," Hatch says.

Other highlights of the Bali program have included visiting Ubud and the Goa Gajah temple, the ARMA Art Museum, a mask making workshop and visiting an elephant sanctuary. Students also volunteered for a beach clean up day.