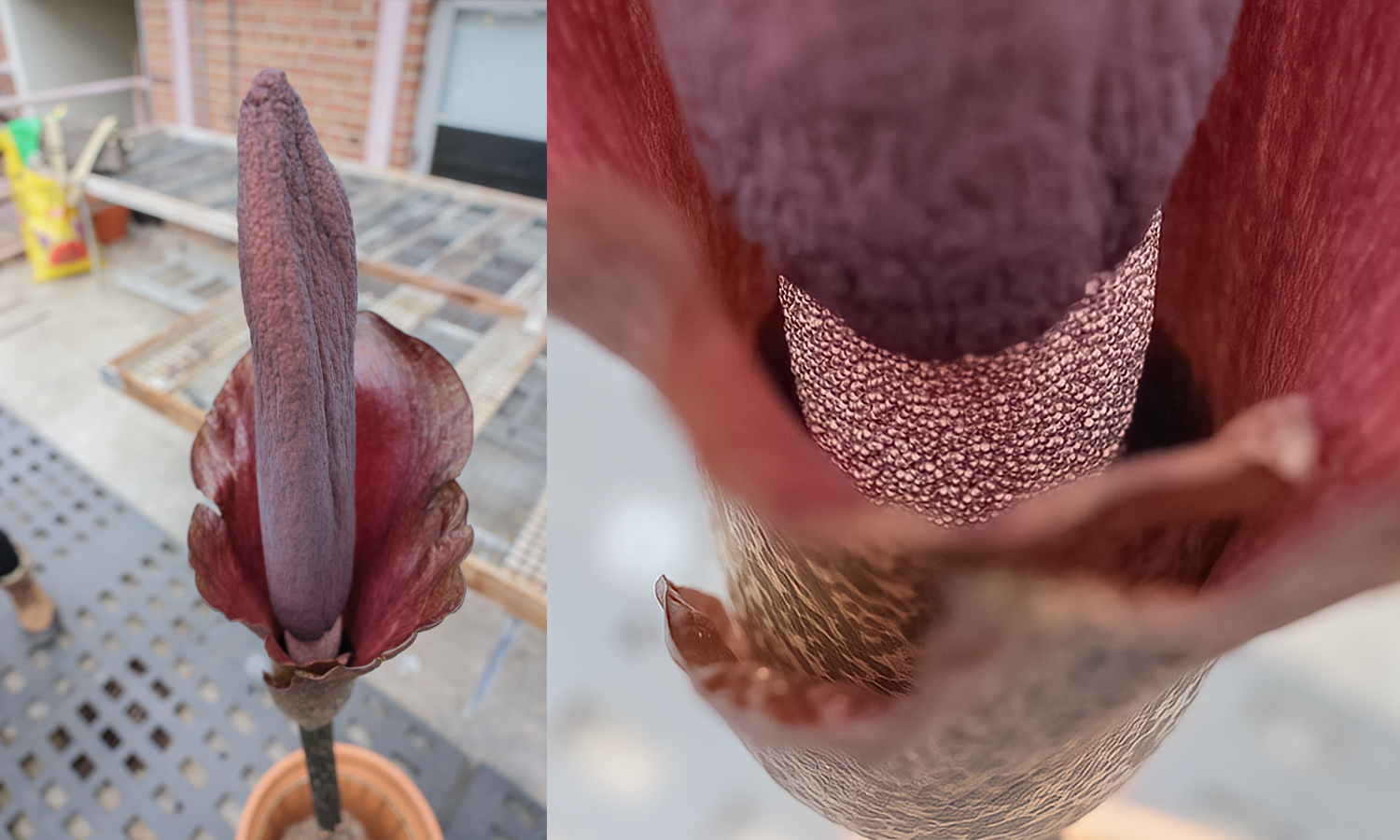 HWS News
23 February 2023

Devil's Tongue Flower Blooms in the HWS Greenhouse

A unique flower is blooming on campus.

A devil's tongue plant, also known as Amorphophallus konjac or the voodoo lily, is in bloom in the HWS Greenhouse and will be in bloom for the next four days. The HWS community is invited to observe the flower on Friday from 8:30 a.m. - 5 p.m. Saturday, visiting hours are 10 a.m. - 4 p.m. Associate Professor of Biology Shannon Straub will be at the greenhouse on Friday from 11:30 - 12:30 p.m. to answer questions.

The greenhouse is located on the second floor of Eaton Hall.
The flower was loaned to HWS by Visiting Assistant Professor of Anthropology Brian Clark and his husband Dr. John Knouse.
"About a week ago, Brian and John noticed the plant starting to poke through a box in their basement and thought we might like to host it in the greenhouse on campus. They thought the students and broader campus community would be interested in it," Straub says.

Clark and Knouse also have a very good reason for wanting the flower out of their house while it's in bloom, Straub explains. "These plants attract pollinators, such as carrion beetles, by producing a smell like rotting flesh," and it is "definitely stinky," Straub says.
The flower went into bloom on the morning of Feb. 23. Now at full-size inflorescence, the devil's tongue plant is over 4 feet tall.
Native to Asia, the plant has likely gone through several years of producing one leaf per year and storing energy in the corm (swollen underground plant stem that serves as a food-storage structure to help plants reproduce and/or survive adverse conditions) to prepare for flowering. Straub says the only care the plant has needed in the HWS Greenhouse is access to sunlight.
"It is not in soil and it is not watered. Everything it needs to produce the large inflorescence has been stored in the corm. Because the plants are native to Asia, there is little chance that the natural pollinators will be around to pollinate the flowers (there will be many separate male and female flowers) and result in fruit production. It might attract some regular house flies though (or maybe nothing at all if it is too cold for insects to be active)," Straub says.
Students majoring in biology are having fun with the temporary addition to the HWS Greenhouse. They ran a contest to name the plant, deciding on "Wednesday," after the title character in the popular Netflix drama.
In the photo above, students in "Genomics" with Associate Professor of Biology Shannon Straub observe the devil's tongue plant.