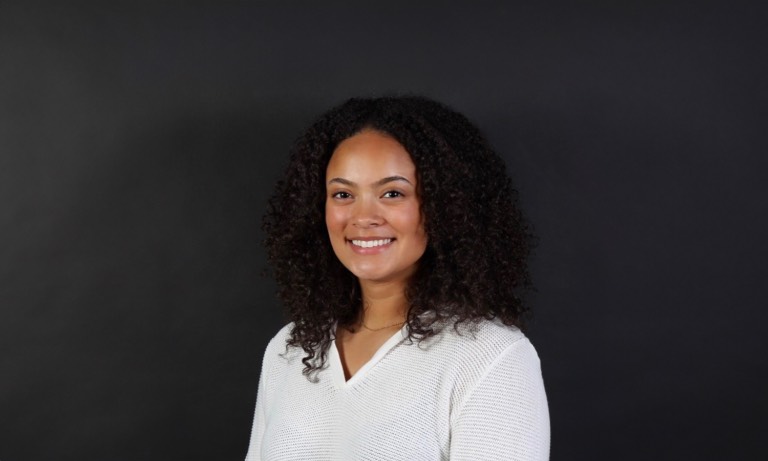 HWS News
8 November 2023 • Alums • Athletics DeVaney '23 Commits to Two Passions: Architecture and Basketball By Ella Weiss '24
By day, Lauren DeVaney'23 works as an architect/designer for New Energy Works and at night, serves as the William Smith basketball assistant coach.
Recent graduate Lauren DeVaney '23 is excited that she's able to put in more than a full work week, serving as an entry-level architect/designer for New Energy Works in Farmington, N.Y., and then at night as a part-time assistant coach for William Smith basketball in Geneva.
The architectural studies and mathematics double major, who played for Heron basketball and volleyball teams, feels fortunate to be able to pursue two of her passions.
At New Energy Works, she works on a home builder team that designs and builds custom timber frame homes and buildings along the East Coast. "We do all of our drawings with Revit, which I am currently developing my skills in. We do a lot of client meetings and focus mainly on new construction but have a few renovation projects in the works as well," she explains.
She says that the two internships she held as a student helped prepare her for the architecture post: one with Senior Partner and Lead Designer Jason Raymond '16 at Raymond Design Builders in Fairfield, Conn., and the other with Interior Architect and Designer Jessica Larigan Gething '05 of Jessica Gething Design in Port Washington, N.Y. "These positions gave me a lot of experience and the alums provided much advice for the job and my job search process."
As a member of the William Smith basketball team for four years and a member of the inaugural William Smith volleyball team in 2022, she was thrilled when a part-time coaching position on the basketball team also opened up.
"I already had a relationship with most of the team, so I wanted to start a new role and continue working with them. Especially the forwards - I wanted to mentor them like my coaches (specially Jen Cooper and Matt Oswalt) did for me. We have a huge and very talented team this year, so I'm hoping we can find an offense that allows everyone to excel," DeVaney says.