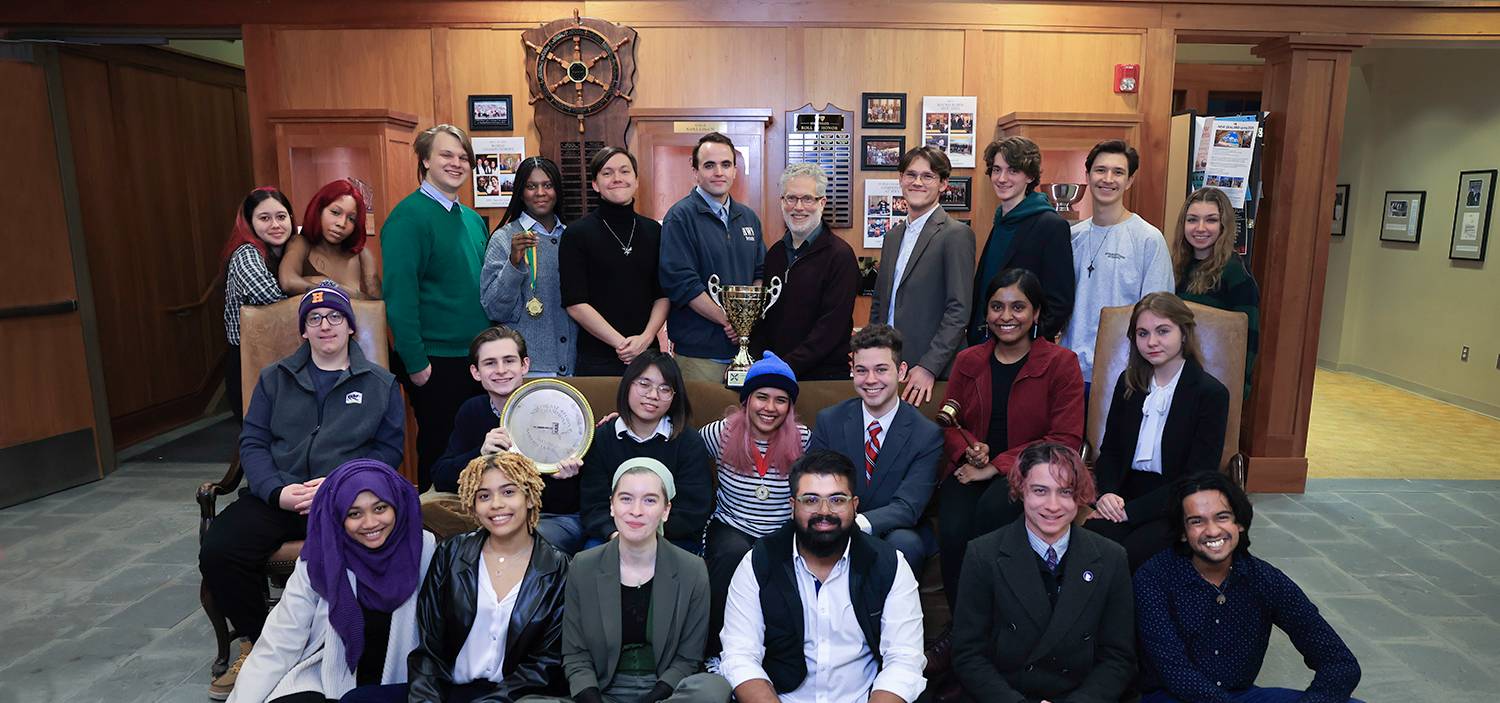 HWS News
28 February 2023

Debate Team Continues a Winning and Jam-Packed Semester

After starting the season with a successful opening at Novice Nationals, the HWS Debate team prepares for a busy season.

HWS Debate has consistently proved a formidable opponent in regional and international tournaments, and there's no signs of stopping.

Returning from Madrid's World Universities Debating Championship, Sreyan Kanungo '23 and Kayla Powers '24 made HWS debating history as the first team to win an elimination round in the open division. This was Kanungo's third time leading HWS into the elimination rounds of the most competitive tournament in the world, each time ranking as the best liberal arts college in the U.S. and among the top 10 teams from the U.S. outperforming schools like Harvard, Princeton, Yale and Cornell universities. Trias Postdoctoral Fellow Daniel Schonning '16 was also recognized as one of the best judges of the competition, leading a panel of judges in the octofinals and judging the EFL final round.

HWS competes in a style of debate called British Parliamentary. In this format, teams of two only have 15 minutes to prepare their case in support or against the motion. They must do so without access to a computer or any on-the-spot research. To prepare, team members meet at least twice a week to research, practice potential cases and hone their argumentative skills.

In February, they opened with a successful showing at Novice Nationals at the University of Rochester. Coming up, HWS Debate will take on:
Finger Lakes Cup, March 3, hosted by HWS

Campeonato Hispanohablante Interuniversitario de Debate y Oratorio (CHIDO), March 3-5, Cornell

University

Colgate Open, March 25-26

Round Robin,April 1-2, hosted and run by HWS

North American Universities Debating Championship, April 7-9, Bates College

Madison Cup, April 17, James Madison University
New team members show incredible promise. In the fall's Cornell IV season-opener and the novices' first tournament, Lamia Rahman '26 and Sandeep Tissaaratchy '26 proceeded to the open quarterfinals, with both debaters receiving awards as top novice speakers at the tournament. At the same tournament, two HWS teams earned spots in the novice finals: Jack Hanson '25 and Kyle Mast '24, and Anjalee Wanduragala '26 and Rachel Mahoney '26. In addition, Awa Haidara '26 and a partner from Cornell entered the novice semifinals. Javier Pachecho '26 was recognized for his judging ability, qualifying to judge elimination rounds.