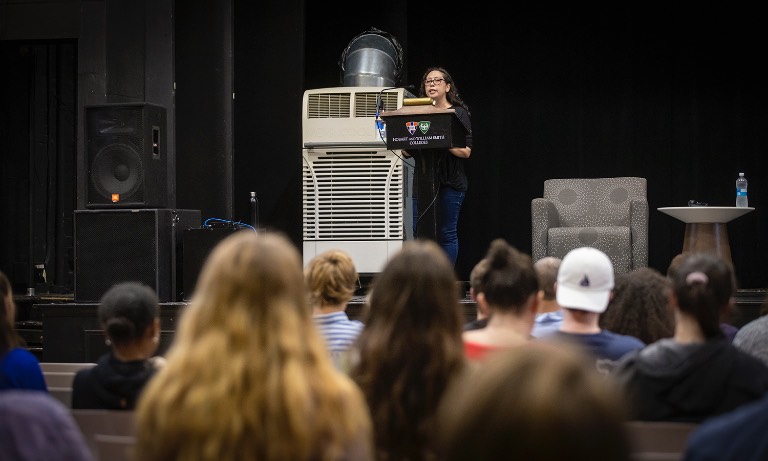 HWS News
13 September 2023

Boully Signs Two-Book Deal By Andy Wickenden '09

Jenny Boully, last year's Trias Writer-in-Residence at Hobart and William Smith, recently had two books picked up by Graywolf Press.

Poet, essayist and 2022-23 Trias Writer-in-Residence Jenny Boully will have two books published by Graywolf Press.

Developed during her time on campus as part of the Trias Residency, Boully's Close Cover, Strike Gently is a collection of autobiographical essays while Parallax is "a lyric memoir on reverence, loss, calamity, and hybrid identity, beginning with her own near-death experience, ending with the scattering of her sister's cremains, and encountering ghosts, sea monkeys, abandoned kittens, and a flying trapeze along the way," according to the publisher, via Publishers Weekly.

A recipient of a Guggenheim Fellowship in General Nonfiction, Boully teaches at Bennington College and is also a core faculty member of the Bennington Writers Seminars. She is the author of Betwixt-and-Between: Essays on the Writing Life, which the Georgia Review described as "a supple and suggestive volume, one dedicated to multiplying literary possibilities even as it names and forcefully critiques the economic and institutional forces that construct and constrain such possibility."

Boully's first book, The Body: An Essay, published when she was 25, is regarded as a canonical text in experimental essays, poetic prose, and imaginative form. Her other books include The Book of Beginnings and Endings: Essays; [one love affair] *; not merely because of the unknown that was stalking toward them; and of the mismatched teacups, of the single-serving spoon: a book of failures.

Boully received an M.A. in English criticism and writing from Hollins University, an M.F.A. in creative writing from the University of Notre Dame, and a Ph.D. in English from the Graduate Center of the City University of New York.

Top: Guggenheim Fellow and Trias Writer-in-Residence Jenny Boully discusses her latest work Betwixt-and-Between: Essays on the Writing Life in Bartlett Theatre.