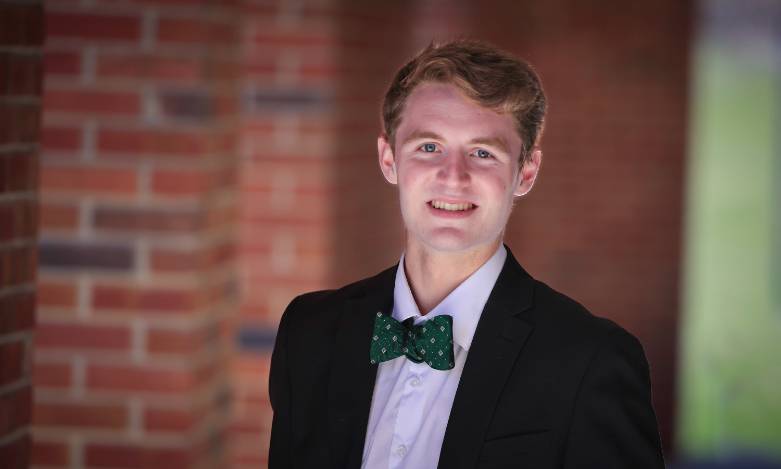 HWS News
6 April 2023

Albreski '23 Earns Fulbright to Germany

English major Ian Albreski '23 has been accepted into the U.S. Government's flagship international exchange program.

Ian Albreski '23 is the recipient of a 2023 U.S. Student Fulbright Award to Germany where he will serve as an English Teaching Assistant (ETA). His position will begin in September.

Albreski says he applied to the program because of his love for German language and culture. He studied abroad at the University of Tubingen last spring and has since served as a DAAD Young Ambassador for the German Academic Exchange Service. On campus, he has served as a First-Year Seminar Mentor, Conversation Partner at the Center for Teaching and Learning and a Writing Colleague.

"I want to be an English Teaching Assistant in Germany because it lies at the intersections of my interests and experiences," says the English major and German Area Studies minor. With a passion for culture, language and history, Albreski says his immersive role as a Fulbright ETA "will allow me to further develop as a teacher and a lover of the German language."

Albreski has twice been awarded the Julius C. Blocker German Area Studies Fellowship in support of his research and scholarship on German culture. He is also the recipient of the Newman Civic Fellowship for his work on behalf of diversity, equity and inclusion initiatives on campus; the Dr. Arnold N. Cohen '71, P'05 Phi Beta Kappa Book Prize, which is awarded annually to the sophomore Hobart student with the highest GPA; and the Charles H. Hurd Prize in English and Comparative Literature awarded to the writer of the best poem or poems.

On campus, Albreski serves as co-president of Thel, the student literary magazine, captain of the Hobart cross country team as well as an archival assistant in the Warren Hunting Smith Library. From Avon, Conn., he is the regional coordinator of New England Chapter of LHON (Leber's hereditary optic neuropathy) community. Albreski is visually impaired and operates with low vision.

Considering his path to the Fulbright, he notes: "The transformative experience of learning a new language has filled me with excitement and curiosity as to how different the experience must be from the teacher's perspective. Language feels intuitive to native speakers and is thus rife with opportunities for educational dialogs. I love Germany, and my experiences with the German language and Germany prove everything I believe about pedagogy."

Following his Fulbright experience, Albreski plans to pursue a graduate degree in comparative literature.

The Fulbright Program is the U.S. Government's flagship international exchange program, providing full research grants and English Teaching Assistantships awarded for graduate study, research or teaching opportunities in more than 140 countries.

Albreski was also offered a place with the Fulbright Austria Foreign Language Teaching Assistantship Program. The Austrian program is sponsored by the Austrian Government and would take place in Vienna.

HWS students interested in applying for Fulbright awards should contact the Salisbury Center for Career, Professional and Experiential Education at cso@hws.edu.