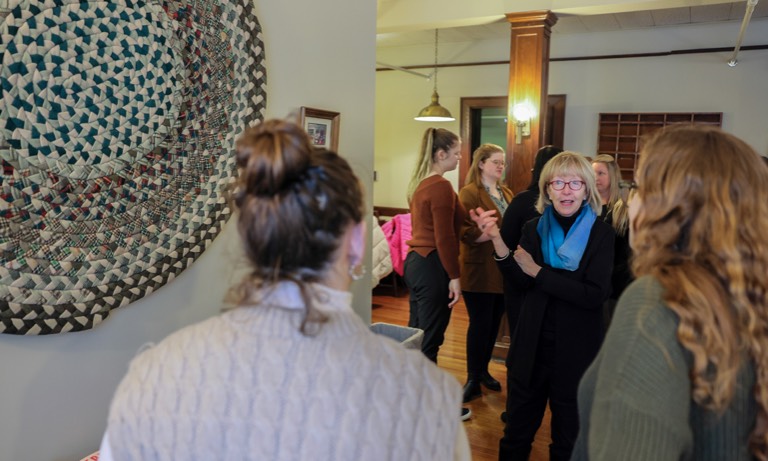 HWS News
7 February 2023

A Space for Community By Colin Spencer '19

Women's Resource Center provides space for wellness, studying and connecting.

Members of the HWS community celebrated the reopening of the Women's Resource Center in Miller House during a recent reception.

Students living on the William Smith Hill can now access the center as a study or social space with their OneCard and the improved space can be used to host classes and serve as a meeting place for organizations. Additionally, the center serves a social space, with books, board games and a TV available for use.

The space where the center is located previously was staffed by student leaders with specific hours. Now the space is available as a lounge for Miller House students and open to others based on interest, says Becca Barile, the vice president for campus life and dean of students.

"I'm a big fan of studying in the nooks and crannies around campus so it's really nice to have a cozy space up on the Hill," says Ashley Aronson '24, a religious studies major.

"I think it's a great way to have a sense of community of women," says Hannah Phalen '23, a music and educational studies double major. "Having this space will open up a lot more opportunities."

The space was previously used by The Coalition of Concerned Students to discuss national issues around sexual violence and police brutality and the Women's Collective has hosted feminist performance artists and discussion groups there.

"The space has been the center of important conversations around gender, race and rights for many years," says Barile.

Eden LaRonde '24, a political science major and community assistant in Miller House, says having the center will help students connect more to the history of William Smith College.

A visual example of that history is a braided, handcrafted rug hanging on a wall of the center. The rug was created by Daisy Weeks Bucholz, the first woman to register at William Smith College and a member of the charter class of 1912. It was presented by Hai Timiai, the William Smith senior honor society, in 1987 during Moving Up Day.