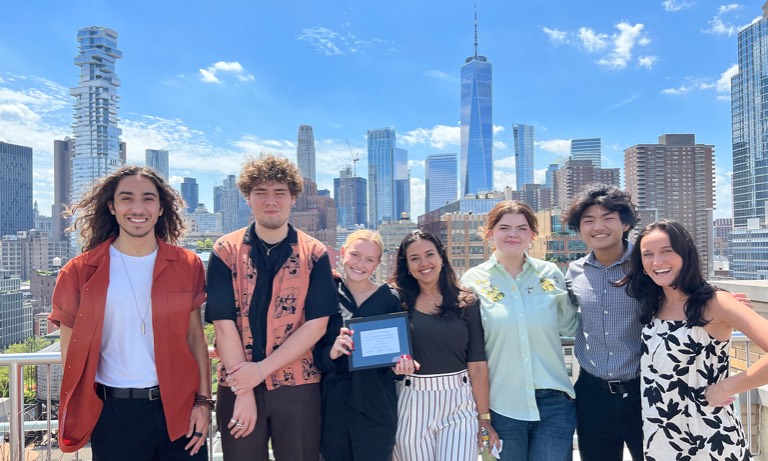 HWS News
2 February 2023

A Gem of an Internship By Andrew Wickenden '09

Studio art major James Cherry '23 reflects on his internship with the luxury jewelry company David Yurman, which was so impressed with Cherry's work that they have a job waiting for him when he graduates.

James Cherry '23 developed design skills and brought new ideas to life as a visual creative services intern for David Yurman, the American luxury jewelry company. Cherry spent last summer at the company's New York offices, where he was offered a position after graduation.

"The internship experience was life changing; I was fortunate enough to have worked with such an amazing team," says Cherry, a studio art major and music minor.

As part of the visual team, Cherry designed renderings of jewelry and window vitrines, as well as conceptual work for future ideas, improving his craft and technical skill in Photoshop and "a variety of CAD design programs I had not worked with before."

But the "absolute highlight" of his experience with David Yurman was the internship program's capstone assignment.

The task was to develop "a new innovation/idea for the company," explains Cherry, who conceived of "a modular ring, which had both an inner and outer piece that could be interchanged with other materials and designs." Alongside a team of interns, he was able "to see my idea come to life."

See some of Cherry's work on Instagram @cherryuncanny.

Cherry's internship was supported through John A. Ross '66 Endowed Internship Fund, which funded his room, board and transportation in New York.

Top: James Cherry '23 (left) and other interns with the luxury jewelry designer David Yurman celebrate their capstone project.