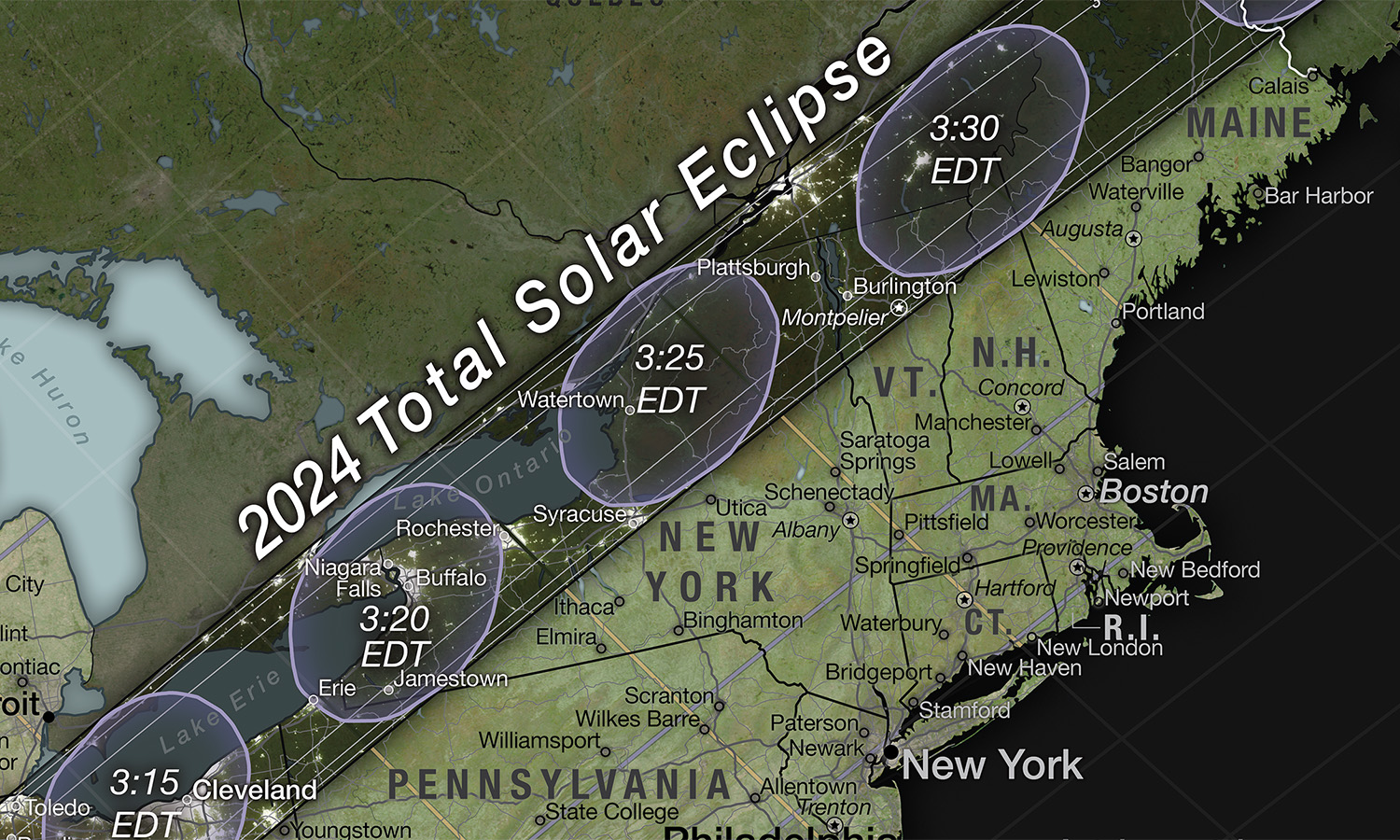 HWS News
1 April 2023

The Eclipse Is Coming

Mark your calendars: the Hobart and William Smith campus will be in the path of totality for the April 8, 2024 solar eclipse.

One year from now, a total solar eclipse will cross North America, running from Mexico, through the U.S. and into Canada. The path of totality — the trajectory along which the moon completely obscures the sun — will pass through Western New York, Geneva and the Hobart and William Smith campus, offering observers from the Colleges' community an unparalleled view. The next total solar eclipse to pass directly over HWS will not occur for another 400 years.

While solar eclipses themselves aren't rare — they occur about twice a year — the relative sizes and distances of the Earth, the moon and the sun means there's only "a tiny place on Earth where the sun will be exactly behind the moon," explains Associate Professor of Physics Leslie Hebb.

"People have been watching eclipses for thousands of years," Hebb says. "Ancient Babylonians observed eclipses, tried to predict when they would come, and used them as omens. Our world is so different from theirs, but the astronomical phenomena have not changed…. We're looking at the same kind of eclipse that they did in ancient Egypt, ancient Babylon or ancient Greece."

In terms of history and sheer space, eclipses are "majestic," Hebb says, "in how they take us out of our small Earth and put us into our solar system and help us see our place in the universe."

The 2024 eclipse will begin around 2 p.m. on Monday, April 8, 2024, reaching its peak for roughly two minutes around 3:20 p.m. and concluding at approximately 4:30 p.m.

In preparation for the eclipse, the Colleges will host a series of events and programs organized under the theme, "The Year of the Sun," exploring the scientific, artistic, economic and cultural significance of the sun. More details will be announced ahead of the fall semester.

For this year: mark your calendar for 3:20 p.m. on Saturday, April 8, 2023 to determine your view of the sun. In 2024, the view of the eclipse can be seen from the same vantage point.