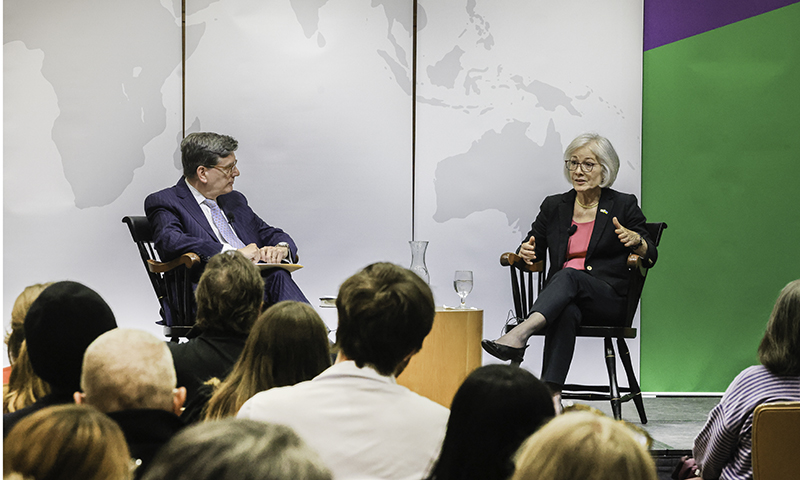 HWS News
10 March 2023 • Alums Talking Diplomacy at Inaugural Anderton Forum By Andrew Wickenden '09
During the first event of the Anderton Forum for Global Engagement, former U.S. Ambassador Marie Yovanovitch discussed her career as a diplomat, the role of the Foreign Service and the future of the war in Ukraine.
"There's no question that the war in Ukraine is about Ukraine," but it will continue to have significant and far-reaching geopolitical impacts, said former U.S. Ambassador to Ukraine Marie Yovanovitch at Hobart and William Smith Colleges' inaugural Anderton Forum for Global Engagement.
She noted that if, for instance, the conflict is "not settled in a way that China understands that we mean business," China will "take the wrong lessons from the war in Ukraine…. The bottom line is that it's better for the U.S. to stop Russia in Ukraine than to have to stop it later at a time not of our choosing and that may not be to our advantage."
In her conversation with President Mark D. Gearan and members of the audience, the diplomat and bestselling author of the memoir Lessons from the Edge shared insights from her 33-year career in the U.S. Foreign Service and the lessons and values she learned from her immigrant parents, as well as the geopolitical calculations at the heart of the ongoing war in Ukraine. She discussed the challenges of being a woman in the male-dominated diplomatic corps and the difficulty of being caught between the Republican executive branch, a Democratic House and stated U.S. foreign policy objectives.
Recalling her start in the Foreign Service — a process, she noted, that's "long and arduous and taught me that you have to persist in life" — Yovanovitch said diplomacy allowed her to "marry my passions with that desire to serve the American people."
"We spend a lot of our time at work so it's really good to do something that you're passionate about," she said.
Yovanovitch served three times as U.S. Ambassador, most recently in Kyiv as the U.S. Ambassador to Ukraine. Previously, she served as U.S. Ambassador to the Kyrgyz Republic (2005-2008) and the Republic of Armenia (2008-2011). She retired from the Foreign Service in 2020 and is currently a Senior Fellow at the Carnegie Endowment for International Peace and a non-Resident Fellow at the Institute for the Study of Diplomacy at Georgetown University.
Established in 2022 by former Trustee James F. Anderton IV '65, the annual forum brings renowned experts to campus to share their insights and experience while engaging with the HWS community on vital current affairs in international relations. As part of her visit to campus, Yovanovitch also met with students and faculty.
In her introduction of the forum, Associate Professor of International Relations Stacey Philbrick Yadav, who serves as chair of the forum, noted the Colleges' reputation "as a particularly outward facing institution," where "global engagement is very much a part of what we do at a foundational level."
The forum, endowed by a generous gift from Jim Anderton, deepens that engagement "with issues of critical global significance" and creates "opportunities for our students and our faculty to have meaningful encounters with those individuals and ideas that shape our shared world," Philbrick Yadav said, noting the additional grants and prizes the endowment supports for faculty development and student achievement.
Anderton served on the HWS Board of Trustees from 1994 to 2000 and is the founder and executive chairman of property management and real estate investment and development company Krimson. He holds a Ph.D. from Michigan State University and an M.B.A. from Cornell University, as well as his B.A. in economics from Hobart. A longtime supporter of HWS, Anderton was awarded the Hobart Medal of Excellence, the Hobart Alumni Association's highest honor, in 1997. In 2015, he received the Lifetime Service Award, presented to alums who have made exceptional contributions to Hobart College throughout their lives.
Anderton is also backing a fundraising campaign for HWS, the Anderton Impact Challenge, to leverage his $1 million bequest into even more support for student scholarships and financial aid.