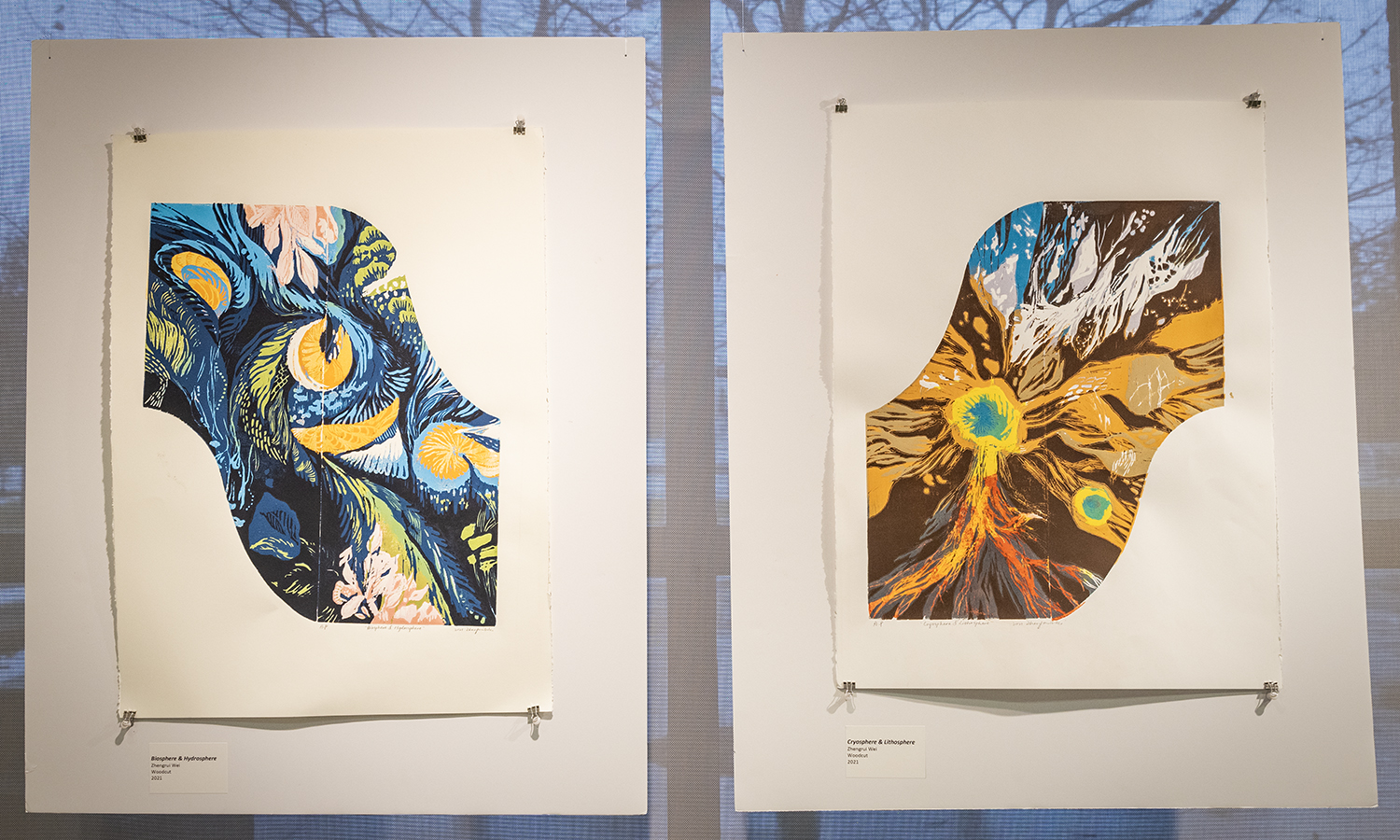 HWS News
18 January 2023

Special Winter Exhibit

Works from Yijun "Eugene" Cao '22 and Zhengrui "Mary" Wei '23 are on display in the Provenzano Student Art Gallery.

The HWS community is invited to continue to view the Special Winter Exhibit on display at the Provenzano Student Art Gallery and enjoy the work of Yijun "Eugene" Cao '22, a studio art and chemistry double major, and Zhengrui "Mary" Wei '23, an architectural studies and environmental studies double major.

A reception was held at the Provenzano on Friday, Jan. 27 with Cao and Wei sharing insights about their work.

Cao's acrylic paintings, and intaglio and silkscreen prints incorporate themes of color and verity. Through his work he encourages the audience to look at the world from a different perspective to discover new meanings.

"I created these paintings as reminders to people, including myself, that this world is larger than we thought and much more colorful than we feel. I want to tell people that dreaming and idealism have never died, and can be very powerful if we believe them," says Cao, who encourages viewers to look closely at the pieces for hidden, interesting and surprising details.

"If the viewer is willing to dig deeper into the painting, ask questions like: why is this painting done? They'll start to see the philosophical theme behind the painting," shares Cao. "For the painting Before the Storm, the theme is the courage it takes to face despeate doom; the weak hut has no chance to stand against the storm, yet it still chooses to face the storm bravely."
For his prints, Cao explains a similar theme – "to tell people that there is more than black and white, the infinite gray between them should never be overlooked."
Wei categorizes her work in two distinct styles, photorealistic and very abstract. She uses bright colors to bring both herself and her audience energy and happiness.
In creating the work, Wei says she was inspired by everyday life and influenced by courses she was taking outside of the art studio. For example, while working on her prints of bees, she was taking "Intro to Biology." Her prints about the spheres on Earth, Biosphere & Hydrosphere also were inspired by the biology course, while ideas for Cryosphere & Lithosphere [pictured at top] came from her "Earth Systems Science" class. Other pieces were inspired by playing with the interaction of spaces either in geometry shapes or organic curves because of her interests in architecture.
"I capture the very detailed parts when I try to be photorealistic and try to express my feelings with the abstract works," says Wei, who is grateful for the mentorship of Professor of Art and Architecture Phillia Yi.
"[Professor Yi] really helped me improved my print-making skills and my aesthetics to art and to many other things in my life," shares Wei. "I learned lots of theories and principles in the art and architecture world, but I also developed an outlook on my life and got a step closer to living a life of consequence."
The Provenzano Student Art Gallery is located in Scandling Campus Center and is open Mon.-Fri. from 10 a.m. - 6 p.m.; and on Sat. - Sun. from noon - 4 p.m..