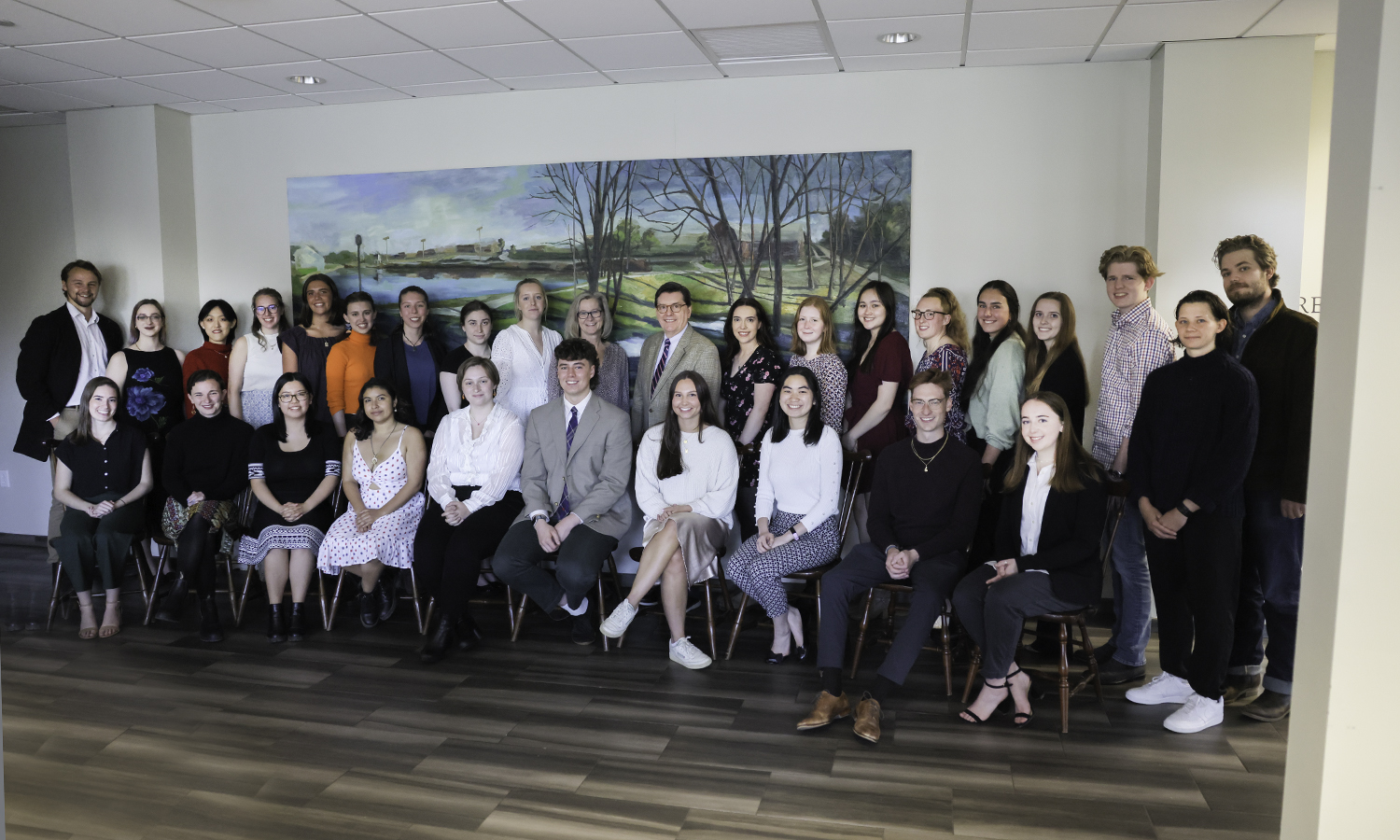 HWS News
27 April 2023

Newest Phi Beta Kappa Members Inducted

Professor of Physics Donald Spector oversaw the induction of new members into Phi Beta Kappa, an academic honor society celebrating excellence in the liberal arts and sciences.

Twenty-seven HWS students were recently inducted into the Zeta chapter of Phi Beta Kappa. They join five students who were inducted as juniors.

The Zeta chapter, local to the Colleges, was established in 1871. It is the sixth oldest in New York, and one of the oldest in the country.

The ceremony was led by the president of the Zeta Chapter, Professor of Physics Donald Spector. The event included an overview of the history of Phi Beta Kappa, remarks from President Mark D Gearan, dinner and an individualized presentation of the new members. The event was attended by faculty and staff who are members of Phi Beta Kappa at their undergraduate institutions, and who elected this year's cohort of students.

Selected students must demonstrate excellent academic standing, breadth of academic studies and intellectual curiosity.

"It is an honor to recognize this extraordinary group of students. The goals of Phi Beta Kappa are to recognize academic excellence and to foster intellectual inquiry, and we couldn't find a more deserving group of students to recognize in this light," shares Spector. "Their academic accomplishments are uniformly impressive, and all have reached these accomplishments in deep ways in their fields of study, while demonstrating a passion for intellectual inquiry across the breadth of the liberal arts."

This year, four students were elected as juniors, the highest honor of the society: Lillian Davis '24, Tiffany Foster '24, Tay Rossi '24 and Jesse Whelan-Small '24.

Twenty-three seniors were elected to the society: Taline Almasian, Kidus Asmare Ayele, Kathryn Benvenuto, Hudson Cunningham-Baker, Grace Bott, Katherine Brown, Karina Connolly, Johanna Golden, Katherine Healy, Kerstin Kelly, Erin Kluge, William Lewis, John Lloyd, Willow Munn-Oberg, Clare O'Connell, Molly O'Toole, Thomas Perich, Erika Sipos, Sophia Velto, Nicole Wadsworth, Zhegrui Wei, Greta Weiss and Claudia White.

They join members of the Classes of 2023 who were inducted as juniors: Alexandra Dwyer, Maxwell Horton, Matthew Nusom, Gabriela Nieves and Katerina Yacoub.

The activities of the Zeta chapter are supported by the Dr. Arnold N. Cohen '71 and Dr. Colleen R. Carey Endowed Phi Beta Kappa Fund. This initiative was created by Zeta Chapter alumnus, Dr. Arnie Cohen, and his spouse, Dr. Colleen Carey, in honor of the chapter's 150th anniversary in 2021.

Notable members of the Zeta chapter include President Franklin D. Roosevelt L.H.D. '29, who was inducted when he was a Commencement speaker at the Colleges in 1929. Rev. Alger Adams '32, D.D. '83 is also a member. Adams cherished his Phi Beta Kappa pin, and in 2023 the possession was gifted to the Colleges by his daughter Patricia Adams.