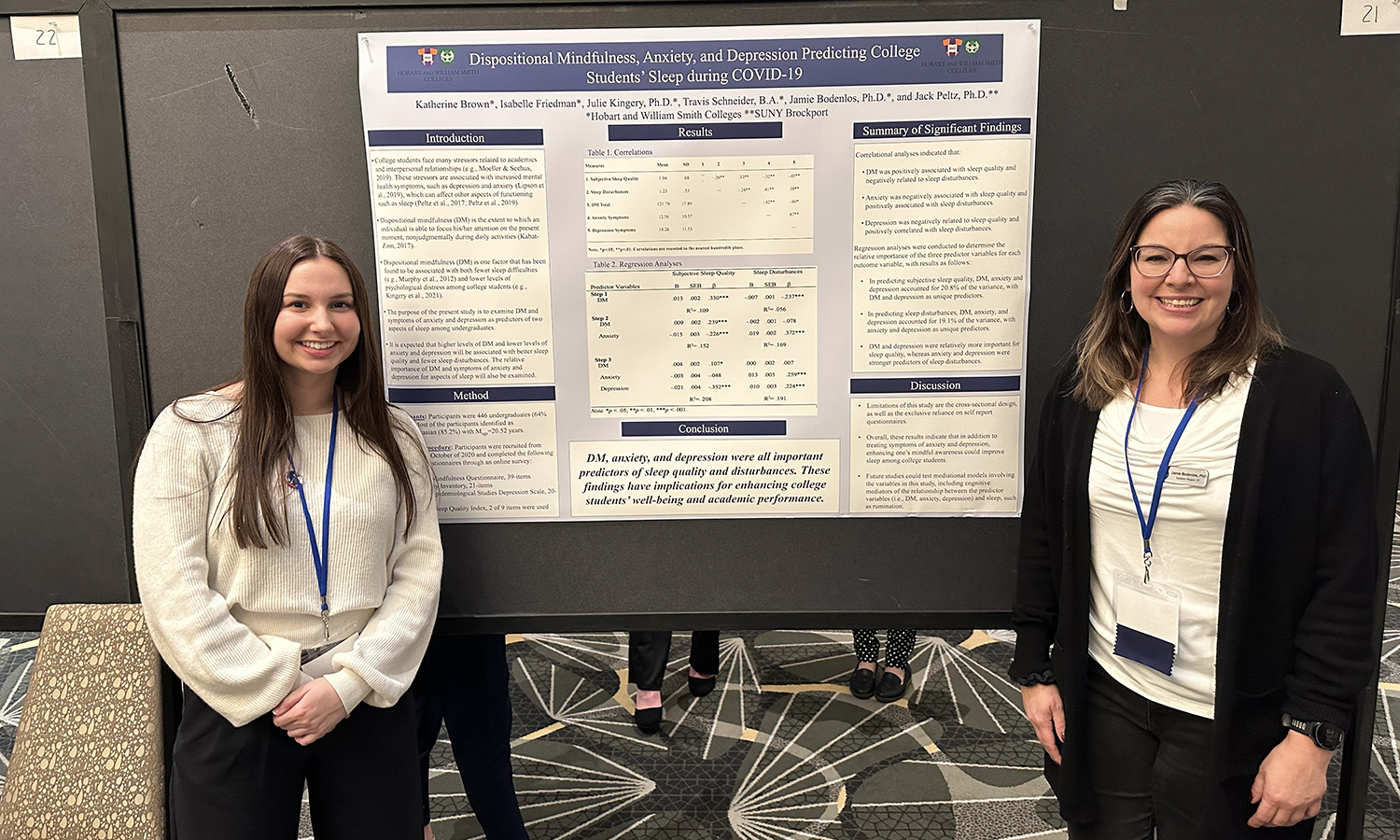 HWS News
17 March 2023 • Faculty • Research HWS Presents at Eastern Psychology Association Conference By Mary Warner '21
Students and faculty attended the Eastern Psychology Association conference, presenting research, networking and representing the HWS chapter of Psi Chi, the international psychology honor society.
With Professor of Psychological Science Jamie Bodenlos and Assistant Professor of Psychological Stephanie Anglin, Katie Brown '23, Hudson Cunningham-Baker '23 and Katherine Healey '23 traveled to Boston this month for the Eastern Psychological Association's annual conference.
For Brown, a psychology major and child advocacy minor, the conference was an opportunity to present research findings from an independent study she undertook last semester with Izzy Friedman '23 and Professor of Psychological Science Julie Kingery. The project — which includes contributions from coauthors Bodenlos, Travis Schneider '21 and former visiting assistant professor Jack Peltz — investigated how dispositional mindfulness, anxiety and depression predict sleep disturbances and subjective sleep quality among undergraduate students.
"Research has been an extremely valuable and necessary experience during my time here at HWS," says Brown. "Through this experience, I learned a lot about the long (but rewarding) process of doing research and by the end of it, we were able to publish a paper! Experiences like this, as well as presenting my research at EPA has given me the experience necessary during my undergraduate years to make me a more competitive candidate in future professional endeavors."
Anglin delivered a workshop titled, "Improving the Communication of Psychological Science."
Bodenlos, Cunningham-Baker and Healey attended the conference to represent the Colleges' chapter of Psi Chi, the international psychology honor society. Bodenlos serves as vice president of the society's Eastern Region; as the student president and vice-president of the chapter, Cunningham-Baker and Healey helped to review applications for the conference's Psi Chi awards program and staffed the Psi Chi booth.
For Cunningham-Baker, a psychology major and environmental studies minor, the experience "provided me with integral insight that informed me about how to best prepare for future conferences and removed some of the stress that I had regarding formal academia environments."
"I think that I learned much more about what it takes to curate and present research findings," says Healey, a psychology and history double-major and political science minor. "I got the opportunity to listen to other undergraduates present their research findings which was incredibly interesting, especially because ever field in psychology was covered and investigated in such unique ways."
Brown cites the opportunity to go to the conference as "really valuable for me both academically and professionally because it gave me some ideas for future research projects, as well as the opportunity to talk one on one with numerous established individuals and clinicians within the psychology community."
Founded in 1896 to advance the science and profession of psychology, the Eastern Psychological Association hosts an annual conference that allows members to present the latest advances in the field to their colleagues. For undergraduate students, a professional conference is an experiential learning opportunity that offers the chance to network, engage with new research and get a taste for the field.
In addition to her research, Brown is a teaching assistant in the psychology department and a Head O'Laughlin Ambassador in the admissions office. Along with his position as president of Psi Chi, Cunningham-Baker is a member of the fishing club. Healey works at the Office of Advancement and is a coordinator of the Tutor Corp program at the Boys and Girls Club.
The photo above features Katie Brown '23 and Professor of Psychological Science Jamie Bodenlos.