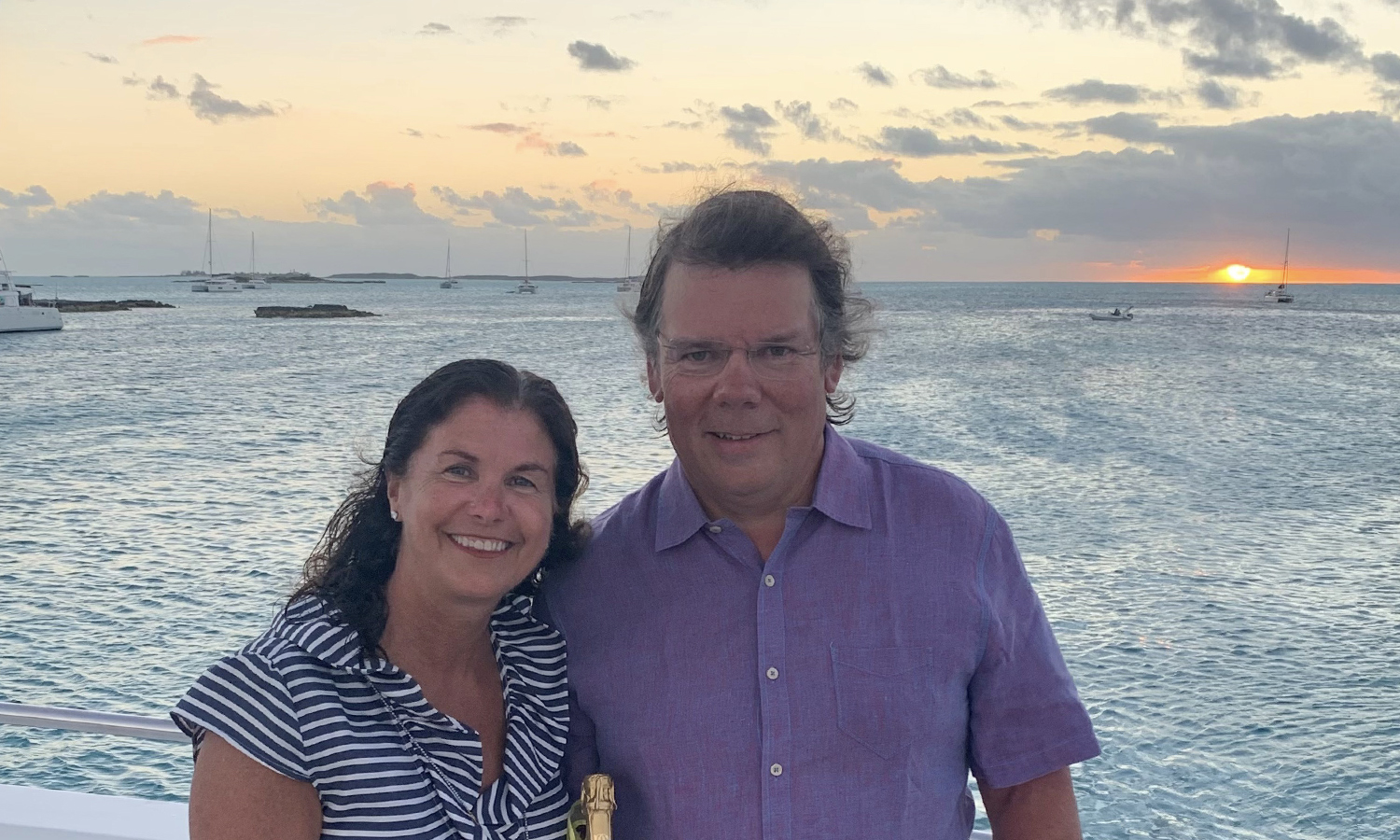 HWS News
22 September 2023 • Alums • Athletics Announcing the Carver DeLaney Suite
Renovations to Heron Soccer Suite made possible thanks to the generosity of Trustee Calvin R. "Chip" Carver Jr. '81 and his wife, Anne DeLaney.
The William Smith Soccer team returned to campus this fall to find their locker room remodeled as a new team meeting space, their lounge upgraded, and a former storage area transformed into a spacious new team room. Completed this summer, the renovations of the meeting space and lounge also benefit the William Smith Basketball team, which shares the suite. The suite was officially dedicated on Saturday, Sept. 23 on the steps of Bristol Gym.
The project was made possible through the generosity of Trustee Calvin R. "Chip" Carver Jr. '81 and his wife, Anne DeLaney.

"There are not enough words or languages to adequately express our gratitude to Chip and Anne for their thoughtful and consistent investment of time, financial support and especially care for enhancing the experiences of William Smith Soccer Herons on and off the field," says William Smith Head Coach Aliceann Wilber P'12, L.H.D.'22, who was surprised to learn on Saturday that the William Smith Soccer Team Room was named in her honor. "Our now beautiful and functional team room complex is just one prime example. And though William Smith Soccer is fortunate to benefit from so much Carver-DeLaney support, it's important to recognize that Chip and Anne's support is not relegated solely to William Smith Soccer. Other aspects of HWS campus life, initiatives and management have benefited greatly from their time, attention and fiscal generosity."
"I am enormously grateful to Chip and Anne for making this project possible, and for giving our student athletes the facilities they deserve," says President Mark D. Gearan. "Over many years of steadfast loyalty, Chip and Anne have supported nearly every aspect of campus life from the sciences and the arts to athletics and scholarships. Chip's leadership on the Board of Trustees where he heads up committees and important special projects has provided the Colleges with exceptional direction, and I appreciate and am thankful for his continued guidance and counsel."
Carver is the Head Coach of Softball at Pingry School in Basking Ridge, N.J., and has volunteered as an assistant coach for the William Smith Soccer program for about a decade. "I originally got involved in the Soccer program because I wanted to learn as much as I could about coaching from one of the best coaches in the United States – Aliceann Wilber," Carver says. "I've seen firsthand the dedication and resilience of the team over many years and have great respect for Aliceann as a coach and mentor to generations of student athletes. Anne and I wanted to do something for the team that would honor their commitment on the field and in the classroom."
Carver arrived at Hobart from Pingry, where both he and DeLaney graduated. At Hobart, he played baseball and earned a bachelor's degree in economics. Upon completion of his MBA at the NYU Stern School of Business, Carver spent many years managing and trading financial derivatives. As an extension of this role, he built a reputation as an industry expert in the management of e-commerce for global trade processing, taking on leadership roles at Goldman, Sachs & Company, SwapsWire, Inc., and IHS Markit.
His understanding of economics and technology combined with his love for Hobart and William Smith led him in 2002 to join the Board of Trustees, serving on committees including Financial Management, Executive, Audit and Compliance as well as the Chair of the Task Force on Innovation. Partnering with the Salisbury Center for Career, Professional and Experiential Education, he has participated in the Professionals in Residence program and networked with numerous students and graduates who have gone on to internships and careers in the financial field.
Over the arc of four decades, Carver and DeLaney, a licensed clinical social worker, have been steadfast stewards of the Hobart and William Smith community, supporting student wellness, athletics, the arts, the sciences, scholarships and technology. In 2012, they established the Calvin R. Carver Lecture and Student Support Fund in honor of Carver's father and in memory of his brother. They had two primary objectives: first, to bring to campus each year one speaker who addresses a topic intended to promote inclusiveness, resiliency, positive mental health and social justice; and second, to assist students experiencing mental or physical health difficulties. Through their support, the Carver-DeLaney Family Press Box and stadium seating opened at John H. Cozzens Jr. '41 Memorial Field in 2017.