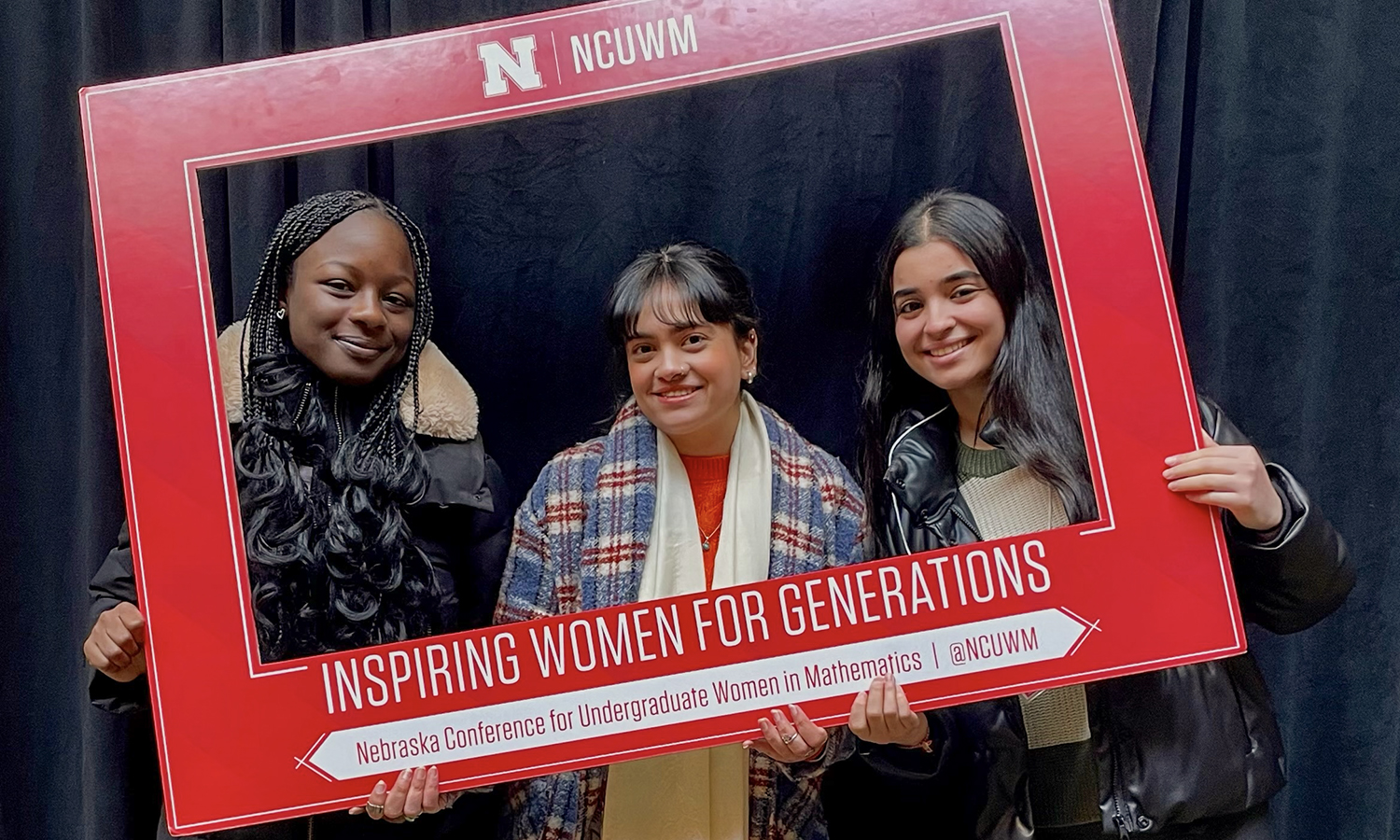 HWS News
After presenting research and networking at the Nebraska Conference for Undergraduate Women in Mathematics in January, mathematics majors share their experiences with the campus community.
Aarushi Agarwal '24, Meryem Boumalak '23 and Djeneba Diop '25 found an exceptional learning and networking experience at the Nebraska Conference for Undergraduate Women in Mathematics. The three were able to travel to the conference with support from the Edward J. Tapper M.D. '64 Science Research Fund, the William Smith Deans Office and the Mathematics and Computer Science Department. On Friday, March 3, they will present a colloquium reflecting on their experiences at the conference, beginning at 3 p.m. in Napier Hall, Room 101.
Celebrating its 25th anniversary in January, the three-day conference of presentations, forums, networking events and receptions is organized by the University of Nebraska "to encourage and mentor undergraduate women in mathematics to pursue graduate study in mathematics and to seek mathematical careers."
Beyond the excitement of attending "presentations by fellow undergraduates and exploring more mathematical concepts," Agarwal says it "was also inspiring to meet all these wonderful women in the predominantly male field of mathematics."
For Diop, the conference "reassured me that I belong in the math field and can succeed as long as I have the right resources and the right mentors. It was empowering seeing how far many of the women came and how they are influencing and helping so many young women to follow their dreams even if it seems intimidating."
"I had the opportunity to meet and connect with brilliant successful women mathematicians and hear about their experiences as well as their challenges that they faced in their journey studying mathematics," says Boumalak, who also delivered a poster presentation based on her research with Associate Professor of Mathematics Joseph Rusinko.
Boumalak's presentation draws on her work with Professor Rusinko, whose previous collaborations with students developed algorithms for networks to map evolutionary relationships. These phylogenetic networks can help describe "how several species evolved from a series of common ancestors" and "how they might change in the future," Boumalak explains.
The project focuses on two algorithms with different approaches to constructing phylogenetic networks, which could be another vital tool for scientists studying evolution and environmental change. Boumalak, who coded one of the algorithms, says that phylogenetics "can help to inform conservation policy when conservation biologists have to make tough decisions about which species they try to prevent from becoming extinct."