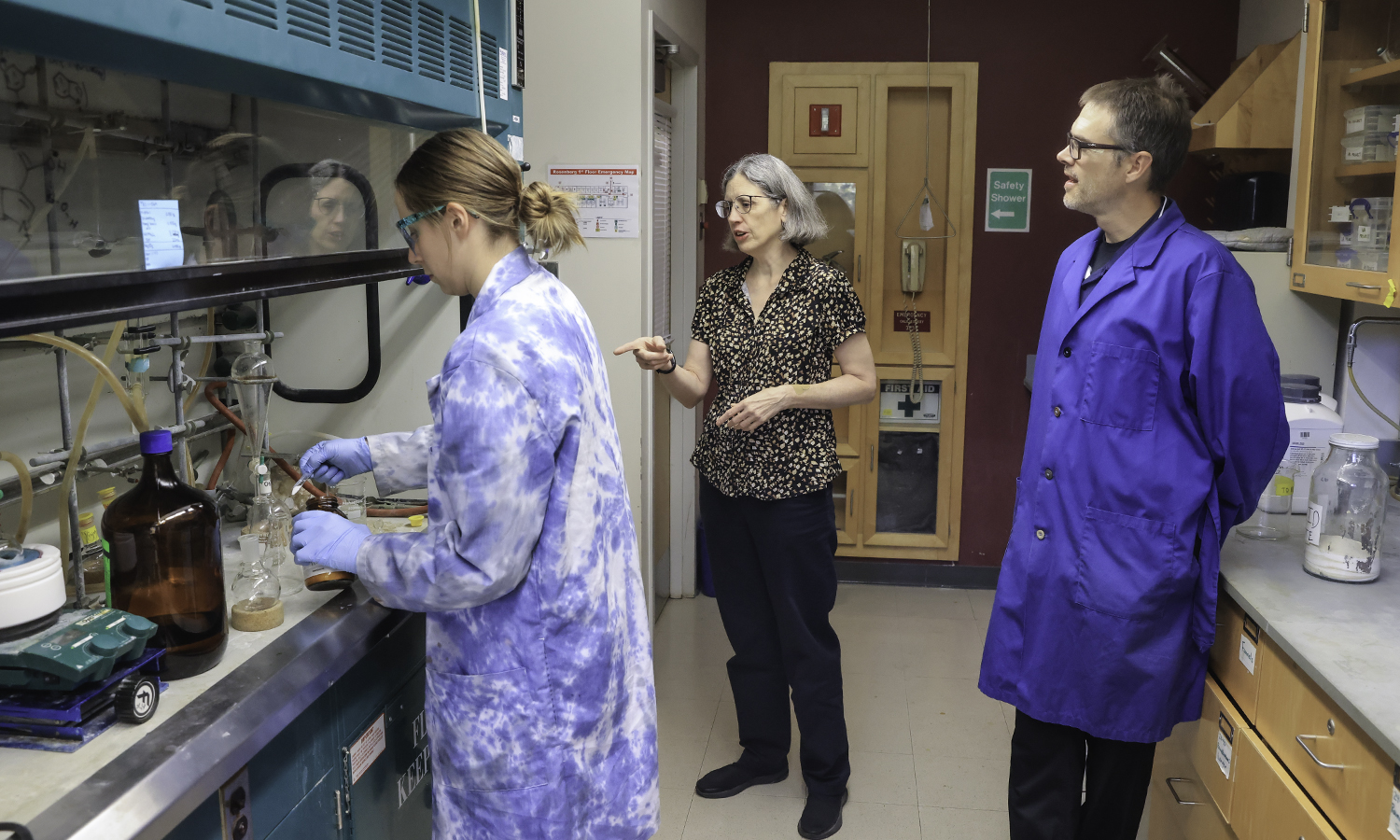 HWS News
27 April 2023 • Research A Moment of Science: Lab Work, Cancer Research and STEM Careers
Professor of Biology Patricia Mowery and Professor of Chemistry Erin Pelkey discuss their collaborative research.
After nearly a decade of collaboration, two HWS professors and their students are taking their efforts to identify potential anticancer agents to a new level.
"We're homing in on making better and better compounds," says Professor of Biology Patricia Mowery, who has been working with Professor of Chemistry Erin Pelkey since 2014 to discover new avenues for therapeutics.
As they have begun the synthesis of a new class of compounds, they have turned to computer modeling to develop their hypotheses. "The cool new thing is that we can design compounds in our minds and put them into the computer model," Pelkey says.
In the chemistry lab, Pelkey and his organic chemistry students synthesize new compounds or analogs, which Mowery and her students test in the biology lab to see if they kill cancer cells.
The collaborative nature of the team's work is part of what makes science study at HWS special, Pelkey says. "It's not just lip service. It's richer than that."
Those collaborations include not only HWS faculty and students, but colleagues at other institutions. The team works with Ithaca College biologist David Gondek, who is testing the compounds in mice with cancerous tumors ("Preliminary results show promise," says Mowery) and with Kathryn Cole, an associate professor in the Department of Molecular Biology and Chemistry at Christopher Newport University, who helped expand the research to include computer modeling.
"We even share some students," Mowery says. "One student, Blake Evans '22, did synthesis in Pelkey's lab and then did computer modeling [remotely] in Cole's lab."
Evans, who landed a job as a research associate in disease biology at Frontier Medicines in Boston after graduation, says, "My work in Professor Pelkey's lab taught me the fundamentals of research that are crucial throughout any discipline of science. Instead of treating us as a pair of hands to run reactions, Pelkey encouraged us to play an active role in the research process."
With small courses and tight-knit labs, "students know us, and we know them, so that kind of interaction can organically happen," Mowery says.
Newcomers interested in the anti-cancer project often are matched with a student already engaged in the lab work, shadowing them for several hours weekly. Other opportunities to gain research experience include an eight-week summer science program in which students work in the lab and give presentations weekly; participants live on campus and receive compensation.
Under the guidance of a faculty mentor, the HWS Honors program affords juniors and seniors an opportunity to pursue research with additional independence.
In Pelkey's lab, Taylor Coburn '23 is synthesizing compounds predicted to destabilize a protein, tubulin, that is critical for cell viability. Of the 10 analogs she has synthesized, "one of them is the most potent anti-cancer compound thus far and the remaining is predicted to have even more powerful anti-cancer activity."
"Not only have I gained the necessary lab and bench skills to prepare me for a career in chemistry," Coburn says, "but have I also learned valuable problem-solving skills that I believe will just help me with life in general." When she hit bumps along the way, Coburn "dove into the literature and developed more efficient and successful synthetic routes on my own. I think it's that aspect of my research that has provided me with the most critical experience."
For Evans, the transition into a new field of research after graduation "was made easier with the fundamental skills I developed through my experiences. I would recommend HWS to any prospective student who is interested in conducting lab research projects in college."
As Pelkey says, "If you're interested in science, this is a great place to be."
Learn more about anti-cancer research at HWS.